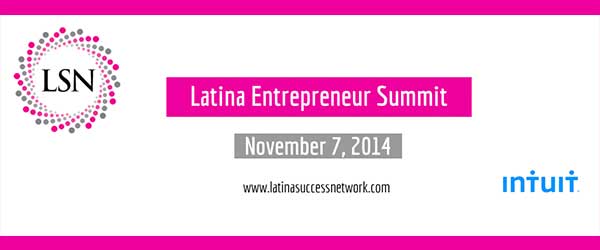 by Linda Castillo
Continuing with this month's celebration of National Women's Small Business Month, we had a chance to speak with Rosie "the Closer" Zepeda who founded the Latina Success Network (LSN), a premier community for the self, professional and entrepreneur development of Latinas. The mission of LSN is to provide a holistic approach to helping Latinas globally create success simultaneously on a personal and business level through in-person workshops, teleseminars, coaching, annual conference and two signature academies: Latina Start Up Academy and Be The Change, Communication Skills Academy. A secondary mission of LSN is to create an economic ecosystem, where Latinas do business with each other, thereby creating long term sustainability.
LSN has partnered with Intuit, maker of innovative services for entrepreneurs, to host a complimentary Latina Entrepreneur Summit event for current or aspiring Latina entrepreneurs. The event will take place on November 7 at the Intuit Mountain View campus. Attendees will enjoy a day full of exchange of ideas, best practices, introduction to new products/services, lessons learned and journeys shared by rising Latina entrepreneurs in the Silicon Valley. Each attendee must sign up individually at: https://lsnlatinaentrepreneursummit.eventbrite.com/
Rosie explains why she started Latina Success Network and why this network is so important now.
1) Why did you start Latina Success Network?
I do a lot of professional speaking and a couple of years back I noticed these gaps within the Latina community. I noticed a segregation. The Latina college students had no idea about the professional space and almost no contact with Latinas in that world. The professional Latinas, especially those in tech were trying to figure out the corporate space, but with very few in that space they often spoke of feeling alone. Then the professional Latinas who were considering changing industries had no or little Latina contacts in other areas, because they had exclusively dedicated themselves to their industry. The Latina entrepreneurs, many current or former professional women, were not seeing their Latina community as a viable market for their services and products and were struggling. I thought, why not create a network that has no barriers for Latina women, where students from all backgrounds get exposed to professionals from different backgrounds and Latinas from different professions and ages can come together and start forming deep emotional connections. Latinas are buying the same goods and services from large corporations that do not give that money back to the community, so why not expose them to Latina entrepreneurs they actually get to know as women, mothers and wives. Finally, in interviewing many of the women I found that while all wanted to succeed, they were unaware that key cultural components were holding them back. Hence, the LSN running thread and distinguishing value was born: culturally relevant development in the areas of the self, professional and entrepreneurship.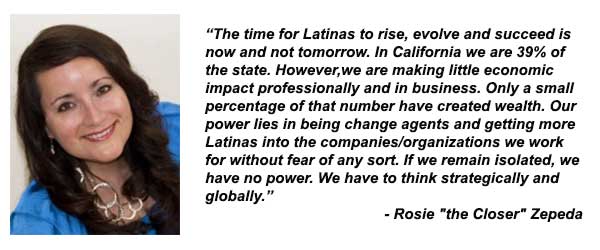 2) What can a person expect once they become a member of LSN?
The first thing is getting our newsletter where the driving force is the holistic development of the Latina woman. As a member you can enjoy several complimentary webinars during the year on both professional and entrepreneur development. We just did one on "Personal and Professional Branding for Latinas," which was attended by 300 women online. As a member you will get first priority and a discount to attend our in person workshops. These workshops are very intimate and structured for quick implementation of skills learned. We have and continue to form alliances with other organizations and businesses whose missions are in line with our values, so members will be exposed to other opportunities. Modern Latina is one of our partners. Everything at LSN is driven towards the self, professional and entrepreneur development.
3) Can you share a success story about a LSN member?
There are so many. I will share two. The first one is about Mari Carmen Madrigal who studied MIS and was in the tech world many years before starting her daycare business. As a mother of 3, wife and entrepreneur, her life was limited to these activities and felt isolated from other Latinas. She knew she could do better in her business. She came to our signature event "The Power of YOU" in May and experienced a business and life transformation. She raised her daycare prices, got rid of the clients who were not good for her and got reconnected back to the Latina community with women from all ages. Now she is part of our LSN Change Agent Team.
The second is Shannon Arriaga who was brought to the LSN in person workshop: "The Art of Negotiation" by LSN member Monica Espinoza. Shannon, who works in the tech world, wanted to ask for a raise but was not sure which way would yield her the successful result. She was very frustrated and very stressed. She learned some of the key components of negotiation, went back to work got the raise she needed and in addition will be getting a 20% increase at the next performance review. Shannon found out what cultural components were getting in the way of her success.
4) Tell me about the Latina Entrepreneur Summit?
At this Summit we will be covering real stories about local Latina entrepreneurs, offering tangible resources, hear pitches from up and coming Latina entrepreneurs and offer an opportunity for the audience to engage with the presenters and with each other. Again, one of the goals is exposure. Due to their own development limitations and lack of opportunity, many Latina entrepreneurs, who are creating amazing products and services, do not have a voice. This Summit will give them that voice. Also, many businesses are complimentary to each other and one of the byproducts is that the women will form partnerships, so they do not have to reinvent the wheel everyday. At so many Summits they have experts, but the audience has little access to them afterwards. The experts we will feature have a vested interest in reaching out to this audience and forming relationships with them. Finally, we are really excited to be launching the LSN Latina Start Up Academy at the Summit. This is a 3-month accelerator that begins in February and focuses on developing the key components for Latina businesses to be financially and structurally viable. This business development will be done in a community of authentic learning, so that the women feel supported and form support systems with one another.♦
Linda Castillo is the Founder and Executive Editor of www.ModernLatina.com. She writes on topics that empower and inspire Latinas including art, motherhood, green living, culture, travel, and issues transforming the Latino community. Linda has earned a B.S. in Business and a M.S. in Mass Communications from San Jose State University.