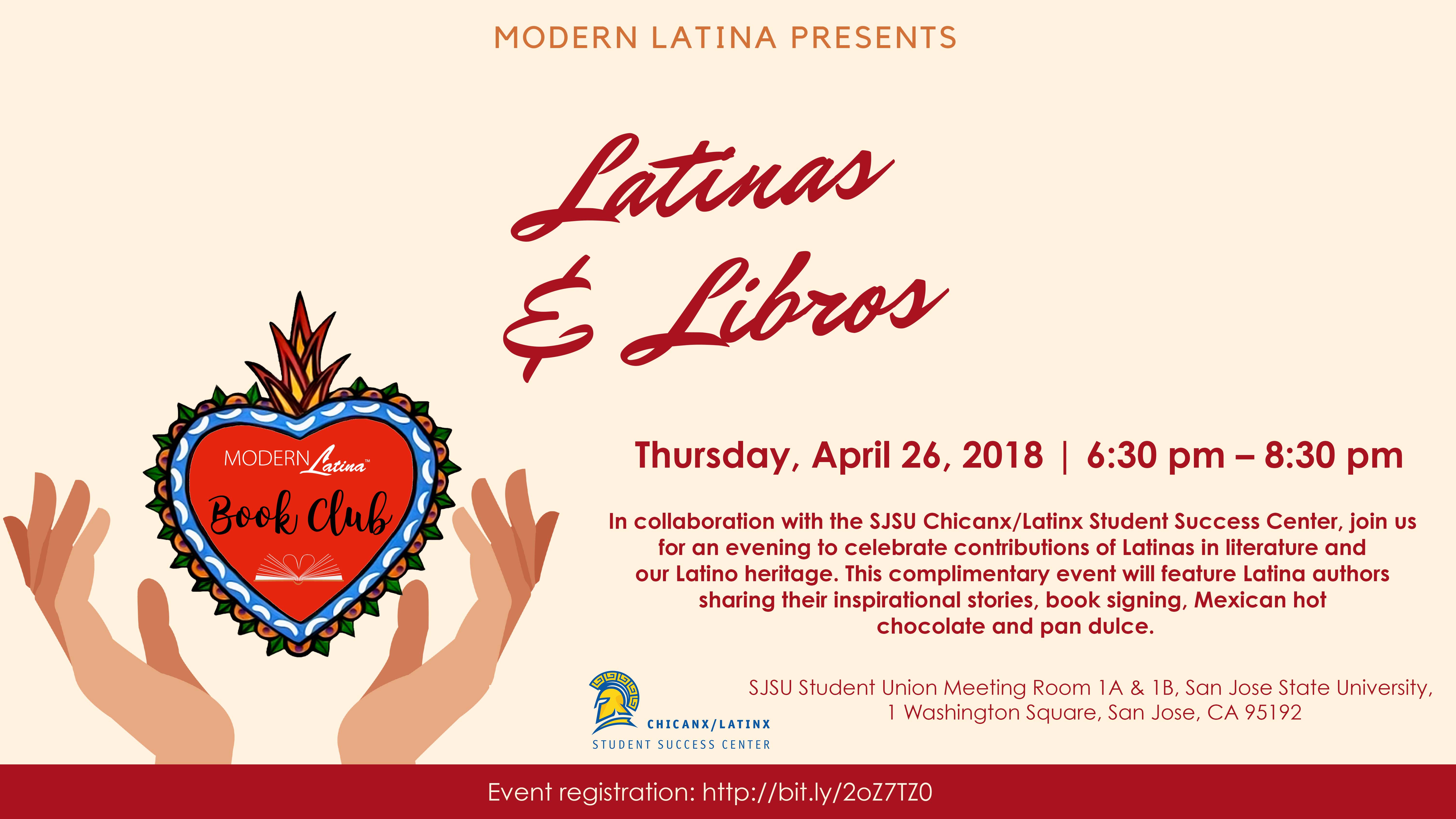 In collaboration with the SJSU Chicanx/Latinx Student Success Center, join us for an evening to celebrate contributions of Latinas in literature and our Latino heritage. This complimentary event will feature Latina authors sharing their inspirational stories, book signing, Mexican hot chocolate and pan dulce.
Event: Latinas & Libros
Date: Thursday, April 26, 2018
Time: 6:30 pm – 8:30 pm
Location: SJSU Student Union Meeting Room 1A & 1B, San Jose State University, 1 Washington Square, San Jose, CA 95192
Register for event: http://bit.ly/2oZ7TZ0
Meet the panelists:
Panel Moderator: Magdalena L. Barrera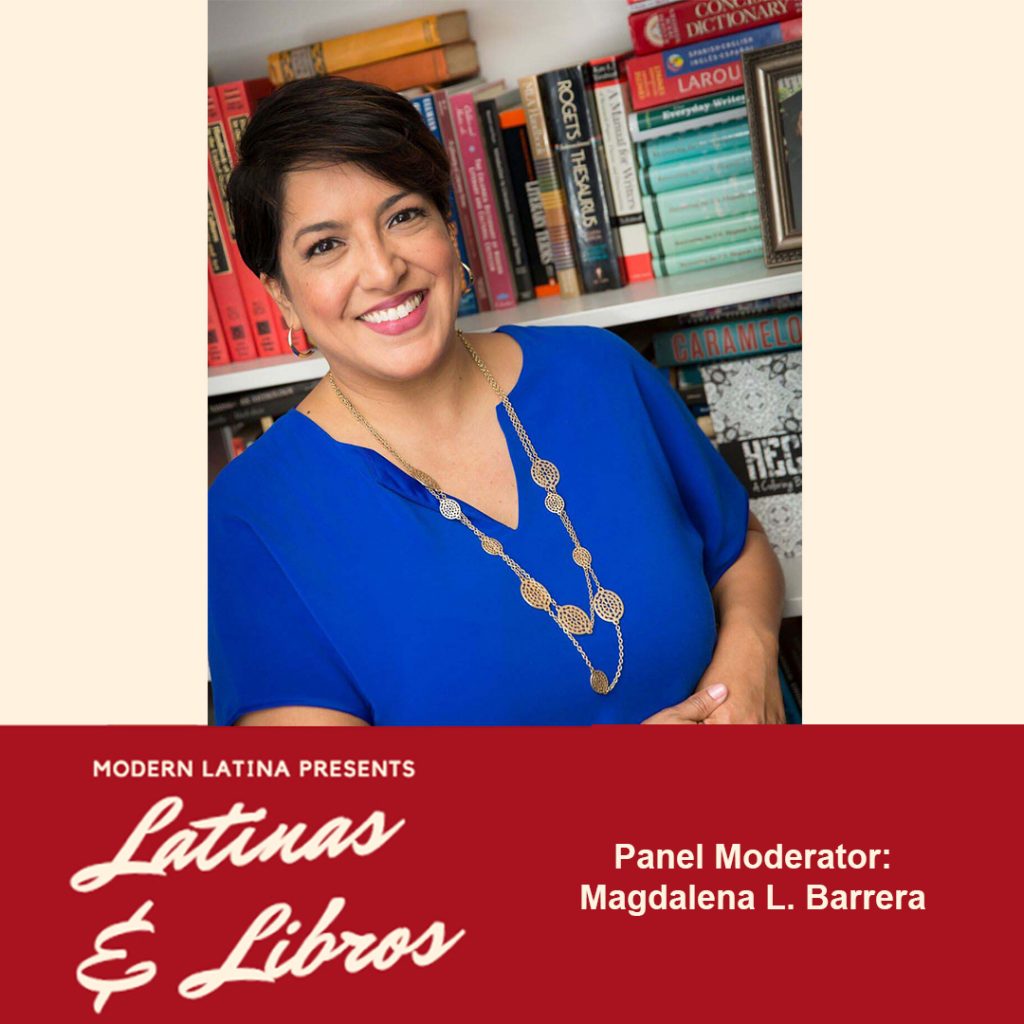 Magdalena L. Barrera is an Associate Professor of Mexican American Studies at San José State University. Born and raised in suburban Chicago, Illinois, she received a B.A. in English Literature and Latin American Studies from the University of Chicago (1997), and a Ph.D. in Modern Thought and Literature from Stanford University (2006). Magdalena joined SJSU in 2008 after a postdoctoral teaching fellowship in Stanford's Introduction to the Humanities program. Her teaching interests include Chicanx history, literature, and film.
Magdalena has two areas of research: The first focuses on the intersection of literary/visual studies and cultural history; she is interested in how Mexican Americans are represented in early twentieth century American literature, music, photography, and government publications. The second centers on the retention and mentoring of historically underrepresented students and faculty in institutions of higher education.
Magdalena is a first-generation scholar and a former Mellon-Mays Undergraduate Fellow (1996-1997). She spent the 2011-2012 academic year in Austin, Texas, on a research fellowship, thanks to a Junior Faculty Career Enhancement Fellowship through the Woodrow Wilson National Fellowship Foundation. While on sabbatical in Spring 2016, Magdalena traveled with her husband to Bolivia and Peru, where they climbed the four-day Inca Trail to the city of Machu Picchu.
Featured Author: Chandra Brooks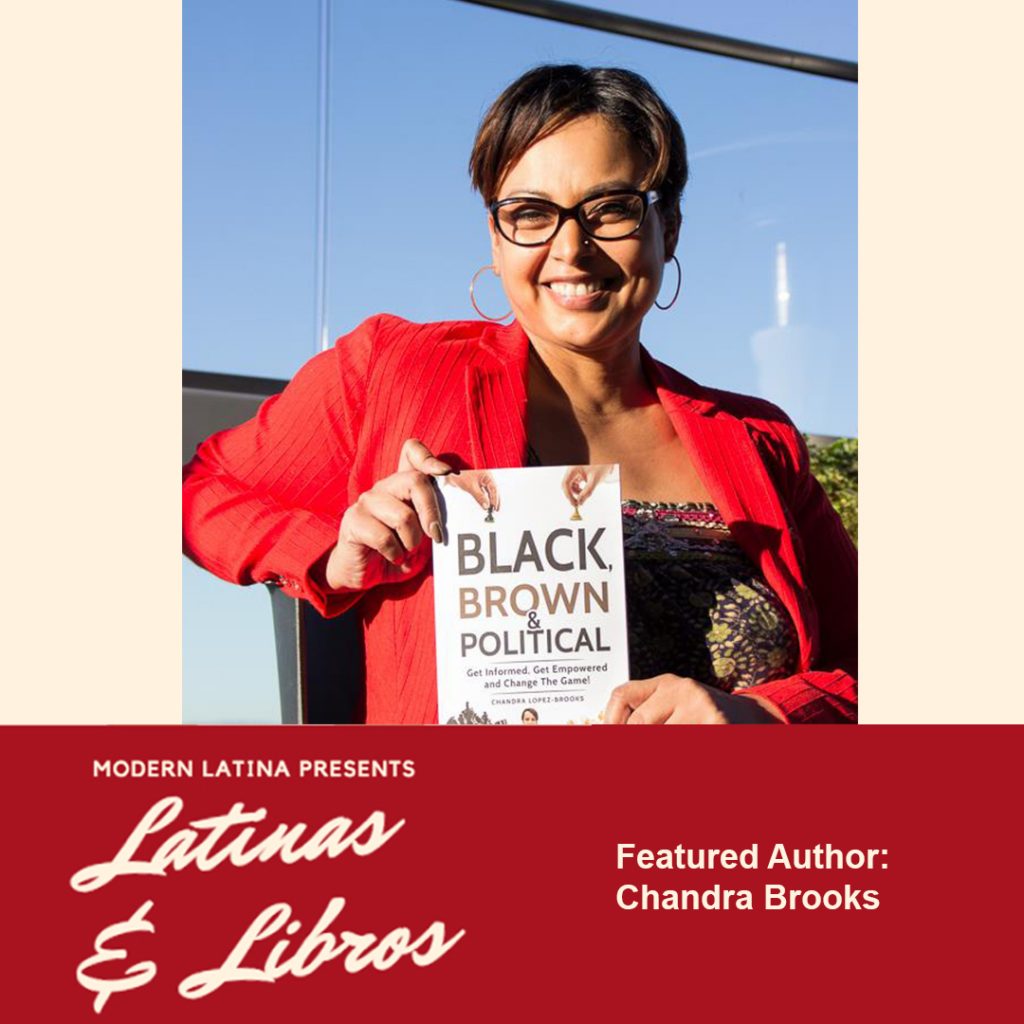 Chandra Brooks is a wife, mother of four and passionate for her community, civil rights, social justice, and improving voter outcomes and civic engagement in communities of color.
Chandra is the former Vice President of the National Association for the Advancement of Colored People (NAACP), Commissioner of Santa Clara County's Commission on the Status of Women and Girls and Chair of the Justice and Advocacy Committee that manages the Commissions oversight of Elmwood's Women's correctional facility.
In 2017 Chandra launched The SocialPreneur, a purpose-driven business that prepares potential candidates to get ready to run for political office and mentors women to own their power and leadership within their company, business, and/or community. Chandra is the author of Black, Brown & Political: Get Informed, Get Empowered and Change the Game!
In 2013 Chandra received the Portrait of Success Award from the Hispanic Development Corporation and in 2014 the Activist of the Year Award from Latinos Action Media (LAM). In 2015 Chandra was named one of the Most Influential Women in Silicon Valley from The Silicon Valley Business Journal and inducted into the East Side Unified High School District Hall of Fame, and in 2016 named Women of the Year from 100 Black Women of Silicon Valley and received The Latina with Vision Award from New York Life. Then in 2017 received the Leadership Award from The California League of United Latin American Citizens.
Featured Author: Socorro Castañeda-Liles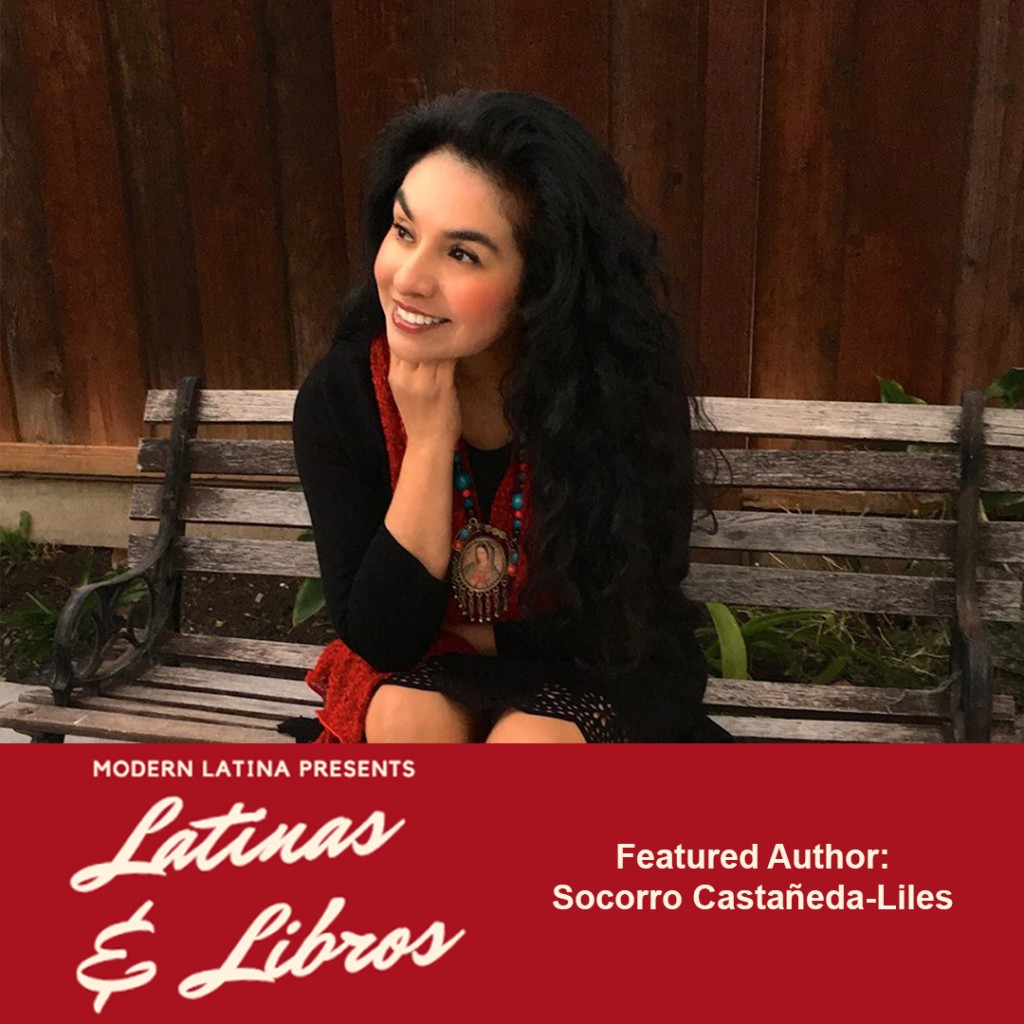 Socorro Castañeda-Liles, Ph.D. is the author of Our Lady of Everyday Life: La Virgen de Guadalupe and the Catholic Imagination of Mexican Women in America to be published Spring 2018 by Oxford University Press. Castañeda-Liles is Assistant Professor of Religious Studies at Santa Clara University. Her research, writing, and teaching interests include Chicanx and Latinx Studies, Sociology of Religion, Lived Religion, Critical Ethnography, Community Studies, Qualitative Methods, and the interlocking of Race, Class, Gender, Religion, & Sexuality.
Featured Author: Diana García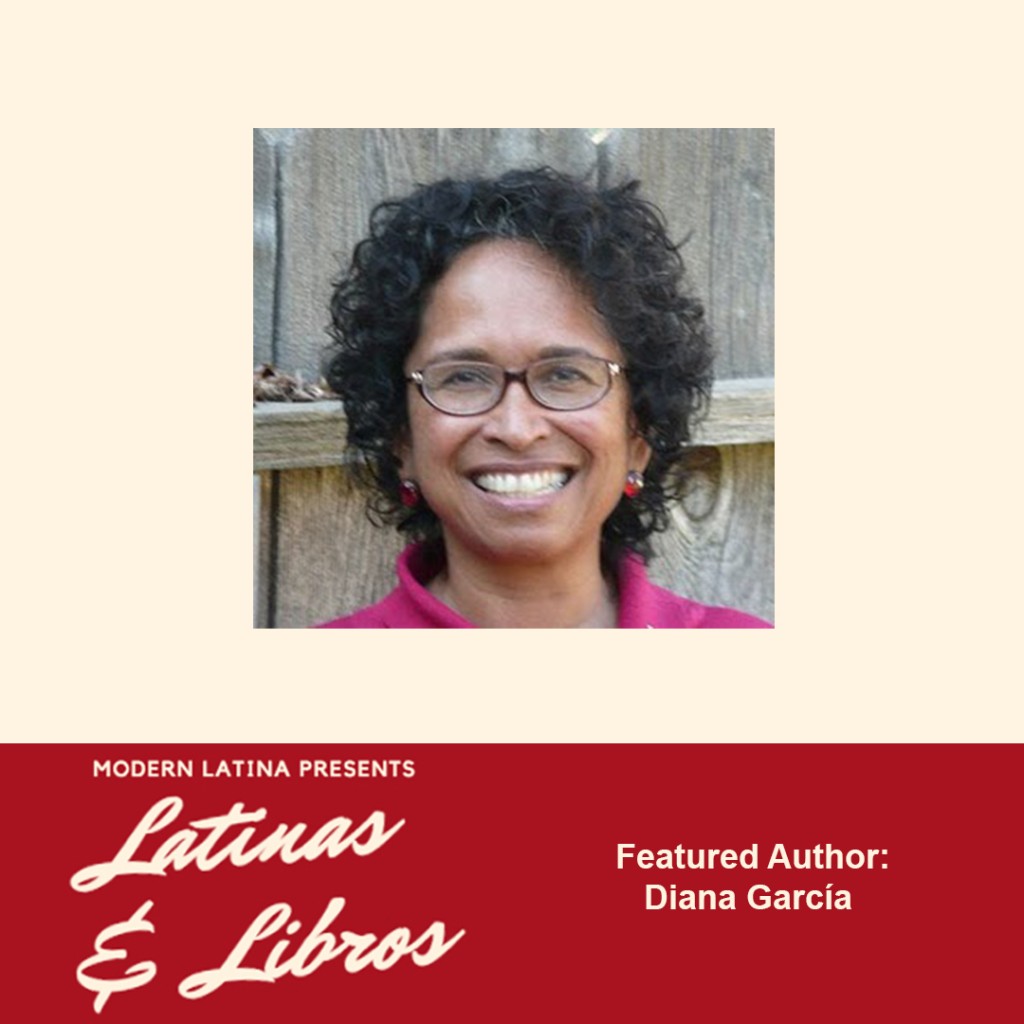 A native of California's San Joaquin Valley, poet and writer Diana Garcia was born in a farm labor camp owned by the California Packing Corporation.  Formerly a single mother on welfare, she earned both her BA and MFA in creative writing from San Diego State University (SDSU). She began her teaching career as an adjunct lecturer at SDSU before being hired as a visiting creative writing professor—later, a tenure-track professor–at Central Connecticut State University (CCSU). She also was selected as a summer exchange professor at the University of Freiburg in Germany.
She returned to California as a professor in the Creative Writing and Social Action Program at California State University Monterey Bay. Her poetry collection, When Living Was a Labor Camp, won an American Book Award.  She, along with Frances Payne Adler and Debra Busman, co-edited the anthology Fire and Ink: An Anthology of Social Action Writing.
In 2009 she was a featured poet for the Smithsonian's National Museum of History Poetics of Labor "Bittersweet Harvest: Cosecha Amarga, Cosecha Dulce" exhibit focusing on the Bracero Program.   In March 2016 she, along with then-U.S. Poet Laureate Juan Felipe Herrera and Santa Clara County Poet Laureate Arlene Biala headlined "Poets Unite: UFW 50th Anniversary and Dolores Huerta" at the Smithsonian's National Portrait Gallery.
A former judge for the Connecticut Commission of the Arts' poetry competition, she was named Connecticut Poet of the Year in 1998. A community-based teacher and writer, she taught for California Poets in the School, co-founded the Border Voices Project in San Diego, and founded the Central Connecticut Poetry Project. In spring 2005 she was inducted into the "Latinas: The Spirit of California" exhibit as part of the California Museum for History, Women, and the Arts. Her poems, stories and essays appear in numerous anthologies and journals.