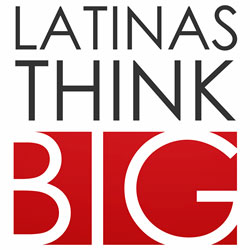 A leadership initiative of ELLA Leadership Institute, LATINAS THINK BIG™ are dynamic live events broadcasted on Google+ and YouTube that showcase Latina thought leadership, innovation, and ambition. The event will be at Google's office in Los Angeles, CA. With a focus on community building, professional networking and social impact, LATINAS THINK BIG™ features 'TED-style' talks by innovators from diverse industries, including technology, science, business, academia and the arts, among others. The collection of talks are housed on the ELLA Institute's YouTube channel for educational, professional and social purposes.
On October 11th, 2013, over 150 attendees will gather to connect and celebrate the work five talented Latinas and alongside live music and stimulating conversations.
"The LATINAS THINK BIG™ platform aims to showcase the very important work of bicultural Latinas in this country, as thought leaders, innovators and business owners who are equally invested in social impact" says Dr. Angelica Perez-Litwin, founder of ELLA Institute.
There is still time to get your Virtual Pass
Anchored in ELLA Institute's core mission of leveraging online technology and social media to reach women where they are, the LATINAS THINK BIG™ event will be live-streamed via Google+ as a Hangout On Air for national visibility. Online viewers are encouraged to register for a Virtual Pass.
The exciting line-up of mini-talks will be presented by Rocio Moreno, a celebrated architectural designer; Veronica Villafañe, an Emmy award-winning bilingual multimedia journalist; Pamela Campos-Palma, an Operations Intelligence Manager in the US Air Force; Estefania Ortiz, a Stanford University electrical and software engineering college student; and Noramay Cadena, an IPT leader at Boeing & Co-founder of Latinas in STEM.
The event will also recognize three outstanding Latina/o leaders for their commitment to advancing the careers and lives of Latinos in this country. Monica Gil, Senior Vice President at Nielsen, Eliana Murillo, Head of Multicultural Marketing at Google, and Martin Mares, Founder of the Ivy League Project will receive an ELLA Leadership Institute Award for their outstanding work.
Connect and join the conversation:
Images courtesy of Ella Institute.