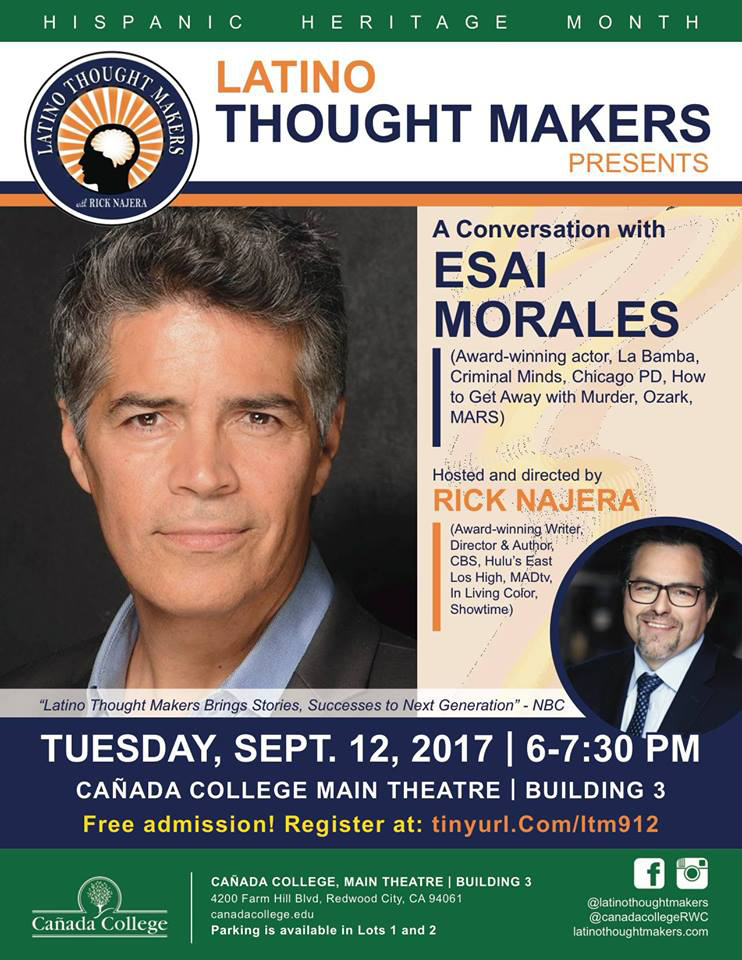 by Linda Castillo
I met Rick Najera at the Silicon Valley Latino Leadership Summit. This year Rick was honored for 2017 Latino Leadership Visionary Award for his work breaking down barriers as an actor, director, writer, and author of Almost White: Forced Confessions of a Latino in Hollywood.
Rick created Latino Thought Makers to build bridges of understanding in cultural diversity through personal and comedic dialogue and showcases critical thinking as it relates to entertainment and education. The series provides the audience an opportunity to be a part of a greater dialogue with a live, sit-down interview and personal conversation on stage with Rick Najera followed by a Q&A after the discussion. Past interviews have included Edward James Olmos, Dolores Huerta, Cheech Marin, Danny Trejo, Luis Guzman, the Cesar Chavez family, the cast of Hulu's East Los High, Grammy award-winning musicians Quetzal, and many more.
Latino Thought Makers Kicks Off Hispanic Heritage Month with Actor Esai Morales and Host Rick Najera at Cañada College
Rick Najera's Latino Thought Makers is coming to the Bay Area next week with a live conversation series with special guest, award-winning actor/activist Esai Morales on Tuesday, September 12, 2017 at Cañada College. The special event, kicking off celebrations for Hispanic Heritage Month, will take place at Cañada College's Main Theatre at 4200 Farm Hill Blvd, Redwood City, CA 94061 from 6 to 7:30 p.m. with a Q&A following the discussion.  Admission to the special event is free and open to the public with registration on EventBrite by visiting http://tinyurl.com/LTM912.
Special guest Esai Morales is an award-winning actor and social activist. He is recognized as one of the most talented and relevant actors in Hollywood. His breakthrough role in La Bamba made him a star, contributing to making the film the most commercially successful Latino-themed Rock biopic of all time. In addition to film, some of his recent television credits include Criminal Minds (CBS), Chicago PD (NBC), How to Get Away with Murder (ABC) Ozark(Netflix) and MARS by executive producer Ron Howard.
Rick Najera's Latino Thought Makers: A Conversation with Esai Morales 
Date: Tuesday, September 12 from 6 to 7:30 p.m.
Location: Cañada College, 4200 Farm Hill Blvd, Redwood City, CA 94061.
Admission is FREE and open to the public with registration.
Register: http://tinyurl.com/LTM912
More info:
Linda Castillo is the Founder and Executive Editor of www.ModernLatina.com. She writes on topics that empower and inspire Latinas including art, motherhood, green living, culture, travel, and issues transforming the Latino community. Linda has earned a B.S. in Business and a M.S. in Mass Communications from San Jose State University.