Cuban author Alisa Valdes-Rodriguez does it again releasing her latest literary creation, Lauren's Saints of Dirty Faith: A Dirty Girls Social Club Novel. This new book is the third installment of the popular Dirty Girls Social Club series. 
You can get a special sneak preview of the first chapter of the new book in Latina magazine's October 2011 issue.  But you won't find this book at the typical retail channels as it is only available for purchase online only beginning September 16.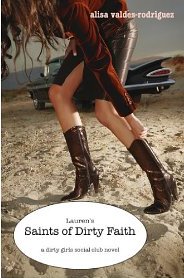 Readers will sure to be intrigued with Lauren's Saints of Dirty Faith.  The story continues with Boston newspaper columnist Lauren Fernandez running for her life from a handsome sociopathic killer, with the help of her two best friends — and straight into the arms of a hot, mysterious New Mexico cowboy. We also find plus-sized materialistic glamazon Usnavys Rivera laid off and confronted with a downsized bank account and impending bankruptcy as her shopping spirals out of control; and prim and perfect Rebecca Baca discovering her father's secret "other" family, while also seeing the passion slip out of her marriage after the birth of her autistic son. (Excerpt and image source Amazon)
Linda Castillo is the Founder and Executive Editor of www.ModernLatina.com. She writes on topics that empower and inspire Latinas including art, motherhood, green living, culture, travel, and issues transforming the Latino community. Linda has earned a B.S. in Business and a M.S. in Mass Communications from San Jose State University.