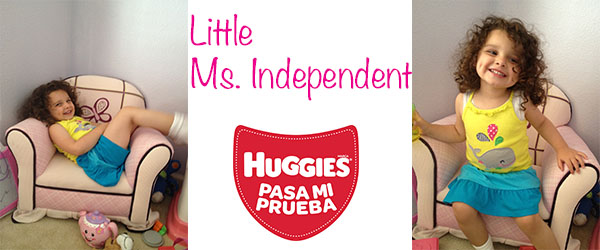 Disclosure: This is part of a compensated campaign with Latina Mom Bloggers and Huggies.  However, all opinions expressed are my own.
by Linda Castillo
One of the greatest joys about being a parent is seeing your child grow into a little person with their own individual personality, opinions, and sense of humor. Now that my daughter is a toddler, she has become little Ms. Independent.  She wants to do everything on her own and some of the most common phrases that come out of her mouth are "No Me," "No," and "Let Me."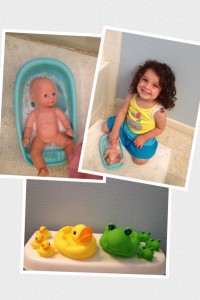 Since she is my first and my only child right now, I have the tendency as a parent to still see and treat her as a baby.  But as a parent I know that I must give her the space she needs to do things on her own while ensuring she is still taken care of.  A perfect example comes to mind is the task of brushing her teeth.  Every night my little one will want to brush her own teeth.  She is enthusiastic about the task at hand but she isn't old enough to really brush her teeth properly.  But I still let her "brush" her teeth, which usually consists of her sucking the Tutti Frutti flavored toothpaste off the toothbrush and just biting the toothbrush.  And then after she has "brushed" her teeth, I simply tell her "Now it's mommy's turn to brush your teeth." And even though she protests when I brush her teeth, I still have to make sure those little teeth are clean.
Finding the right balance as a parent can be a challenge, but as a parent we have to constantly give our kids the room to grow and try new things.  Even simple things such as taking their shoes off, getting dressed, or making the bed are great growing experiences for your children. What I like to do is have my daughter help me with things around the house.  For example, if I am cleaning the glass doors, I will hand her a towel to help me. While I know there are times that I just end up doing things myself because it is quicker, I need to constantly remember that as a parent I have to step back and let my little one become more independent, or in my little one's case little Ms. Independent!
And for me it's great to have Huggies Snug & Dry Diapers on hand because they keep up with my little Ms. Independent on her daily adventures. Check out Zuleyka Rivera's second webisode with her adorable son Sebastian and be sure to leave feedback in about the video:
Join Zuleyka and I over the next few months as we continue to put the new Huggies Snug & Dry Diapers with New SureFit Design and Huggies Natural Care Wipes with New Triple Clean Layers to the test. New webisodes of Zuleyka and her son Sebastian will be uploaded monthly and can be viewed on the Huggies Latino Facebook page. Visit Huggies.com/tuprueba for more information on the new Huggies products. Be sure follow the conversation on Twitter at @Huggies and #HuggiesLatino.
What are some of your parenting challenges or stories?
Linda Castillo is the Founder and Executive Editor of http://www.modernlatina.com/. She writes on topics that empower and inspire Latinas including art, motherhood, green living, culture, travel, and issues transforming the Latino community. Linda has earned a B.S. in Business and a M.S. in Mass Communications from San Jose State University.