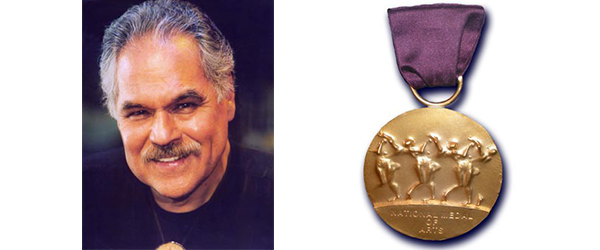 by Linda Castillo
Felicidades to Luis Valdez who will be awarded the 2015 National Medal of Arts and National Humanities by President Obama.
Luis Valdez, American playwright, actor, writer and film director. Luis is from Delano, California, his parents were migrant farm workers, to his San Jose roots as a graduate from James Lick High School and San Jose State University (SJSU). While he was accepted to SJSU on a scholarship for math and physics, he later switched his major to English to follow his true calling in playwriting and theater. In 1965, Valdez formed El Teatro Campesino, a farm worker's theater troupe to further Cesar Chavez's mission to organize farm workers into a union and it was later expanded to create plays about Chicano culture. Valdez is a hero for the lives he has touched with his theater productions and the many students who went through El Teatro Campesino. Congratulations to this merited recognition!
President Barack Obama will present the 2015 National Medals of Arts in conjunction with the National Humanities Medals on Thursday, September 22, 2016, in the morning in an East Room ceremony at the White House. First Lady Michelle Obama will attend. The event will be live streamed at www.whitehouse.gov/live.
NEA Chairman Jane Chu said, "These National Medal of Arts recipients have helped to define our nation's cultural legacy through the artistic excellence of their creative traditions, and I join the President in congratulating and thanking them for their contributions."
The recipients include:
Mel Brooks for a lifetime of making the world laugh. As a writer, director, actor, and musician, he pioneered the art of musical comedy, and his hilarious, thought-provoking work on film and in theater have earned him the rare distinction of winning Oscar, Emmy, Tony, and Grammy awards. (New York NY)
Sandra Cisneros for enriching the American narrative. Through her novels, short stories, and poetry, she explores issues of race, class, and gender through the lives of ordinary people straddling multiple cultures. As an educator, she has deepened our understanding of American identity. (San Antonio, TX)
Eugene O'Neill Theater Center for its unwavering support of American theater. For over 50 years, the Eugene O'Neill Theater Center has nurtured award-winning playwrights, directors, and actors, enriched the craft of stage production, and delighted audiences with exceptional programs. (Waterford, CT)
Morgan Freeman* for his outstanding work as an actor, director, and narrator. His iconic stage and screen performances have brought to life characters from the whole spectrum of the human experience, moving audiences around the world, and influencing countless young artists. (Charleston, MS)
Philip Glass for his groundbreaking contributions to music and composition. One of the most prolific, inventive, and influential artists of our time, he has expanded musical possibility with his operas, symphonies, film scores, and wide-ranging collaborations. (New York, NY)
Berry Gordy for helping to create a trailblazing new sound in American music. As a record producer and songwriter, he helped build Motown, launching the music careers of countless legendary artists. His unique sound helped shape our Nation's story. (Los Angeles, CA)
Santiago Jiménez, Jr. for expanding the horizon of American music. He has helped spread traditionalconjunto music, blending the sounds and cultures of south Texas and Mexico. His lively melodies performed on the two-button accordion have captivated audiences around the world. (San Antonio, TX)
Moises Kaufman for his powerful contributions to American theater. His work sensitively probes questions of culture and sexuality. His award-winning Tectonic Theater Project continues to move audiences with its bold portrayals of contemporary social issues. (New York, NY)
Ralph Lemon for his contribution to dance and the visual arts. As a self-proclaimed conceptualist, he uses dance as a source of physical communication, and his complex works withstand examination from all angles, revealing intimate truths about human nature and offering broader insights into the American experience. (Brooklyn, NY)
Audra McDonald for lighting up Broadway as one of its brightest stars. An unforgettable performer, she has won six Tony awards. In musicals, concerts, operas, and the recording studio, her rich, soulful voice continues to take her audiences to new heights. (Croton-on-Hudson/New York, NY)
Luis Valdez for bringing Chicano culture to American drama. As a playwright, actor, writer, and director, he illuminates the human spirit in the face of social injustice through award-winning stage, film, and television productions. (San Juan Bautista, CA)
Jack Whitten for remaking the American canvas. As an abstract artist, he uses "casting," acrylic paints, and compounds to create new surfaces and textures, challenging our perceptions of shape and color. His powerful works of art put the American story in a new light. (New York, NY)
Congratulations to all the honorees!!
Linda Castillo is the Founder and Executive Editor of www.ModernLatina.com. She writes on topics that empower and inspire Latinas including art, motherhood, green living, culture, travel, and issues transforming the Latino community. Linda has earned a B.S. in Business and a M.S. in Mass Communications from San Jose State University.