by Linda Castillo
Sometimes you just need a family date night and visiting the special Lumination festival at Gilroy Gardens was such a unique experience to share with my family. Lumination: Chinese Culture Celebrated in a Whole New Light is a spectacular festival celebrating 2,000 years of Chinese culture and tradition. The entire park is lit up with spectacular 30 light displays, all handcrafted by master artisans from Zigong, China.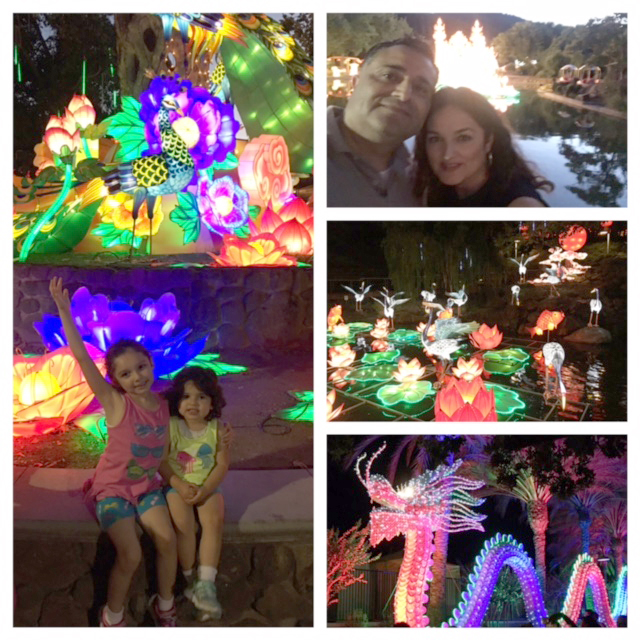 I love learning about history and culture and I enjoyed seeing and reading about all the colossal replicas of famous Chinese landmarks and cultural icons will celebrate over 2,000 years of Chinese history, from the first dynasty to the last. The displays included giant dragons, mythical Qilin, and playful pandas, as well as historic landmarks like the Great Wall, Temple of Heaven, and Terracotta Warriors.
My girls loved to run through the park looking at the colorful displays featuring larger-than-life animals, flowers, and mysterious mythological creatures. You can clearly see the artistry and work that went into creating the displays. Some of the displays are made from thousands of individual pieces. One of my favorite displays was this light sculpture made from tiny glass bottles filled with colored water.
My daughters loved the live performance, so much so that even my two-year old sat in one place the entire time. The performance featured the art of Chinese face changers, acrobats and live performers from Zigong, China.

It is truly an once-in-a-lifetime experience and I plan on bringing my family back a few more times before Lumination ends on November 27, 2016.
Visitors to Gilroy Gardens may purchase same-day Lumination passes for additional $15. Lumination is free for Elite Gilroy Gardens members. The exhibit is open Friday, Saturday and Sunday nights (6pm – 10pm). For more information or to purchase tickets, visit https://www.gilroygardens.org.
Linda Castillo is the Founder and Executive Editor of www.ModernLatina.com. She writes on topics that empower and inspire Latinas including art, motherhood, green living, culture, travel, and issues transforming the Latino community. Linda has earned a B.S. in Business and a M.S. in Mass Communications from San Jose State University.