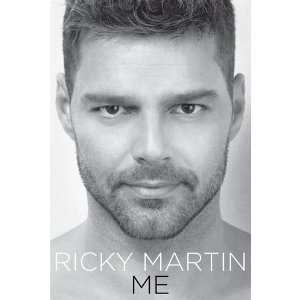 by Vanessa Garcia
Wow!  Ricky Martin is so wise.  Those are probably not words I would have uttered to myself while bumping Livin' La Vida Loca way back in the day.  But when I finished Ricky Martin's autobiography Me that's really what I thought to myself.  In his memoirs Martin reflects on his childhood in Puerto Rico and his rise to stardom from the boy band Menudo, to his initiation of the Latin Music Boom.  He openly talks about his conflicting emotions with his sexuality, his lovers, both men and woman, a life changing experience in India helping destitute children, the work he's been doing with the Rick Martin Foundation to help save children who are sold for sex, to his decision of becoming a father though a surrogate, and finally confronting the world about his homosexuality. 
The theme of Me is a self reflection of all the love and pain that Ricky Martin went through for many years in his self discovery as a human being, and opens up on his own struggles to love himself even though he was already loved by the world. 
I enjoyed reading this book because it spoke to me very much about the struggle we all have for our own self acceptance.  As he unfolds the various stories on his life and how one event happened after the other, he reminds us all that everything has its own place in time. "Remember: In life, everything arrives in its moment, and not before or after."
Which brings us to the moment many of us have been waiting for – his announcement to the world regarding his sexuality.  In a letter that he posted on his website, and via Twitter, Martin wrote "I am proud to say that I am a fortunate homosexual man.  I am very blessed to be who I am."  What allowed him to come out was the birth of his twin sons Matteo and Valentino, who gave him the strength to confront his fears and live honestly.  Although it took him 38 years to come out, he explains the difficulty of this truth because of the fears instilled in him by religion and society.
He dedicated a good portion of his book talking about his trip to India and the stone cold reality of its caste system.  Although he arrived in the country to learn yoga and meditation, he found poverty and suffering in the hands of precious children.  I think popular culture has in a way covered India with a sugary gloss, with its spirituality, and origins in Buddhism, Hinduism, yoga, meditation, and it many holy sites.  But we forget that many people suffer there too, the "untouchables" who not even a doctor would help, as Ricky described in his first encounter with the dark side of India.  But what really got me was the work he's been doing against human trafficking, and selling children for sex all around the world.  I applaud him for his bravery and bluntness on bringing such a horrible topic to light. 
This book has showed me how beautiful Ricky Martin is as a human being.  His honesty, pain, torment, and love remind us all that money or fame cannot buy us happiness.  It lies in ourselves to connect with our inner being.  I think this book will speak to so many people about spirituality, sexuality, self acceptance, poverty, the human condition, and above all – love.  "You have to search for love.  You have to believe in it.  You have to ask the universe for exactly what you want to call to your life.  But most of all, you have to be patient." 
Vanessa Garcia has written for Modern Latina since 2008, in addition to Live en Vivo, and 831 Magazine.  Many of her articles reflect her interests in art, music, culture, travel, and the environment.  Vanessa received her Bachelor's degree from UCLA in Anthropology, and is currently finishing her Master's as San Jose State University in Mass Communications.