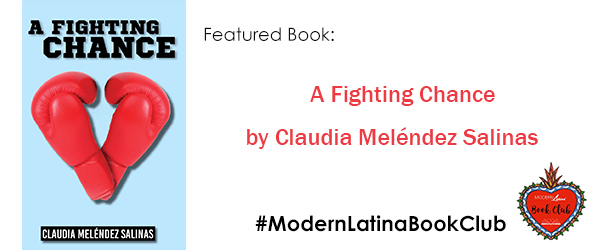 by Maria Joaquina Villaseñor
"Another one of Coach's rules: If you want to be a champion, you have to run every day. Make the foggy mornings and windy afternoons your homeboys…Miguel Ángel would become a boxer."
What are the obstacles young Latinos must fight to have a chance? In A Fighting Chance, Claudia Meléndez Salinas draws us into the life of Miguel Ángel, a seventeen-year-old boy who lives in Salinas, California, in a neighborhood mired in a poverty he longs to escape. Through boxing, Miguel Ángel finds an outlet for his frustrations, lessons in discipline, a mentor and father figure, and most importantly, hope.
But this is not really a story about boxing. Miguel Ángel's companions on the journey that unfolds in this novel are several, and are all compelling in their own right. His childhood best friend, Beto, has taken a different path than Miguel Ángel, and is caught up in gang life. Beto seeks out Miguel Ángel when things get heavy and he needs help. How can Miguel Ángel stay loyal to his friend while staying out of trouble? How can he say "no" to the friend who has been by his side, rescuing him from bullies, since they were both chubby little boys?
Miguel Ángel and his girlfriend, Britney, share what is, in some ways, a classic romance whose protagonists live on different sides of the tracks. Her community, where having servants is the norm, stands in sharp contrast to Miguel Ángel's community, where it is not uncommon to have a family of six in a one-bedroom apartment. Yet there is more to Britney's privileged family life than meets the eye, and the reader glimpses the darkness that resides in her parental home. Yet despite and maybe because of their differences, Britney and Miguel Ángel are drawn magnetically to each other, navigating their differences, and facing the tough consequences of their choices.
Along the way, readers also glimpse the tenderness of Miguel Ángel's sibling relationships; he is the consummate caring, older brother to his siblings including his beloved sister who he sweetly calls his Pan Con Mantequilla (Bread with Butter) after his favorite snack. Indeed, one of the most enduring pleasures of this novel are the vivid portrayals of complex characters who exist on the page in such detail that readers feel they know them. It is also a page-turner. Readers will care about Miguel Ángel and will want to know how he will emerge from the many challenges in which he is unmeshed. The novel offers no magical answers or solutions, but breathes life into experiences some of us know personally, and all of us should know, given that our communities face so many barriers they must fight to have a chance.
Maria Joaquina Villaseñor holds a Ph.D. in Comparative Ethnic Studies from UC Berkeley. Among her academic publications are The Historical Dictionary of U.S. Latino Literature (Rowman and Littlefield, 2016) of which she is a co-author, and Black and Latinx Millenial Students and Racial Justice Activism in the Age of Black Lives Matter in Readings in Race, Ethnicity, Immigration, and Minority Relations (Cognella, 2017 forthcoming). Her first piece of creative non-fiction, an essay called "Mirrors," appears in the May 2017 issue of The Acentos Review. She is a twin, a mother of twins, and believes in the power of pairs.