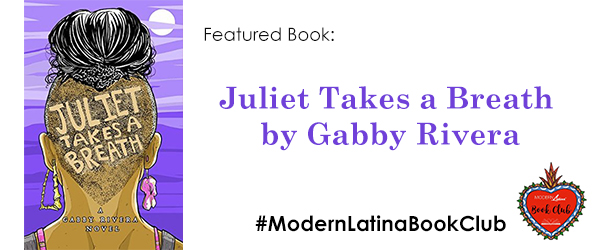 by Jasmine Colón
When I first heard that Marvel Comics was creating a series for the America Chavez, I immediately needed to know who was going to author this groundbreaking superhero. A quick search led me to Gabby Rivera who I discovered published her critically acclaimed Juliet Takes a Breathe a year ago. As I read through the many reviews (including one by Roxanne Gay!) I knew this was going book my April selection. I am looking forward to discussing Juliet Takes a Breath with the Modern Latina Book Club community and possibly discussing America Chavez in the near future!
Excerpt: Juliet Milagros Palante is leaving the Bronx and headed to Portland, Oregon. She just came out to her family and isn't sure if her mom will ever speak to her again. But Juliet has a plan, sort of, one that's going to help her figure out this whole "Puerto Rican lesbian" thing. She's interning with the author of her favorite book: Harlowe Brisbane, the ultimate authority on feminism, women's bodies, and other gay-sounding stuff.
Will Juliet be able to figure out her life over the course of one magical summer? Is that even possible? Or is she running away from all the problems that seem too big to handle?
With more questions than answers, Juliet takes on Portland, Harlowe, and most importantly, herself.

Jasmine Colón grew up in the Central Valley of California where she suffered through hot summers and foggy winters. Hiding from the local elements, she was often found in her school library with her nose in multiple books. Exchanging extreme temperatures for a more mild setting she headed off to the beaches of Santa Cruz where she earned her B.A. in Literature from U.C. Santa Cruz. Moving on to San Jose, she found a renewed love for libraries and earned her M.L.I.S. (Master of Library and Information Science) from SJSU. Jasmine is an academic librarian at a Bay Area community college. She is currently trying to beat her personal best of reading 95 books in one year.