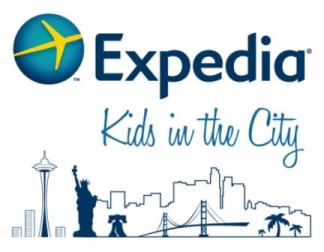 Expedia.com, the world's leading online travel agency, today launched Expedia® Kids in the City Guide, a compilation of 12 distinct guides to top US summer vacation destinations. Each online guide is curated by a family travel blogger who is a mom herself from cities such as Boston, New York and Chicago. They feature the best places to see, stay, eat and play with children of all ages in the summer months.
The Expedia Kids in the City Guide comes on the heels of the launch of Expedia's largest summer sale ever, with over 12,000 hotels and resorts from 700+ destinations offering up to 35% off.  New Expedia research shows that 91% of US family getaways are for travel within the US and that 56% of these trips were to an urban destination.  Further, 32% of those booking a family getaway reported that they were going to a destination they've never been to before.
The full set of guides will appear on Expedia.com on May 22, 2012. To review the guides, visit expedia.com/kidsinthecity and follow Expedia on twitter @Expedia using #ExpediaKids as the hashtag for the discussion.
"In everyday life, moms rely on other moms for the recommendations relating to their family: the best pediatrician, childcare, babysitters, schools, you name it. Moms are usually the Chief  Travel Officer of the family so vacation and travel shouldn't be any different," said Sarah Keeling, director of travel communications, Expedia Worldwide. "When parents commit to a family vacation, to spend their precious time and resources on that special summer trip, they want to feel confident that they've found the best services and attractions for their kids. The Expedia Kids in the City Guide gives moms the peace of mind that these trips are mom-approved."
Participating bloggers and their corresponding cities include:
Boston– Nancy Solomon of Ciao Bambino!
Chicago  –  Nicole Wiltrout of Arrows SentForth
Denver– Kara Williams of The Vacation Gals
Los Angeles  –  Jennifer Miner of The Vacation Gals
Minneapolis/St.Paul  – Beth Blair of The Vacation Gals
New York City– Carol Cain of NY City Mama
Philadelphia– Mara Gorman of The Mother of All Trips
Portland– Amy Whitley of Pit Stop for Kids
San Diego– Colleen Lanin of Travel Mamas
San Francisco– Dana Rebmann of Ciao Bambino!
Seattle – Debbie Dubrow of Delicious Baby
WashingtonD.C.–  Elizabeth Thorp of Posh Brood
"Who better to recommend kid-friendly attractions than travel-savvy moms who live in or near these key cities across America? We share our insider tips for visiting famous city sights with kids, as well as some of our favorite lesser-known activities in each area," said Kara Williams, travel blogger for The Vacation Gals. "We hope our suggestions will inspire parents across the country to grab their kids and set out to explore some of the United States' most popular urban destinations!"