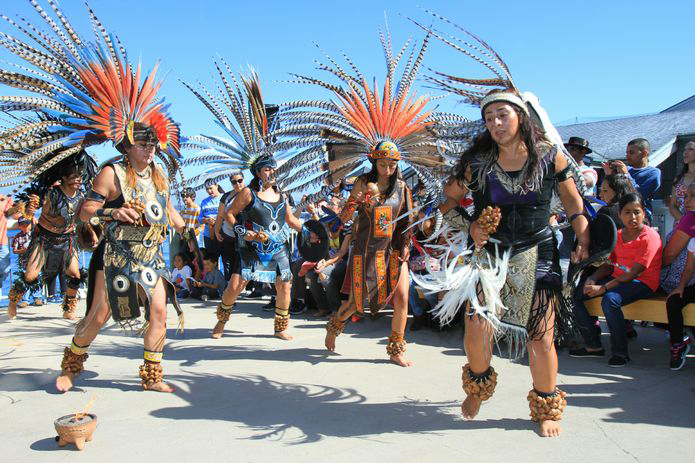 Families can learn how to protect the ocean at the Monterey Bay Aquarium's annual "Fiesta del Mar" event on Sunday, October 16.  "Fiesta del Mar" is a Latin American cultural festival celebrating ocean conservation.
This year's celebration is filled with fun activities for the whole family, including live musical performances by MEXIKA: Sounds of Ancient Mexico and harpist William Faulkner, traditional Yaocuahtli Aztec dancers, bilingual feeding shows and crafts for kids. Children ages 12 and under will be admitted free to the aquarium all day.
NBC Bay Area Reporter Damian Trujillo will present the "Héroe del Medio Ambiente" ("Hero of the Environment") award to TV and radio journalist Celina Rodriguez, for her ocean advocacy.
This year's "Líder del Futuro" ("Leader of the Future") award recipient is Watsonville Area Teens Conserving Habitats (WATCH) program alumnus, Cesar Garcia. Garcia was a natural leader in his WATCH group, and now as a student at Yale University he continues to help Latinos find their voice in the STEM fields. He is president of MAS Familias, a student organization created to support Latinos in math and science, and organized Yale's first Latino science research symposium.
The theme for the craft room project is "Regresa a Tus Costumbres"" ("Return to your Customs"), featuring a reusable bag like the ones your abuelos have been using for decades. Bring back this sustainable practice with style by decorating your own bag.
This year's Fiesta del Mar events include:
Interactive musical performances by MEXIKA at the Coastal Stream; 10:30 a.m. – 1:30 p.m.
Yaocuauhtli Aztec Dancers on the Great Tide Pool Deck; 11:30 a.m., 12:30 and 1:45 p.m.
Family crafts and activities in the Discovery Labs; 1 – 5 p.m.
Award presentations on the Great Tide Pool deck begin at 2 p.m.
Penguin feeding program, presented in English and Spanish at 3 p.m.
Kelp Forest feeding program, presented in English and Spanish at 4 p.m.
A full schedule of Fiesta del Mar programs and activities, all included with aquarium admission, will be available at the event.
Fiesta del Mar is presented in collaboration with Scholarshare. For more information about Fiesta del Mar, visit www.montereybayaquarium.org/fiesta.
Images courtesy of Monterey Bay Aquarium.