Mother's day is right around the corner. We selected a ten of our favorite gift options that will work for every budget and provide some creative ideas if you are stumped finding the perfect gift for your mom. Or forward along to your hubby if you find a few you like!
For the moms that adore beauty products, here are two of our favorite gift sets that she will be sure to love.
JOSIE MARAN
 Spread The Argan Love Set (Retail price $55)

TOO FACED Pardon My French Set (Retail price $65)
Gina Scarf from Banana Republic (Retail price $39.50)
You can never have enough scarves! We love this Gina Scarf at Banana Republic in both color waves. This scarf is perfect to add a pop of color for your summer attire.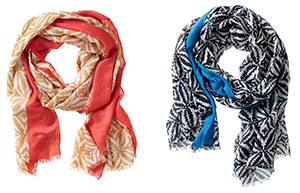 LG Intuition Smartphone Holder (Retail price $22)
For the mom that is always on the go, we love this smartphone holder. Perfect when your mom is at the office and wants to run out to grab lunch without having to lugging her heavy purse. We love the bright design of this smartphone holder and all the compartments to hold everything cards, coins, and more.
Boston Warehouse Doilies Garden 3-Piece Garden Tool Set (Retail price $30)
If your mom has a green thumb and loves spending time in the garden then she will love this femine 3-piece garden tool set.

Learn to Knit Kit (Retail price $62)
It's never too early to get her practicing the knit and purl: The ultimate starter kit (two skeins of Merino wool, knitting needles, a finishing needle, instruction booklet) for the woman dreaming of giving handmade scarves to the whole family at Christmas. Choose from 12 colors.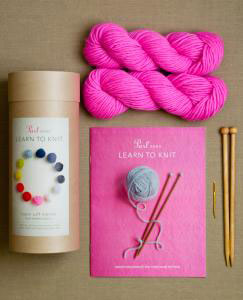 Eccolo Essential Collection Butterfly Journal (Retail price $14)
Moms are busy taking care of everyone else that sometimes they forget about taking care of themselves. What a better way to remind your mom to take care of herself by getting her a beautiful butterfly journal so she can reflect on things that are important to her and find peace in journaling.
Fitbit Flex Wireless Wristband (Retail price $99)
If your mom has the goal to get in shape then the Fitbit Flex wireless wristband will help her keep track of steps, distance, calories burned and active minutes. We love the sleek, modern design so it doesn't look like the typical fitness tracking wristbands.
Custom Painting from a Photo (Retail price $85)
If you are looking for a more personalized gift then creating a custom painting from one of your mom's favorite photo is perfect. Found on Etsy, this artist will paint a 8 inch x 8 inch custom piece of art.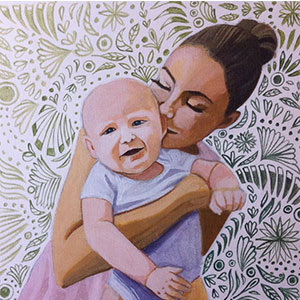 DC Comics Character Apron (Retail price $24.99)
Moms do it all so she is a super hero. Have some fun by getting her this Wonder Woman apron.