By Rachel Ramirez
You're the ultimate multi-tasker, juggling work, family and college courses. You're always on the go and maybe even travel or vacation frequently. Take note: there are beauty products that work as hard as you do, including:
Smashbox Camera Ready BB Cream SPF 35
Your ultimate facial multi-tasker is found! BB Cream is an interchangeable term for Beauty Balm or Blemish Balm and is your hydrator, tint, SPF and treatment combined in one easy application. Smashbox's formula offers ingredients such as cucumber, apple, caffeine and a hexapeptide (for firming), are available in five shades (Fair, Light, Light-Medium, Medium and Dark) and also prime and prep skin. The best part of a BB Cream? The need for foundation or concealer is reduced, but better yet, you can layer foundation, concealer and powder over them. The next generation of BB Creams is the CC (Color Correcting) Cream, which Smashbox offers in an SPF 30 and contains licorice to help lighten skin tone over time.
Clinique Even Better Eyes Dark Circle Corrector
A definitive multi-tasker for the under eyes, Even Better Eyes hydrates with a light cream texture, contains optical diffusing pigments to give an immediate brightening effect for all skin tones and an angled metal tip to help promote micro circulation. With use over time (approximately 4 weeks), skin under the eyes becomes thicker, thanks to the formula and the metal tip helping to promote collagen buildup. Ingredients include mica (for brightening), mulberry, green tea and olive.
WEN Cleansing Conditioner
A five-in-one hair product that cleanses, conditions, de-frizzes, de-tangles and can be left in as a styling product, WEN is sulfate and chemical-free and suitable for all hair types, including color-treated hair and damaged. It's unique lather-free formula includes botanical ingredients such as wild cherry, rosemary and is available in Sweet Almond Mint, Cucumber Aloe, Fig (available on sephora.com) and Pomegranate, Lavender and Spring Gardenia Green Tea (available on wen.com, along with Sweet Almond Mint).
Sephora Head to Toe Hydrator
A lightly-scented and lightweight product that can be used on face, hands, body and even the tips of hair. The signature ingredient is Hydrosenn +, which binds moisture without excessive weight.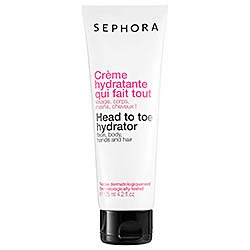 Sephora by O.P.I. Nail Treatment 3 in 1 Base, Top and Strengthener
No need to have multiple bottles of nail products and treatments – this product is applied before and after nail polish and is free of DBP, toluene and formaldehyde.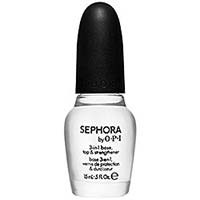 Rachel Ramirez has written for Modern Latina since 2006, in addition to Carefair.com and recently started her own blog, Found! Where to find hard-to-find beauty.  Many of her articles reflect her interest and specialty in skin, beauty, and nutrition.  Rachel received her Bachelor's degree in Nutrition from San Jose State University and currently is a skincare expert with Sephora