by Linda Castillo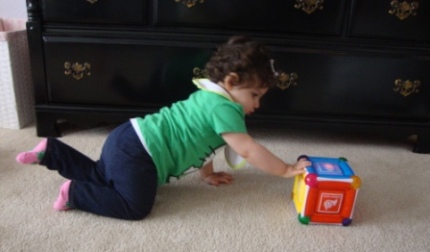 I am always on the search for new toys for my little one.  Munchkin is known for creating innovative baby and toddler products at an affordable price so I was excited to review three of their toy products: Bobble Bee, Mozart Magic® Cube, and Traveling Flash Cards.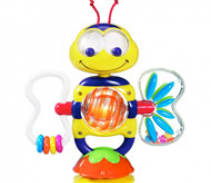 Product Description: Bumble bee toy for babies 3+ months. Interactive play builds motor skills.
I was looking for a toy that would keep my little one busy and entertained while I was preparing her meal in the kitchen. I liked the fact that this toy has a suction base allowing it to easily be placed on the high chair tray. My baby loved to play with all the motions on the bee and the sounds. The bee doesn't stay very well in the holder so within a few minutes of playing I noticed that she would drop the toy to the ground. While the toy is intended for use on a flat surface or detached for use as a hand-held activity toy, I was looking specifically for a toy that would work on the high chair tray. The toy is very durable because my daughter has dropped a few times but it is still in one piece.  Overall, this toy is engaging, however if you are looking for something that will adhere to a flat surface this may not fit your needs.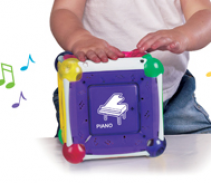 Product Description: Mozart Magic Cube teaches little ones how sounds combine to form musical masterpieces. One orchestra button plays all the instruments with 8 Mozart compositions included. Mozart Magic Cube is the winner of the prestigious Dr. Toy and Parents' Choice awards.
My little one enjoys playing with this toy. She will press the button for music to start and when it stops she will stop what she is doing to go start the music again. I like the fact that the cube sides have different colors which I plan to use later when I am teaching my little one about the different colors.  The cube is sturdy and the music is set at a good volume.  The only catch with the cube is that the same song will play each time a button is pushed unless you press the orchestra button first. So while there are many musical pieces available to listen to because my little one does not press the orchestra button first we usually hear the same song over and over.

Product Description: Portable, bilingual flash cards that help babies learn letters, numbers, colors, and shapes with the help of wildlife pictures.
My husband and I are trying to raise our daughter in a bilingual home environment so I was happy to discover Munchkin's Traveling Flash Cards. I love the fact that the cards are bound together with an easy to grip handle for kids.  Unlike the box set Flash Cards, this set is perfect for traveling and storing in the diaper bag.  I also like the price of this toy because it makes a great additional gift item.
If you want to learn more about these products or any other Munchkin products you can visit their recently launched a new Spanish website: www.munchkin.com/es. The new website features adorable lifestyle imagery and room-by-room guidance corresponding to the Munchkin product categories, making it easier for Spanish speaking parents to pick and choose the items they need for their baby or toddler or learn about the latest innovations.
Note: These products were provided by the Munchkin, Inc. for this product review.
Linda Castillo is the Founder and Executive Editor of http://www.modernlatina.com/. She writes on topics that empower and inspire Latinas including art, motherhood, green living, culture, travel, and issues transforming the Latino community. Linda has earned a B.S. in Business and a M.S. in Mass Communications from San Jose State University.