by Linda Castillo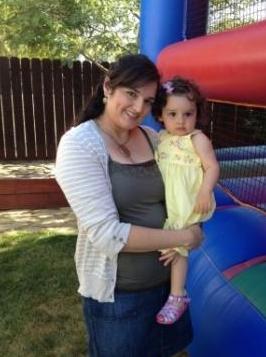 My daughter is 15 months old so I am a newbie to parenthood. But even in that short amount of time I have learned that being a parent is everything that you expect and everything that you don't expect all at the same time. There is no magic book or formula to being a good parent and I am still learning new things about being a parent everyday, I do have a few tips to share for those embarking on the amazing journey of parenthood:
Don't try to be supermom – Every mom wants the best for their little ones and as a mom we do everything in our power to make sure that they are taken care of. I tried to do it all – from making her organic food, waking up in the middle of the night to comfort her, having her clothes ready for the next day, spending every free moment with her, tending to my household chores, working full-time and making time for my husband. At the end of the day, I was exhausted and stretched so thin that I would always get sick. And if I was sick then who would care for my little one. It just wasn't worth it. Now I know that I can let some things slide and still be a good mom. I learned to relax because life is too short and I am sure that my little one will remember the time I spent with her more than if she was feed a store bought jar of food every once in while.
Give your kids room to explore and grow – At no matter what cost I want to protect my little one from any harm. I learned the hard way that I was actually hindering her from growing. My husband and I would follow my daughter everywhere around the house to make sure she didn't bump her head or fall down. We were her full-time shield. It wasn't until my best friend (and mother of three little ones under three years) came to visit for a weekend and gave me the advice to let my daughter explore and just be a baby. The exploration included everything from trying new foods to letting her crawl up the stairs. It was amazing to me that in that short amount of time just by giving my little one more independence she gained confidence which helped her go to the next developmental stage.
Be in the moment – I always seem to be juggling multiple things at once and usually that means that I multi-task. It drives my husband crazy that when we are watching a movie (particularly one that is his pick) that I will be checking my emails. But as much as I am a multi-tasker when it comes to my little one I try to be in the moment with her. So if I am reading a book to her, playing ball or tea party with her I make sure that the TV is not on or that I am not distracted. I make a conscience effort to give her my full, devoted attention and enjoy our moment together because I know how precious that time is. Moreover, I try to enjoy the stage that she is in now. So while it may be easy to wish that your child were walking just enjoy the moments that they are a crawler because they truly grow up so fast.
Stick to a schedule but allow a little wiggle room – I have read that babies need to have a schedule to feel secure but honestly I think it is for the sanity of the parents. It may be hard at first and every child is different but we were lucky that our little one falls to sleep at set nap and bed times and eats her meals like clockwork. There are days when my husband and I are counting down the minutes until our little one's bedtime because we are so exhausted. At the same time you have to get your little one comfortable with adjusting the schedule and routines. For example, there may be times that you are having snack time in the car on the road or she needs to feel comfortable sleeping away from her room.
Simplify and organize your routine – I have a new found appreciation for baskets. I have them all over the house and they hold everything from toys, diapers, baby medicines and more. I overstock on every baby necessities such as baby food, baby snacks, wipes, and diapers. There is no worse feeling than running out of diapers at 3 am and having to go to Safeway for an emergency diaper run. I also try to make all baby need readily accessible. For example, I have diapers and wipes in three rooms in the house that way I don't have to run to a particular room if I need to change my little ones diaper.
It takes a village – It may be a cliché but it does take a village to raise a child. It is important to build your support system. Your support system can be a mommy group, parents, friends, siblings, or joining online parenting forums. There may be times you need advice or someone to listen to some of mommy challenges you may be encountering.
I hope that the advice and tips that I shared are helpful and always remember to follow your own mommy instincts – remember that you are the best expert on your child!

To withstand the real life challenges of parenting, Huggies® is introducing new and improved products, Huggies® Snug & Dry Diapers and Huggies® Wipes. Huggies has also created Huggies Latino Facebook page where parents can share their tips and stories with other parents and participate in a contest to win a fully stocked Huggies diaper bag.
Huggies collaborated with parents Poncho de Anda and his wife Lina Amashta to see how Huggies measures up to the day to day challenges of being parents to their two children (ages 2 and 10 months):

Note: This is a sponsored post in collaboration with Latina Bloggers Connect and Huggies. I received compensation in exchange for providing this post. All opinions expressed are my own.
Linda Castillo is the Founder and Executive Editor of http://www.modernlatina.com/. She writes on topics that empower and inspire Latinas including art, motherhood, green living, culture, travel, and issues transforming the Latino community. Linda has earned a B.S. in Business and a M.S. in Mass Communications from San Jose State University.