by Brenda Eberly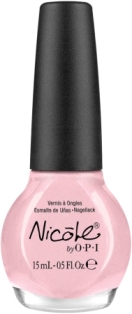 Whether you're a fan or not of the fashionable Kardashian ladies, you're going to love this collection. There are 14 exciting shades to choose from including lots of shimmers, shine, and glitter options definitely something for everyone.
It's especially fabulous for dressing up your nails for the holiday season. Talk about a party for your nails, so many color variations to choose from and mix and match. Speaking of a party, my daughter and I made it a girl's day and had a little nail party of our own. It was so much fun painting our nails, enjoying girl talk and bonding time. Something I recommend for everyone, whether it's getting together with family or just girlfriends, make it a girl's day!
 ModernLatina favorites:
For everyday and oh so classic is the "Kim-pletely in Love" shimmery pink shade. I tried this one on over my French manicured nails and it was too sheer so the white tips showed. However, on nails without white tips, it will be the perfect pink & really pretty.
 We fell in love with "It's All About the Glam" which is the coolest frosty white shade that is so glam to dress up your nails. This one was my favorite for every day; it looked great with all my outfits. Such a cool color, but I will say that you will need at least 3-4 coats for the perfect frosty white color.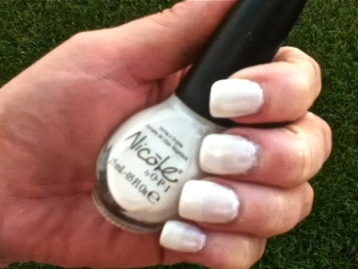 For the holiday season "Disco Dolls" gold glitter will not disappoint! Loved all the specks of different shades of gold. If you are going for bling this polish does the trick!! For all the sparkle colors you will need at least 3 coats to achieve the best texture & color.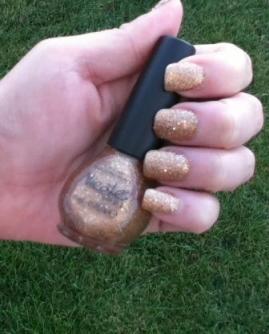 If you're not a gold gal I recommend "Follow Me on Glitter" a deep charcoal with different specks of silver, black, & multi-color glitter. It's a gorgeous color on and another color that you can wear with just about everything dressed up or down.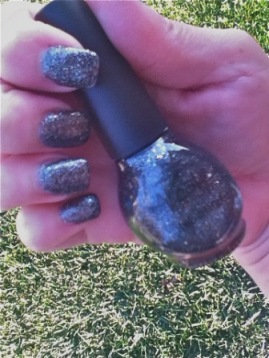 For something more dramatic and different you'll really like the sparkly blue "Kendallon the Katwalk" a deep royal blue shimmer color with specks of blue, turquoise, & green glitter. I probably could of gone for another coat. In the picture below, we only applied 3 coats and in sun it's looks a little on the sheer side.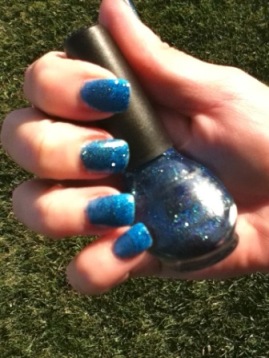 If you love purple as much as I do, then you should try "My Sleigh's in the Shop" a glittery purple with specks of pink. This shade is like wearing candy on your fingers, so fun & girly. For the perfect shade and texture, it requires at least 4 coats as it does go on sheer at first.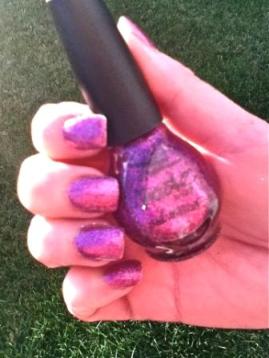 It's hard to find the perfect red, but I was pleasantly surprised with "Sealed with a Kris" a very pretty red and flattering on all skin tones. It goes on bright with first coat but after the second coat it's perfect!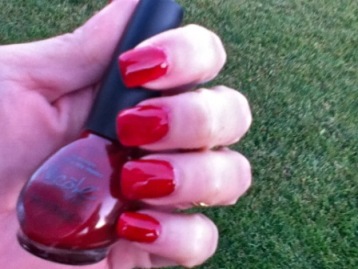 As a fan of dark colors, I love a rich & dramatic color so "Hard Kourt Fashionista" is the perfect dark brown, it's like your nails were dipped in hot fudge! A very yummy color indeed! This is another shade that I only used 2 coats and it was perfect.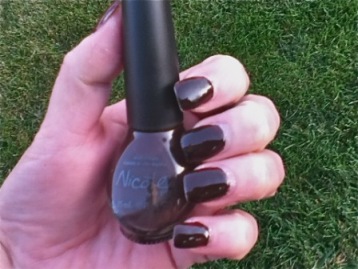 For that royal pop of color, we loved "Listen to your Momager" a fabulous dramatic blue that adds that little extra something special with your holiday LBD. This blue is so royal on I'm sure it will be one of your favorites.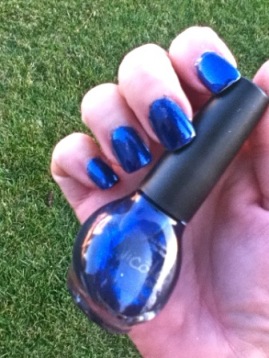 Now here's where the fun begins! My daughter came up with some pretty creative ways to mix and match colors. This first color combination she tried was using "Khloe Had A LAM-LAM" as the base and layered with "Kendall On The Katwalk" and wow what a pretty teal result!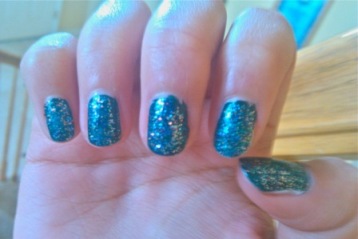 In the second combination she used "My Empire…My Rules" as the base and layered with "Rainbow In The S-Kylie" and her nails looked like a disco ball, so fun and festive! This color combination ended up being her favorite.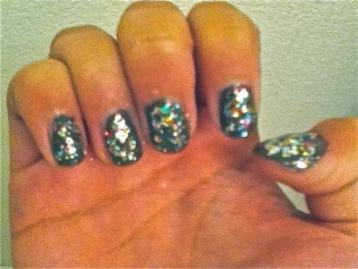 She really had fun with this last combination using "It's All About The Glam" as the base color and then "Hard Kourt Fashionista" to create the Jing & Jang symbol. Very creative and so many different options to mix and match! It's all about having fun and the 14 shades in this collection are so FABULOUS I'm sure you'll find more than one shade to call your favorite.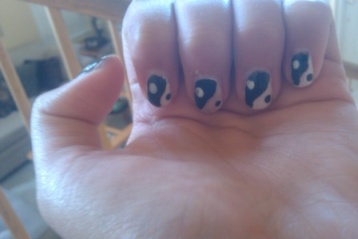 Note: All nail polishes were provided by Nicole by OPI. Nicole by OPI formulas are long-lasting, fast-drying, and salon-quality, with products featuring the Perfect Stroke brush for streak-free, even coverage. Kardashian Kolors will be available Holiday 2011 for $7.99 each ($11.00 CAD). For more information, visit nicolebyopi.com.
Brenda Eberly has been a fashion stylist for the past 6 years; her obsession with the latest fashion and beauty trends can be traced back to when she first fell in love with fashion magazines as a teenager. As a boutique owner, fashion buyer and stylist she's always on the lookout for the latest fashion trends and beauty products. With a marketing and public relations background she can now put her writing skills and love for anything fashion and beauty to work as a contributing writer for Modern Latina.