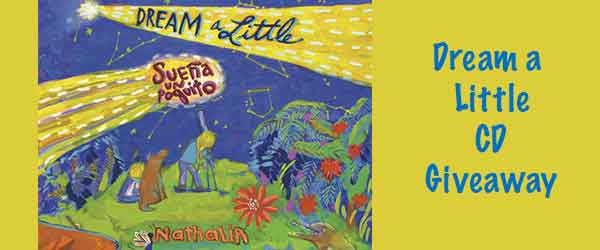 by Linda Castillo
Since 1925, Día del Niño (also known as Dia De Los Niños) or the Day of the Child, occurs on April 30th throughout Mexico to celebrate children. The celebration also has become more popular in the United States. On this day, we celebrate the children in the community with fun and exciting activities, games, music and foods just for them. The celebration focuses on activities that develop skills and instill confidence with the aim of encouraging children to realize their hopes and dreams.
What a better way to celebrate children with than by enjoying music together. Nathalia's Dream a Little
 bilingual album is perfect for the entire family. The CD contains 10 tracks with each song focusing on a musical adventure in Spanish and English.
We play the music on our way to school in the car or while we are playing with the kids in the playroom. I was happy to hear Nathalia's music because I want my daughter exposed to music in Spanish and English. Plus, the music is contemporary yet catchy for kids.
Two of my favorite tracks are Shine and Tu Dia Puedes Cambiar. I like to play the latter when my four-year-old whose going on fourteen gives me a hard time getting up to go to school. The song is a reminder for her that she can change her day. My daughter's also has two favorite tracks, Los Planetas and Magical. I was so happy to hear my daughter singing along in Spanish, "Mágico, mágico, que sería mágico."
For more on Nathalia visit Nathalia Music or visit her on Facebook and Twitter .
The Giveaway!
We are giving away one copy of Nathalia's 'Dream a Little'! You can enter 6 times via methods below. The giveaway begins April 29, 2015 through May 10, 2015 at 12:00 AM PST. Please be sure to enter via Rafflecopter to track your entries. Good luck!
You can enter up to six times per person via different entry methods mentioned above. This giveaway will end May 10, 2015 at 12:00 am PST. The approximate retail value of the prize is $10.00. The winner will be drawn using random.org. Once winner has confirmed prize, the winner will be announced on Facebook. All entrants must be at least 18 years old and a US resident. Prize fulfillment will take 4-6 weeks.
a Rafflecopter giveaway

Note: Nathalia provided a preview copy of CD and copy for this giveaway.
Linda Castillo is the Founder and Executive Editor of www.ModernLatina.com. She writes on topics that empower and inspire Latinas including art, motherhood, green living, culture, travel, and issues transforming the Latino community. Linda has earned a B.S. in Business and a M.S. in Mass Communications from San Jose State University.