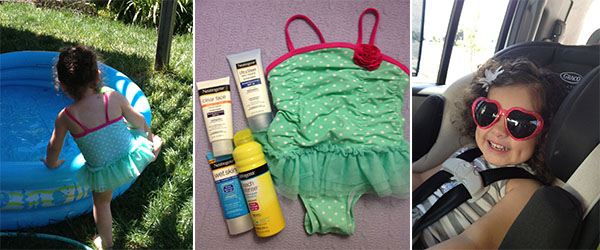 Disclosure: This article was written in collaboration with Latina Bloggers Connect and Neutrogena.  All opinions expressed are my own.  
by Linda Castillo
It's hard to believe that summer is at the halfway mark. But thankfully there are many more summer days left for trips to the fair, beach and other outdoor activities. In fact, this past 4th of July weekend my daughter and I spent everyday in the pool enjoying the warm weather. With all the time outside, it is so important to protect your loved ones from harsh affects of the sun.
Did you know that skin cancer is the most common cancer in the world? One American dies of melanoma almost every hour, but early detection and prevention are so critical. That is why sunscreen is an essential item that I pack for my family. In fact, I carry a bottle in the diaper bag so I can always be ready to protect my little on from the sun. I lather up with Neutrogena® Ultra Sheer Dry-Touch Sunscreen Broad Spectrum SPF 45 and I protect my daughter's sensitive skin with Pure & Free® Baby Sunscreen Lotion Broad Spectrum SPF 60+. And Neutrogena Beach Defense™ Sunscreen Spray Broad Spectrum SPF 70 is perfect for my husband because he can simply just spray on sunscreen.
But for many families, purchasing sunscreen may not be in their financial means. Through the Neutrogena® Buy 1 + Donate 1 Campaign, Neutrogena® is donating one of their Neutrogena Suncare Line to a family in need for every purchase of one of their SPF products up to 10 million dollars. Check out the video for more details:
In order to suppress skin cancer, NEUTROGENA® invites you to choose skin health by taking the time to learn how it can be prevented, follow simple steps for self examinations and find a free skin cancer screening center near you. To find out more about Neutrogena® Buy 1 + Donate 1 Campaign and Neutrogena's Choose Skin Health™ campaign to fight skin cancer and save lives through education, early detection and the empowerment to follow sun safe behaviors visit www.neutrogena.com.
Linda Castillo is the Founder and Executive Editor of http://www.modernlatina.com/. She writes on topics that empower and inspire Latinas including art, motherhood, green living, culture, travel, and issues transforming the Latino community. Linda has earned a B.S. in Business and a M.S. in Mass Communications from San Jose State University.