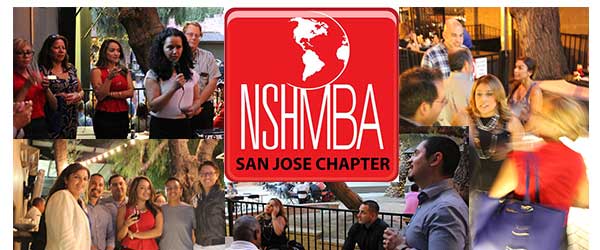 by Linda Castillo
The NSHMBA San Jose Chapter recently hosted a Networking event at Blush Raw Bar located in Downtown San Jose. It was a lovely evening filled with networking and the opportunity to meet the chapter's Board of Directors to learn more about this organization.
The National Society of Hispanic MBAs (NSHMBA) is the premier Hispanic business organization dedicated to building and advancing Hispanic leadership through graduate management education and professional development.
Claudia Mercado, the current president of the NSHMBA San Jose Chapter, shared her experience getting a MBA. She was the first in her family to get a high school degree, graduate from college and receive a graduate degree. While she was going through the process of obtaining an MBA, she felt alone and it wasn't until she graduated she realized there was a group of people who had done this.
Talking with Claudia it is clear to see her passion about NSHMBA as a resource to assist Hispanics who are pursuing a MBA.
"Getting a MBA is not something that is easy. It's something that you don't decide to do over night. Somebody has to introduce to the concept. And NSHMBA is really trying to do that for Hispanics. Let them know that an MBA is attainable. If you don't have the resources there can be help. Also, allow you to connect to other Hispanics that have paved the way for you. To know that you are not alone in this journey," explained Claudia.
In addition to providing support and scholarships to students pursuing their MBA, the San Jose NSHMBA Chapter has a formal mentorship program that occurs in March. In April, 10 candidates will be selected to work with an executive counsel comprised of executives who volunteer their time to be a mentor for the program.
The San Jose chapter is currently rebuilding and you can be a part of this exciting time by becoming a NSHMBA member. There are five different levels of membership starting with the free Associate level to the Exec-Life level. The organization is not limited to professionals who have a MBA. It is open to all professionals who are interested in pursuing a MBA or interested in professional networking. High school and college students are also encouraged to join as well. Membership fees go towards college scholarships. To view all the different member levels and benefits visit http://www.nshmba.org/?Membership_benefits
Presently the NSHMBA San Jose chapter is seeking new board members. Ana Perez, VP of Marketing for NSHMBA San Jose Chapter noted that being a board member is a great opportunity to follow your passion while gaining vital experience.
"Essentially you build your network here locally for the community here in San Jose but it also helps you create a network with the national board. That is how you leverage each other" explained long time NSHMBA member Leo Cortez. "Come in to get something out of it but also give back to the community."
There are more events planned for the rest of the year including partnering with the SJSU Latino Alumni Association for an event in November and a more intimate dinner planned for December. In addition, NSHMBA San Jose Chapter members can enjoy events offered by the NSHMBA San Francisco Chapter and LAM, a multi-platform network connecting Latino professionals online and in person. You can also attend NSHMBA's Annual Conference & Career Expo which will take place at the Pennsylvania Convention Center, September 24-27, 2014. With over 5,000 attendees expected, this premier event is a great opportunity to connect with over 250 corporations, non-profits, government agencies, and academic institutions who are seeking to hire Hispanic talent.
Visit the NSHMBA San Jose Chapter Facebook page to learn more about upcoming events and how you can get involved.
Linda Castillo is the Founder and Executive Editor of www.ModernLatina.com. She writes on topics that empower and inspire Latinas including art, motherhood, green living, culture, travel, and issues transforming the Latino community. Linda has earned a B.S. in Business and a M.S. in Mass Communications from San Jose State University.