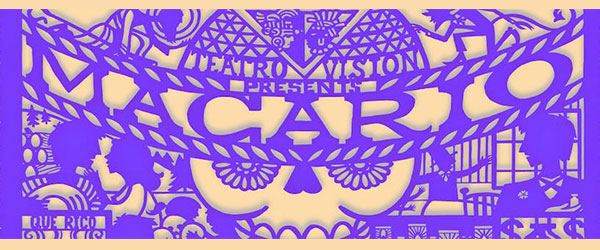 Featured Event: MACARIO 2015 | October 15-25
Teatro Visión's MACARIO, a one-of-a-kind theatrical adaptation of the classic Mexican novel and award-winning film, will return for a 3rd annual production October 15-25, 2015, at the School of Arts and Culture at Mexican Heritage Plaza. MACARIO incorporates culturally vibrant music and dance to create a visually exciting celebration of Día de los Muertos (Day of the Dead). The play is set in pre-independence Mexico of the late 18th Century, but its themes of resilience, creativity, and economic inequality are just as relevant in the United States today. Often compared to Dickens' Christmas Carol, the parable-like story features three spirits who attempt to persuade a poor father of five (Macario) to reflect on his choices when he comes into the fortune of having a full turkey to eat. It is a work steeped in magic and history that is part of the fabric of Mexican culture and is fast becoming an annual tradition for San José and Silicon Valley. All performances will be in Spanish with English supertitles. Tickets are ON SALE NOW and priced between $10 and $40. Discounts are available for students, elders, and groups. Dates:  Thu-Sat, Oct. 15, 16, 17, 22, 23 & 24, 8pm, Sun, Oct. 18 & 25, 2pm www.TeatroVision.org
10th Annual: Festiv'ALL 2015 | October 15
Festiv'ALL will bring together a powerful combination and significant number of multi-cultural. multi-ethnic, business oriented organizations from all around the region. Free admission, MUST register- be one of the first 200 to be entered into a raffle of an X-Box system or Apple I-touch. Festiv"ALL is an excellent opportunity for members of participating organizations to meet, greet, network and recruit. The event will have numerous representations from local business servicing agencies and associations, complimentary food samples from various multi cultural restaurants as well as ongoing entertainment and workshops. 4:00- 5:00 pm. Location: Santa Clara Fairgrounds, 344 Tully Rd, San Jose, California 95111 http://www.eventbrite.com/e/festivall-2015-general-tickets-18461739560
Pepe Aguilar | October 15
Pepe Aguilar is the son of Mexican icons Antonio Aguilar and Flor Silvestre. "Being born during a tour and having studied my craft on the road has given a particular philosophy to my career," says Pepe, with the same feeling of elegance and honesty that characterize his songs. Pepe Aguilar's career has progressed in parallel with the absolute transformation of the music industry over the past 25 years. Considered by critics as "a real star of Latin music," Pepe has garnered an impressive amount of awards, and to paraphrase the legendary Ruben Fuentes: "Pepe Aguilar is a before and after in Mexican music." http://sanjosetheaters.org/event/pepe-aguilar/?instance_id=5234
QUIMBARA: CELIA CRUZ BIRTHDAY TRIBUTE | October 16 
Come celebrate the queen of salsa! Celia Cruz's birthday will be a night of dancing, music, food, and more At La Pena Cultural Center! We start the night off with salsa lessons. $ 5.00 South Berkeley
LATINO FALL FASHION SHOW | October 15
Featuring Fall fashions from A'GACI as modeled by the 2Locos Latina Models. A'GACI is a lifestyle brand created for young fashion lovers who rock it well and march to their own beat. Simply put, they are a brand that reflects who you are. Their goal at A'GACI is to make you feel feminine, flirty and confident. Location: Noya Restaurant & Lounge, 14350 Laurie Ln. San Pablo, CA. 94806 Purchase tickets: https://2locosfashion.eventbrite.com/
The Wizard of Oz | October 15
Attention all movie-lovers! Celebrate Orchard Supply's Founder's Day with free 1930s movies in the parking lot of the old OSH Hardware on San Carlos. Bring your family, a blanket, and enjoy the show! Location: OSH Hardware Parking Lot. Event Time: 7pm
Voto Latino (VL) Power Summit | October 16 & 17
Voto Latino (VL) Power Summit is a professional development conference that educates, engages and empowers Latino Millennials. The conference brings together dynamic leaders to network, explore resources and learn how to grow their careers from cross-industry experts. This interactive experience fosters the new age of digital influencers to maximize their impact in their careers and communities.Location: Stanford University http://www.vlpowersummit.com/register/register.html
Giselle – Silicon Valley Ballet | October 16-18
Celebrate the rich Latino heritage of the internationally renowned Ballet Nacional de Cuba and its founder, the iconic choreographer, and the prima ballerina assoluta, Alicia Alonso in this intricate production of Giselle. In an historic moment celebrating the opening of relations between the US and Cuba, this production will be the first program presented by this organization under its new name: Silicon Valley Ballet. Choreography by Alicia Alonso. Times: Fri: 8pm; Sat: 1:30pm & 8pm; Sun: 1:30pm Tickets $15-$110 http://siliconvalleyballet.org/
Rise to the Top | October 16
You are an ambitious Latina and you want to Rise to the Top! Yes? Of course you do! Learn how from other Latinas who have "been there, done that". Latina millenials are one of the fastest growing segments of the US and you have a key role to play in every business sector. Sieze the opportunity! This workshop has been designed by successful Latinas for the next generation of Latina leaders. It will inspire you to create a clear strategy for advancement and success. Join us to learn:
**The Latina Narrative of Success–Visibility, Identity,
Determination, Action
**Creating a Vision for Your Career
**Mastering Executive Presence
**Creating Work Life Blend Strategies
Meet other career minded Latinas and network with key sponsors who will join us for the event. Adelante JUNTAS! Join US! Tickets are $20 and seating is limited! Please let us know if you need a scholarship to attend. 245 Market, Conference Room A Street San Francisco, CA 94105 https://www.facebook.com/events/1604719673131422/
Disney on Ice – Dare to Dream | October 16-18
Nothing can stop a princess from a celebration of royal proportions when Disney On Ice presents Dare to Dream Presented by Stonyfield YoKids Organic Yogurt skates into to your hometown. Join your hosts Mickey Mouse and Minnie Mouse for a princess-packed adventure. SAP Center. Event Time: Wed & Thurs: 7pm; Fri: 10:30am & 7pm; Sat: 11am, 3pm & 7pm; Sun: 11am & 3pm http://www.sapcenter.com/events/detail/disney-on-ice-dare-to-dream
SJSU Spartans v. SDSU Aztec | October 17
Founded in 1857 in the Western Athletic Conference, Mountain Pacific Sports Federation, and Mountain West Conference, the San Jose State Spartans battle the San Diego State University Aztec in Spartan Stadium. Spartan Stadium Event Time: TBA
Fiesta del Mar at Monterey Bay Aquarium | October 18
Celebrate ocean conservation and Latin American cultural traditions at our 11th annual Fiesta del Mar event. The day will include live music, cultural dance, bilingual feeding shows, crafts for kids and more. Oct. 18 (Sun.)/18 de octubre (domingo) 10 a.m.–5 p.m. Included with Aquarium admission; children 12 and under admitted free. Programs and activities include:
The "Héroe del Medio Ambiente" ("Environmental Hero") award ceremony. Star of "12 Corazones" television show, actress Penélope Menchaca will present the award to environmental artist Memuco for his ocean advocacy.
MEXIKA: Sounds of Ancient Mexico
Yaocuauhtli Aztec Dancers
A craft room with free activities for kids
http://www.montereybayaquarium.org/visit/special-events/fiesta-del-mar
Anjelah Johnson | October 22-25
Anjelah Johnson-Reyes was born and raised in San Jose, California and is of Mexican and Native American descent. She is one of five children and has a large extended family. Johnson was a professional cheerleader for the Oakland Raiders then moved to Los Angeles to pursue her dream of acting. She became an internet sensation with her viral video "Nail Salon" which led to many stand up and performance opportunities. She then joined the cast of "MADtv", which spawned another internet sensation "Bon Qui Qui." This original character, a disgruntled fast food employee with no filter, has been enjoyed, viewed and replicated by well over 65 million people worldwide. Anjelah released 3 songs and 2 music videos as Bon Qui Qui then signed a record deal with Warner Bros Records to release a full album.  Address:62 South 2nd Street  San Jose, CA 95113 http://sanjose.improv.com/
HISPANIC FOUNDATION OF SILICON VALLEY 26TH ANNUAL  HISPANIC FOUNDATION BALL | October 24
The Hispanic Foundation of Silicon Valley is a philanthropic organization, focused on cultivating philanthropy to address community needs and invest in the success of the Hispanic community.  Through the Hispanic Foundation Ball and other philanthropic programs, the Hispanic Foundation of Silicon Valley will continue to connect Hispanic and non-Hispanic leadership to invest in the success of Silicon Valley's Latino community. Location: Fairmont Hotel San Jose Date: Time: 5:30 p.m. – 11:30 p.m. HTTP://HFSV.ORG/HISPANIC-FOUNDATION-BALL/BUY-TICKETS
Dia San Jose | October 24
The Day of the Dead is a traditional Mexican celebration. Día de Los Muertos is a celebration of life and death…a festival and joyous event.The 6th Annual Día San Jose will be held on Saturday, October 24, 2015 from 11am to 7pm at St. James Park. Free and open to the public. A $2 donation will be asked upon entrance to support The Chávez Institute for Law and Social Justice. St. James Park S 2nd St, San Jose, California 95112 https://www.facebook.com/events/885925531493463/
Ciclovia Salinas 2015 | October 25
Youth leaders from across Salinas invite you to the 3rd Annual Ciclovía Salinas on Sunday, October 25th from 10:00 am – 2:00 pm. This free event temporarily transforms Alisal Street, from Main Street to Sanborn Road, making it available to a wide range of recreational activities, such as walking, biking, fitness classes, and also features live music and art. Ciclovia Salinas promises a day filled with hands-on activities and resources for children and adults. Time: 10:00am – 2:00pm Alisal Street Salinas, California 93905 https://www.facebook.com/events/1485659551733869/
Second Annual OktoBRAfest | October 18
Come hoist a beer, enjoy a sausage and support homeless and at-risk women. County Supervisor Cindy Chavez is the honorary host and Lissa Kreisler, KBAY Morning Show Host, will emcee the fest, which is hosted by the Be A Dear And Donate A Brassiere Section, in honor of Breast Cancer Awareness Month. We've got lots of fun in store, including a Bra Cupcake Decorating Contest, the Ms. and Mr. OktoBRAfest Contest (wear your best lederhosen and your undergarments on the outside!), German music and dancing, Polka lessons provided by Bud Ayers, and a Raffle for Fabulous Local Stay-cations and more. Your ticket includes a buffet of German classics: Sausage,  Potato Salad, Sauerkraut and Ribs, Bread, Dessert and one beer. Additional beer is available for a suggested donation of $5. Many thanks to Gordon Biersch Brewing Company for providing the beer for OktoBRAfest.  All proceeds benefit the The Women's Gathering Place, a drop-in center in downtown San Jose that provides a safe community for homeless and at risk women. Be a Dear will also be honoring its mega-bra donation supporters. Free beer with donation of a new or gently-used bra.Time: 3pm-5pm Price: $20-$25 http://www.sjwomansclub.org/
Madonna – Rebel Heart Tour | October 19
Madonna continues to be one of the most successful touring artists in history – her shows are legendary. The "Rebel Heart" Tour follows the March 9th release of Madonna's Rebel Heart album on Interscope Records (Germany and Japan March 6; Europe/UK March 9; North America March 10). Rave reviews for Madonna's 13th studio album include: The Sun (UK) "The Queen of Pop will reign again – Madonna is about to release her best album in 17 years and one of the greatest of her career." NY Times: "They won't experience the celebrity of Madonna the fashion statement but the Madonna who has kept us listening for decades: Madonna the musician." Location: Sap Center http://www.sapcenter.com/events/detail/madonna
DÍA DE LOS MUERTOS MASK MAKING WORKSHOP W/ DIEGO MARCIAL RIOS | October 3-November 17
Día de los Muertos Mask Making Workshop w/ Diego Marcial Rios Oct 17 at 2:30pm in PDT Show Map Mission Cultural Center for Latino Arts 2868 Mission Street @ 25th St, San Francisco, California 94110 Create and hand-paint a mask steeped in the rich cultural history of Mexico's Día de los Muertos celebration. Once you've got the basics down, roll up your sleeves to create and hand-paint your own one-of-a-kind masterpiece alongside internationally acclaimed artist Diego Marcial Rios. October 17 Day: Saturday Price: $15 (2 hour workshop) Location: Studio D Ages: All Note: All Materials included. Mission District, San Francisco, CA $ 15.00
DÍA DE LOS MUERTOS | October 9- November 7
SOMArts' annual Day of the Dead exhibition, beginning in mid-October and concluding around the time of the holiday itself, is a beloved and uniquely San Francisco event. Curated by Rene Yañez and Rio Yañez with assistance from architect Nick Gomez, the event features work by more than 70 artists each year. The 16th annual Day of the Dead exhibition, Today is the Shadow of Tomorrow, will be on view October 9–November 7, 2015. To learn more about this year's exhibition, exhibiting artists and related events, click here. Opening Event Friday, October 9, 6–9pm $12–15 sliding scale admission shadowopens.eventbrite.com Exhibition unveiling features a Día de los Muertos inspired artist market and an opening procession by music and theatre ensemble Loco Bloco. Poet and performance artist Denise Benavidez hosts and performs alongside artist and poet Adrian Arias. Gathering the Embers Friday, October 23, 7–9:30pm $8 in advance & $10 at the door gatheringtheembers.eventbrite.com Multi-disciplinary performers connect past and present with an evening of story and performance. Closing Event Saturday, November 7, 6–9pm $7–10 sliding scale admission shadowcloses.eventbrite.com The final opportunity to view and interact with the altars features live music and interactive installations. Extended gallery hours during Day of the Dead: Tuesday–Friday 12–7pm, Saturday 11am–5pm and Sunday 11am–3pm. Day of the Dead is a celebration that is continually in transition, especially under the mentoring of curators Rene and Rio Yañez who have expanded the artists' part to extend beyond the traditional altar to a loved one. The father and son team challenge artists to use their creative visions to look at personal loss, as well as local and global issues. In past years artists have created installations about contemporary issues including health care, the presidential election and neighborhood violence. In past years 30 classrooms from 16 different Bay Area public and private schools (grammar school to high school) have visited SOMArts and learned about the traditional and contemporary celebrations of the Day of the Dead. The students are given a docent tour of the gallery exhibition. In addition, SOMArts creates a black light room, where students make art inspired by the iconography and traditions surrounding Day of the Dead in a room that glows. DÍA DE LOS MUERTOS Opening Event Friday, October 9, 6–9pm $12–15 sliding scale admission 934 Brannan Street San Francisco, CA 94103
18TH ANNUAL DÍA DE LOS MUERTOS 2015 | October 12 – November 6
18TH ANNUAL DÍA DE LOS MUERTOS 2015 San Jose State University's Karet Plaza, behind the Dr. Martin Luther King Jr. Library at the corner of San Fernando and 4th Streets, 150 E. San Fernando Street, San Jose, CA 95112. All vendors to set-up between 10:00am and 11:00am. Procession arrives between 11:30am and 12:00 noon. "The San Jose Multicultural Artists Guild (SJMAG) is a diverse, professional, cross-cultural  arts organization, that serves the community by presenting traditional and  contemporary performing arts to Silicon Valley. We offer professional theatre productions,  arts education programs, artists in residence, art festivals, special events, and  arts enrichment programs for all ages." Location: 4th & San Fernando, San Jose, CA 95112. Free
21ST ANNUAL DÍAS DE LOS MUERTOS EXHIBITION, RITUALS + REMEMBRANCE | October 14
Celebrating the theme of memorial across cultures, the  21st annualDías de los Muertos (Days of the Dead) exhibition, Rituals + Remembrance, explores how Latin American, Filipino, Hawaiian, Japanese, Chinese and other communities view death, memory, and healing. 11:00 AM – 5:00 PM Location: 1000 Oak St, Oakland, CA 94607, USA Price: $ 10.00. http://museumca.org/exhibit/rituals-remembrance
Britishmania – Beatles Tribute Dates | October 23-25
Having performed at hundreds of theaters, clubs, festivals, and corporate parties, as well as the legendary Cavern Club in Liverpool, "Britishmania," presented by JDF Promotions, invites you to take a memorable journey through the historic career of The Beatles! The show features a spectacular multimedia video that takes you to the early 1960s, telling the story of where and what was going on while The Beatles were in the thick of it! Beginning with the "The Ed Sullivan Show" era of 1964, featuring songs like "I Wanna Hold Your Hand," "She Loves You," and "A Hard Day's Night," it moves to the Shea Stadium concert era (circa August 1965), which features songs like "Help!", "Drive My Car," and "Day Tripper." Venue: Montgomery Theater Address:271 South Market Street San Jose, CA 95113 Times: Fri: 8pm; Sat: 2pm, 8pm; Sun: 2pm, 7pm http://sanjosetheaters.org/event/britishmania-san-jose/
The Beerwalk – Willow Glen | October 24
The Beerwalk is excited to be back in Willow Glen for its Annual Halloween Edition! Stroll Lincoln Avenue in Downtown Willow Glen and discover all the shops, art galleries, and great restaurants. All while sipping on great beers and enjoying the social enthusiasm of shopkeepers and beer lovers, alike. The Beerwalk was created around more than the idea of sampling great beers, but rather to provide the outlet for our community to come together to explore the neighborhoods and small businesses, which help make the Bay Area great. Ticket Cost: $30 http://www.eventbrite.com/o/the-beerwalk-8160906239
Community Day – Día de los Muertos San Jose Museum of Art | October 24
Celebrate El Día de los Muertos (Day of the Dead) with live performances, cultural demonstrations, and art making experiences for the whole family. Decorate calaveras de azucar (sugar skulls), explore other traditional activities, and connect with your community for an all-day, very contemporary celebration. Save time in line by ordering and printing your tickets in advance. Sponsored by Applied Materials Foundation. 11am-5pm Venue: San Jose Museum of Art  Address:110 South Market Street  San Jose, CA 95113 http://sjmusart.org/
FIESTA DE MUERTOS & PASEO DE LOS MUERTOS | October 24
FIESTA DE MUERTOS & PASEO DE LOS MUERTOS Saturday, October 24 at 6:00pm – 9:00pm SJSU Tower Hall San Jose, California Ballet Folklorico Mexicano de Carlos Moreno, the Consulate General in San Jose, and YouART San Jose are joining together with other great organizations to celebrate Dia de los Muertos, bringing to San Jose a unique production comprising two different celebrations: Fiesta de Muertos, a theatrical production inside the Morris Dailey Auditorium located at San Jose State University; and Paseo de Muertos in the beautiful gardens of Tower Hall. Paseo de Muertos will take place in the garden area surrounding Tower Hall, a century-old building that is the centerpiece of San Jose State University. Here, families and individuals will be able to celebrate and honor their loved ones on the other side as the festivities
Oakland Museum Days of the Dead Community Celebration | October 25
12–4:30 pm Oakland Museum of California 1000 Oak Street (at 10th Street) Oakland, California 94607 Save $5 and skip the line! Purchase advance tickets online for the Days of the Dead Community Celebration. Visit link below. The popular annual community celebration will feature main stage performances ranging from contemporary popular music to folkloric dance, Mariachi to Aztec dance. Performers include Ballet Folklorico Paqueyollotzin of Petaluma, UC Berkeley Mariachi, Bomba Aguacero Quenepas ensemble, and dynamic up and coming band Soltrón. The celebration starts out with a welcoming ritual that leads a procession into the OMCA Garden led by members of the Días de los Muertos Committee and Danza Azteca Cuicatl. Community-created altars throughout the building and the garden will pay homage to loved ones lost. An artisanal mercado will highlight the OMCA Store and local vendors featuring traditional and contemporary apparel, craft, artwork, and food, including a panadero (baker) offering pan de muerto. A selection of festive food highlighting the Bay Area's diversity of cuisines will be available for purchase from Off the Grid, and Bike East Bay will provide a bike valet service. Entry includes Museum admission and access to special exhibition Rituals + Remembrance, featuring new and existing work by nine artists and three community organizations celebrating the theme of memorial across cultures. Advance tickets: $11.95/adult; $8.95 student/senior/youth; $4.95 youth (9–17). Day-of tickets: $15.95/adult; $10.95 student/senior/youth; $6.95 youth (9–17). Entry is free for children 8 and under and OMCA Members. Learn more about OMCA Membership. Acorn, Oakland, CA 94607 $ 5.00
MARC ANTHONY AND CARLOS VIVES | October 25
Marc Anthony and Carlos Vives come to San Jose for one of the hottest shows of the year! UNIDO2 TOUR Where: SAP Center 525 W Santa Clara Street San Jose, CA. Tickets: $ 75.00 http://www.ticketmaster.com/marc-anthony-carlos-vives-unido2-san-jose-california-10-25-2015/event/1C004E88D5845E0C?artistid=759949&majorcatid=10001&minorcatid=40
DIA DE LA CANCION CRIOLLA | October 30
Every 31st of October Peruvians celebrate "El Día de la Canción Criolla" translated in English as "The Day of the Creole Song". Our program features Afro-Peruvian music that was created by African slaves in Peru during the colonial period and beyond. Most of the rhythms like Festejo, Lando, Zamacueca were played with a mixture of both Spanish and Indigenous instruments. Join us this Friday , October 30st 2015 to enjoy authentic Peruvian Music, Dance, & food!! Canción criolla exists in various forms, including the popular marinera (the national dance of Peru), the vals criollo (Creole waltz), festejo and the bluesy landó. Ticket: $15
DIA DE LOS MUERTOS CELEBRATION & STREET FEST | October 31
Saturday, October 31, 2015 – 11:00 am to 2:00 pm | Cost: FREE Feel the Beet Farmer's Market | 970 Grace Ave, Oakland, CA Come out to lively street party in partnership with Destiny Arts Center celebrating food traditions, resistance, and culture. Free, but an RSVP is requested.
Making Strides of Silicon Valley American Cancer Society | October 31
You can help finish the fight against breast cancer by raising funds for and walking with American Cancer Society Making Strides of Silicon Valley. Join more than one million people each year who are helping to end breast cancer. Venue: Arena Green Address:352 West St. John Street San Jose, CA 95110 Times: 8am-10:30am. Free with fundraising. http://main.acsevents.org/site/TR/MakingStridesAgainstBreastCancer/MSABCCY15CA?pg=entry&fr_id=69970
Steve Treviño | October 29-November 1
Steve Treviño is fast becoming one of the country's hottest comics and the new voice for the 21st century Mexican American.  Finding his way from a Hispanic upbringing in a small South Texas town to living his dream in Hollywood, has infused Treviño's comedy with a "TEX-MEX" sensibility, yet as a performer he has a uniquely American voice that transcends anything about ethnicity, making him universally relatable. Outside of being a national headliner, Treviño has made memorable appearances on The Late Late Show, Comics Unleashed and BET Comic View, among others. He also wrote on Mind of Mencia and produced and wrote on rapper Pit Bull's La Esquina.  Treviño landed in the Nielsen Top 20, with his 1st Showtime comedy special, Grandpa Joe's Son. His 2nd special Relatable is currently airing on Netflix. Times: Thurs: 8pm, Fri: 7:30pm & 9:45pm, Sat: 7pm & 9:15pm, Sun: 7pm $17 http://sanjose.improv.com/