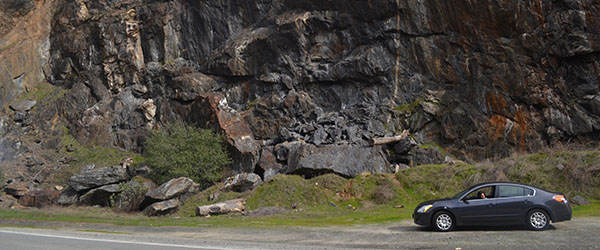 by Nicole Moreno
On Valentine's Day weekend, I went with my fiancée to Yosemite. I was very excited because I have never been. But when I looked on Google Maps, I noticed we had to drive through a lot of little towns to get to Yosemite.
My fiancée and I love good food. We live only 15 minutes away from San Francisco and yes we do check out Yelp before we enter a restaurant. We were preparing ourselves to be surrounded by two stars delis and liquor stores.
Our hotel room was in the city of Mariposa. To our surprise Mariposa had a lot of delicious food options.
Salvador's – We found this place on Yelp, (told you we always check Yelp) and it received four stars. This Mexican restaurant was by far one of the best Mexican restaurants I have ever been to. The rice reminded me of something one of my Tia's would cook and the beans were equally superb.  My chicken enchiladas had just the right amount of sauce and chicken. That meal prepared us for our Saturday afternoon walk.
Savoury's Restaurant – After our Sunday hike, we wanted to grab something yummy. We saw Savoury's restaurant, you guessed it, on Yelp. It had four stars too. It was a little bit pricier that Salvador's but we wanted to try something new. The atmosphere was very sleek and posh. My fiancée got the special, which was salmon cooked in a pasty.  He enjoyed the spice and the sauce. I got the sesame chicken salad. It wasn't drenched in the salad dressing and the chicken was fresh. The owner chatted with us a bit.
The only downside to both these places was the speed of service. I've traveled overseas and I'm used to other cultures serving food slowly. So have a little patience with both these places.
The next time you are planning your trip to Yosemite, make sure to fill your belly at one of these stops along Highway 140.
Nicole Moreno has always considered herself more of a city girl, however she grew up in the outskirts of Gilroy, a little country town just two hours south of San Francisco. From her internship days at KPIX 5 in San Francisco to her current position as an Event Coordinator for American Cancer Society she has always had a product or company to promote. Currently she is a member of the San Francisco chapter of the American Marketing Association, Alpha Kappa Psi Business Fraternity, Bay Area Advertising Relief Committee and volunteers with Alzheimer's Association and Reading Partners.