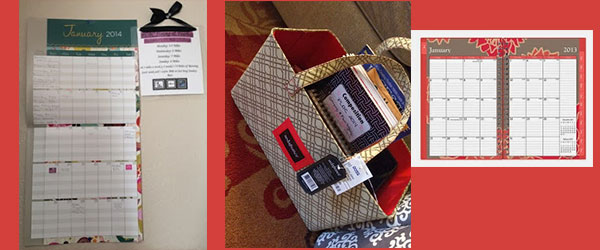 by Angela Zapien
It's about efficiency , reducing stress & clutter, saving time & money & improving your overall quality of life – Christina Scalise
As I was browsing Pinterest for inspiration to get my home in order for the New Year I came across this quote.  It was fitting for my new journey.  The New Year to me is like going back to school minus the new clothes.  The calendars, planners, color pens and fun organization tools.  If you are like me then you know how happy that stuff makes me!  As a wife, mother and business owner it is VITAL that I keep my goals, chores, day-to-day tasks and accomplishments in order.   I can honestly say the past few months I have gotten really lazy in staying organized.  Piles of paper, saving mail that I think I'm going to open (junk mail) and my planner was EMPTY for the month of December.
This New Year brings a refresher and when I align my faith with it all it has been more enjoyable putting it all together. During my staycation I've spent time in prayer, mediating and writing all my goals down for 2014 (personal/business/fitness).  With that said I am sharing what has helped me get my act together – Organization tips and a few new ideas that I am trying.   Grab your pen/paper and let's get creative!
You'll need the following:
Planner – I recently indulged in a Erin Condren Life Planner.  Check it out!   Prior I would use a Blue Sky weekly planner (can be found at any office store).  It worked great for me because each month is tabbed, there is plenty of space to write appointments, my TO DO list, really helped me stay on track and more affordable.  With the Erin Life Planner it's similar but has more details.   I'll post more when I receive it in the mail.  I CAN'T WAIT!!!!
In my planner I will have my daily, weekly and monthly reminders written down.   Every night before I go to bed I go over my TO DO list for the next day.  I use POST -ITS notes.
Journal – There are many journals out there but I am frugal shopper so I went to my local Dollar Tree and picked up a few composition notebooks.  I like to write stuff down on paper….I'm old school!   In your journal you can write your thoughts, ideas and goals.  I have a journal for work ideas, my blog ideas and my home ideas.   Think of it this way:   THINK IT, INK IT!
Focus – What is your focus?   Is it your family life?  Church?  School?  Business?  All!   For me I find that all my roles are my focus.  If I am more disciplined in staying on top of things, I feel more focused.   Things are not all over the place and causing me stress.  My suggestion would be to pray and visualize your focus.  We are all different.
Cleaning Schedule – We are blessed to have a housekeeper that comes every other week but with a baby crawling around I need to have my home much cleaner.   I have found that I would clean and do laundry all in one day which is fine but I was TIRED!   Again, I searched Pinterest and found this cleaning schedule that will fit perfectly in our home.   Simple and tackles what I need.   I have to say making my bed in the morning makes a HUGE difference.  Give it a try!  Also, encourage your kids to make their beds too.
Since I don't have a printer, I wrote the cleaning schedule down on our main calendar in our kitchen.  Not only is it a reminder for me but also for Coach Alex.   I found my calendar at Big Lots for $5.00.  Lots of writing space and came with stickers too!  Next to it I have my running schedule for January – Goal is to run 75 miles ~ Strong & Fearless!
Home Office – Since I don't have the space to have an actual office, my kitchen table is my main space.  I was that lady that had EVERYTHING on the table.  Drove me crazy, so I finally found a way to organize all my work stuff.  I have a simple black basket and I store all my day to day stuff in there (journals, planner, pens, highlighters, post its and leadership book).  Today I went to Ross and found this cute large storage tote for $9.99.  Now my office is mobile!
If you have an actual home office invest in containers, wall shelving, bulletin board and designate a space for EVERYTHING!
Now that I have overloaded you with my tips now you can take them and apply.  Of course add your own twist to it.   I would also suggest involving the family.  Maybe create a chore list for the children, discuss your budget with your spouse (very important) and just do your best at keep your home stress free!  I believe that when us women take pride in our homes whether it's making the bed, paying the bills or a clean kitchen it shows we honor our home.
But all things should be done decently and in order – 1 Corinthians 14:40
Happy Organizing!
Angela Zapien was born and raised in San Jose, CA. She currently resides in South San Jose with her husband Alex and their dog, Latte. She is the Fitness Coach for The Pink Ladies Boot Camp and is both TRX Certified and CPR Certified. Her hobbies include running, scrapbooking, reading, helping others and going to church.