by Rachel Ramirez Garcia
Since 2012, Pantone, the leading global company in color matching, has chosen its Color of the Year for textile industries, including paints, fabrics and plastics. For 2015, Pantone has chosen the color marsala, a down-to-earth red-wine that, like a fortified wine, evokes passion, warmth and depth. Since 2012, Pantone has collaborated with the cosmetic industry to introduce the Color of the Year for eyes, cheeks, lips and nails. Unlike the deep brown and raisin shades of the 1990's, marsala flatters every skintone and can be incorporated for all looks, from the everyday, subtle and neutral office face to full-faced, contoured and dramatic.

Get the Look
Sephora describes marsala as a "bold pop of neutral" suitable for eyes, lips, cheeks and nails. Products to experiment and play with include:
• Sephora + Pantone Universe Bold Marsala Mascara and Brow Highlighter


• Yves Saint Laurent Rouge Volupte Silky Sensual Radiant Lipstick SPF 15 in "Peach Passion"


• Urban Decay Naked #3 Eyeshadow


• Dior Vernis Gel Shine and Long Wear Nail Lacquer in "Nuit" and "Massai"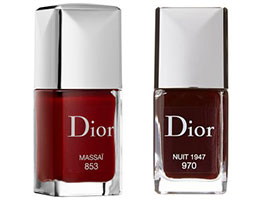 Rachel Ramirez Garcia has written for Modern Latina since 2006, in addition to Carefair.com. Many of her articles reflect her interest and specialty in skin, beauty, and nutrition. Rachel received her Bachelor's degree in Nutrition from San Jose State University.