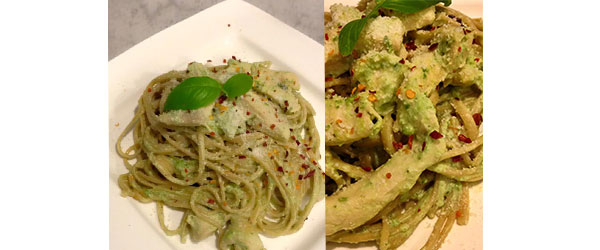 by Sindy Hernandez de Cornejo
Looking for a quick, delicious 15 minute meal. Try serving Pasta Verde: Poblano cream sauce and chicken spaghetti for your family tonight.
Ingredients
Blend two poblano pepper with 1 cup of sour cream
1/4 cup milk
1 tablespoon of chicken boullion
Pinch pepper
Pinch of oregano
Directions:
Sautee chicken with salt pepper and chili flakes until golden brown and add the cream mixture.
Cook at low heat for 10 minutes, do not let it boil just simmer other wise it will curdle
Add cooked pasta and mix well.
Serve with roasted garlic bread and add a sprinkle of Parmesan cheese and chili flakes.
Buen provecho!
Sindy Hernandez de Cornejo is a mother of two, fashion designer, stylist, and business owner of Queen's Shoes & More. Her blog Cooking in Heels infuses her love for fashion and food showcasing her creativity to make delicious and healthy dishes.