by Sandra Garcia
Last week, I had the pleasure of attending a Jimmy Choo in-store private event at their NYC Soho location. The room was filled with fashionably dressed women all there with the mission to shop for a cause!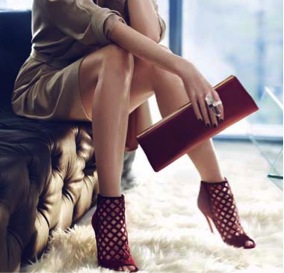 The store walls were covered with shelves of beautiful shoes ready to be styled and worn this fall. I particularly fell in love with a burgundy pair of booties. They are also available in black but the maroon adds a flare of style and sass to a little black dress, or a pair of skinny jeans or leggings and a blouse.
The classic Jimmy Choo sandal was also available in fun Fuchsia and Yellow. I personally think the gold and nude colors are the most versatile and desired colors for more use. All in all, I had a great time trying on amazing shoes and all for a great cause!
Note: All photos courtesy of JimmyChoo.com
Sandra Garcia is a lover of all things fashion and beauty and shares her love through her writing. Based out of New York City, she is a Sales and Marketing professional who holds the title of Digital Marketing Product Manager at Time Warner Cable Media. She is also owner of Encounter Marketing & Public Relations and co-owner of Event Planning company, POSH Agency LLC. Prior to Time Warner Cable Media, Sandra worked on the Digital Marketing team at PEOPLE.com where she worked on long-term marketing plans for advertisers, integrated deals with PEOPLE Magazine print and PEOPLE Stylewatch Magazine. Sandra also worked on integrated deals with Time Inc. Style and Entertainment Group properties such as PEOPLE En Espanol, InStyle Magazine, Entertainment Weekly, and Essence Magazine. Before PEOPLE.com, Sandra held the role of Sales and Marketing Associate at CNNMoney.com.