by Marcela Davison Aviles
"The wind won't know me there. The Holy People won't know me. And I won't know the Holy People. And there's no one left who can tell me." – An old Navajo Woman, on the subject of her displacement from ancestral lands
Mariachi Festival Pt. 1 from Marcela Davison Aviles on Vimeo.
Recently the United Nations Education, Scientific and Cultural Organization (UNESCO) announced that mariachi music was named to Unesco's list of "intangible cultural heritage" in need of preservation.  UNESCO's recognition is good news for music lovers and especially for those fans of Mexican minstrel – the passionate, melodic, gut wrenching storytelling genre known as mariachi. But the nation which invented the mariachi festival now seems on the verge of losing two stalwart venues inTucson and Fresno, according to recent reports from mariachi musicians and educators.  And in San Jose, city fathers have announced that arts organizations need to be prepared for zero funding for the arts, which is also impacting that city's mariachi festival, a 20 year institution. As a result, a national conversation is taking place – through online channels such as facebook and internet blogs – over the future of this uniquely American invention of cultural celebration.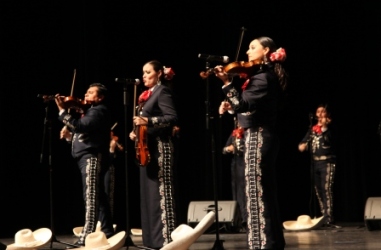 Why should we care about something like a mariachi festival? Critics of government funding for the arts usually focus on one reason – the arts are a "nice to have" not a "need to have."
The praises of cultural festivals, their imprint on the national and community psyche, their hold on collective identity through economic impact, ingenuity, cadence, flavors, colors – have been sung since the founding of the republic – by aficionados as disparate as Abraham Lincoln and Octavio Paz.  Their meaning can only be defined by what we hear in our hearts. In that occupation, festivals are like the wind.
But the American style mariachi festival, with its combination of educational music and dance workshops, concerts, and more recently, original content such as theatre, community conversations, and screenings of Chicano and Latino indy films, provides a unique laboratory for expression. Like other mediums such as literature, broadcast forums, cinema and theatre, it occupies a unique place in our civic culture –  because of its ability to change hearts and minds about a segment of society which is increasingly at the margins. I refer here to the Mexican immigrant and migrant worker.
I have personally witnessed grown men crying over the strains of this music, and members of the Tea Party exclaiming new found empathy for the community it represents after attending one of our concerts. I've read letters from parents claiming "enlightenment" after attending our mariachi workshops. I've seen grizzled, cynical rock star divos turn into little kids when given the opportunity to play with our mariachi students. Yes, UNESCO, there is a Pancho Claus – and every year he gives us uncommon common ground, through the intangible alchemy of the American mariachi festival.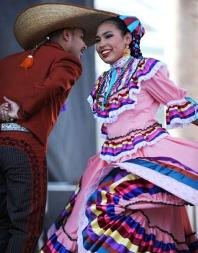 The common phrase I hear from people who are unfamiliar with mariachi festivals after attending one of our events is: "I had no idea." Meaning – no idea about the beauty of the art form, the artistry of the musicians, the work ethic behind our festival workshops to teach, inspire, and lift the expectations of our students about their own capacity for excellence. Meaning — no idea about our common humanity. Meaning — no idea about the need for a mariachi festival because it strengthens and sustains us during those fulcrum moments when desperate times require the resilience and grit that music inspires.  
San Jose's mariachi festival has a new name these days – ¡VivaFest! – a broad "abrazo" to welcome community with its message of life and celebration. But under any name, the essence of this festival is constant – it provides something much needed, especially now – a familial knowledge of our community, a place where we gather to know each other, as neighbors and friends, where we can hear each other. It is a frontier created new every year, where held notions may be displaced, within a place where there are no borders.
So — what happens when budgets are cut, and a festival disappears? The same thing that happens when the wind dies. There will be no gathering to know one another. There will be no cadence of language, known only in our hearts. There will be – nothing. 
Marcela Davison Aviles is an author, lawyer and CEO of the Mexican Heritage Corporation and Executive Producer of VivaFest, a leading Latino cultural festival of Latino music, theatre, education, film, new media and the visual arts.