This is part of a sponsored collaboration with AstraZeneca and DiMe Media. However, all opinions expressed are my own.
It seems like just yesterday when I was a mommy-to-be. I remember the anxiety and worry that I had to make sure the baby was ok. I ate healthy, got plenty of rest and mile exercise because I wanted to do everything possible to have my baby make it to my due date. You don't think that it is possible to worry anymore until your baby comes out into the world. Outside you have less control to protect them as when they were snug in your womb.
One of the most common, seasonal virus for infants is Respiratory Syncytial Virus (RSV). In fact it is so common that it is contracted by nearly 100 percent of infants by the age of 2 and the leading cause of hospitalization for babies during their first year of life.
November through March is known as RSV season so it is particularly important to know what symptoms to look out for and what you can do to prevent it.
Potential signs of severe RSV disease that parents should not ignore include:
Coughing or wheezing that does not stop
Fast or troubled breathing
Spread-out nostrils and/or a caved-in chest when trying to breathe
Bluish color around the mouth or fingernails
Fever (especially if it is over 100.4°F [rectal] in infants under 3 months of age)
Every baby is at risk of contracting RSV, babies born prematurely – earlier than 35 weeks gestation – are at increased risk for developing severe RSV disease.7,8 In fact, preterm infants are twice as likely as full-term infants to be admitted to the hospital for RSV-related symptoms.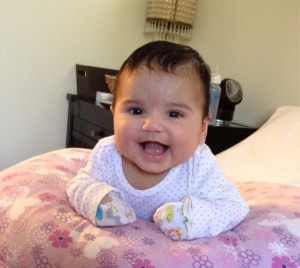 While my baby is not yet two thankfully she has not ever encountered RSV. However, the risk is still there. If you have a new baby in your household, immediate family or family who has an infant, share the following  steps to help protect their children from contracting RSV.
Washing your hands and ask others to do the same
Keeping toys, clothes, blankets, and sheets clean
Avoiding crowds and being around people, including young children, who may be sick during RSV season
Asking your child's pediatrician if he or she may be at high risk and ways you can help protect a high-risk baby

To learn more about RSV, data about RSV season in your area, questions you need to ask your pediatrician and more visit www.RSVprotection.com.