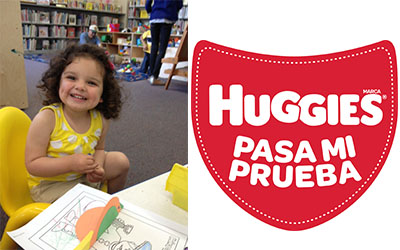 Disclosure: This is part of a compensated campaign with Latina Mom Bloggers and Huggies.  However, all opinions expressed are my own.
by Linda Castillo
I am super excited that I was selected to be a Huggies Latina Brand Ambassador. For the next few months, I will share some of my own personal experiences, challenges and funny stories that I have encountered as a mom. I have been using Huggies® brand wipes and diapers since my little one was born so I have plenty of stories that I can't wait to share with you.
Huggies has also teamed up with Miss Universe 2006, Zuleyka Rivera to be the new spokesperson. At the Huggies Latino Playdate event in New York unveiled an exclusive preview of Huggies' new parenting webisodes featuring Zuleyka and her son Sebastian. Zuleyka will be sharing her experiences as a mom with monthly webisodes that you can view on Huggies Latino Facebook page.
Check out Zuleyka's first webisode with her adorable son Sebastian here:
Join Zuleyka and I over the next few months as we put the new Huggies Snug & Dry Diapers with New SureFit Design and Huggies Natural Care Wipes with New Triple Clean Layers to the test. With the new SureFit design, the diapers will provide 12 hours of leakage protection and better all-around fit. While the new Triple Clean Layers on the wipes are thicker for any mess and softer for your baby. And if you have a little one, join us and pick up these new products to try them out for yourself. Visit Huggies.com/tuprueba for more information on the new Huggies products. Be sure follow the conversation on Twitter at @Huggies and #HuggiesLatino.
Linda Castillo is the Founder and Executive Editor of http://www.modernlatina.com/. She writes on topics that empower and inspire Latinas including art, motherhood, green living, culture, travel, and issues transforming the Latino community. Linda has earned a B.S. in Business and a M.S. in Mass Communications from San Jose State University.