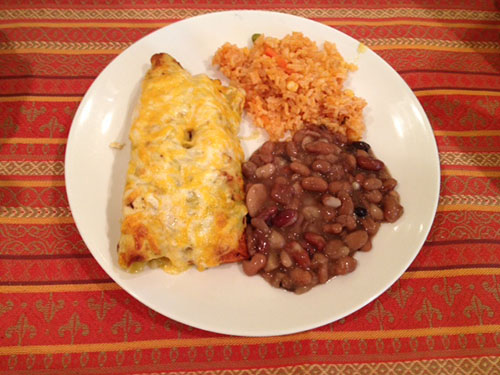 **This is a sponsored post in collaboration with Latina Bloggers Connect and California Milk Advisory Board. All opinions are my own.**
by Linda Castillo
I have to admit that I love cheese. It is such a staple in our household. In fact, I would say that at least one meal a day that I make usually has cheese in it.  Some of my favorites go to meals include lasagna, quesadillas, omelets and enchiladas to name a few.
Lucky for me that I live in California because it's the number one dairy state in the US, producing more milk, butter and ice cream than any other state and is the 2nd largest producer of cheese. And if you like to buy your fruits and vegetables from the local farmer's market, then all you have to do is look for the Real CA Milk seal to know that you are buying natural cheeses made in California exclusively from California milk.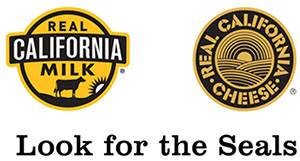 With graduation season is upon us and one of the best ways to celebrate the accomplishments of the graduate is over a delicious meal. Whether you are hosting a small family celebration or asked to bring a dish to a potluck celebration, one of my favorite dishes to make is enchiladas.
Now I wish I could say that I sweat for hours to prepare the dish or that the sauce was passed down from my great grandmother but none of that is true. The recipe that I am sharing is quick (prep time is about 20 minutes), easy, and tastes like you cooked all day to make it.  The enchiladas are great served with rice and beans.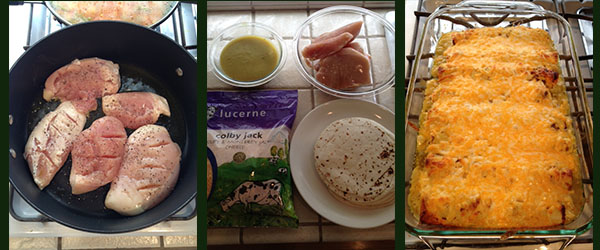 Green Enchiladas
Ingredients:
28 ounces of green enchilada sauce
1-pound chicken breasts
1 and ½ cup Monterey Jack and Colby cheese
Olive Oil
8 small flour tortillas
Directions:
Preheat oven to 425 degrees
Heat some olive oil in large skillet and place the chicken breasts in to cook.  You can add some pepper or other seasoning of you preference to the chicken.
Shred the chicken.
Please the chicken, about 2/3 of the green enchilada sauce and about a cup of cheese in large bowl to stir until all ingredients are evenly distributed.
On a medium pan, heat about 2 tablespoons of oil and place each tortilla in the oil for about 10 seconds.
Place about a ¼ cup of the chicken mixture in each tortilla and then roll tortilla up.
Drizzle some olive oil on the bottom of the pan and place each filled tortilla, seam-side down, into the glass casserole dish.
Pour the remainder of the green enchilada sauce to the top of the enchiladas.
Bake the enchiladas for about 15 minutes and then remove from oven to add the remainder of cheese. Then bake for another 10 minutes so that the top cheese is melted (without burning).
You may add some additional garnishes to the dish to add more flavors and dress up the dish. For example, you could season the chicken with chopped onions and minced garlic. Or you could add some Crema Mexicana and cilantro sprigs to the top of the enchiladas for more appeal as well as flavor.
Note: This is a sponsored post in collaboration with Latina Bloggers Connect and California Milk Advisory Board. All opinions are my own.
Linda Castillo is the Founder and Executive Editor of http://www.modernlatina.com/. She writes on topics that empower and inspire Latinas including art, motherhood, green living, culture, travel, and issues transforming the Latino community. Linda has earned a B.S. in Business and a M.S. in Mass Communications from San Jose State University.