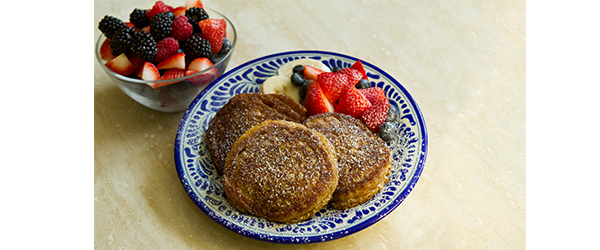 Rise & Shine Dulce de Leche Breakfast
Ingredients:
2 cups rolled oats
2/3 cup NESTLÉ LA LECHERA Dulce de Leche
2 ripe bananas, peeled and sliced
1 large egg
1/4 teaspoon ground cinnamon
2 teaspoons baking powder
2 teaspoons baking soda
Unsalted butter for cooking pancakes
Agave syrup, maple syrup, confectioners' sugar, or more LA LECHERA Dulce de Leche, optional
Mixed berries, optional
Directions:
Place rolled oats in a medium bowl, cover with 3 cups warm water and let soak anywhere from 30 minutes to overnight. Drain oats, discard soaking water, and place oats in jar of a blender or food processor along with the dulce de leche, banana slices, egg, cinnamon, baking powder and baking soda and process until smooth. Let the mixture sit for 10 to 15 minutes.
Heat a large skillet over medium–low to medium heat. Butter the skillet. Use a ladle to pour batter into the pan, making 3- to 4-inch pancakes. Let pancakes cook until bubbles appear on the surface and the bottom has browned and created a light crust, about 2 to 3 minutes. Gently flip with a large spatula and cook on the other side until lightly browned, 1 to 2 minutes more.
Pancakes will be less fluffy and much more moist than regular all-purpose flour pancakes. Serve immediately with your optional toppings.