by Linda Castillo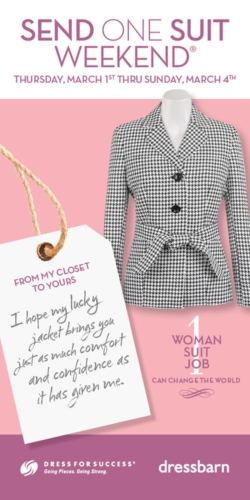 I admit it; I have a difficult time parting with my clothes, especially the clothes that I paid a pretty penny for. I make any excuse to hold on to all my favorite pieces. It will come back in style again. If I work out really hard I can be a size 6 again. I bought this shirt on my trip to Spain. This piece is vintage.  All delusional reasoning aside, I need to face the fact that my body has changed since after having a baby. I know that while I may be able to lose the baby weight, I need to face the reality that my feet will never shrink back to size 7 ½! Therefore, I decided to tackle cleaning out my closet as a part of my new year's resolution to get organized.  To keep me motivated and focused on completing the task on hand, I am going to donate all my professional clothing to Dressbarn's S.O.S – Send one Suit – Weekend Donation Drive.
Dressbarn has teamed up with the non-profit organization, Dress for Success, as part of its S.O.S – Send One Suit – Weekend® Donation Drive running March 1 – 4 to collect professional work attire.  All Dressbarn stores across the country will serve as drop-off sites for new or gently used professional attire including suits, dress shirts, blazers, pants, dresses and shoes that will be used to benefit women seeking to transition into the workforce.
Knowing that my donations will go towards helping women rejoin the workplace is important to me and it also helps me let go of my most prized suits that I have not worn in the last two years. You can help Dressbarn reach their goal to collect more than 60,000 pieces of professional attire by dropping off your donation at one of the 825 Dressbarn locations beginning March 1 through March 4. In appreciation for your generosity Dressbarn will offer donors an additional 15% total purchase savings.
Help support a great program, Dress for Success, receive a coupon to treat yourself to something nice at Dressbarn, get organized for the new year, and make a taxable donation, are all great reasons to clean out your closet this weekend.
Linda Castillo is the Founder and Executive Editor of http://www.modernlatina.com/. She writes on topics that empower and inspire Latinas including art, motherhood, green living, culture, travel, and issues transforming the Latino community. Linda has earned a B.S. in Business and a M.S. in Mass Communications from San Jose State University.