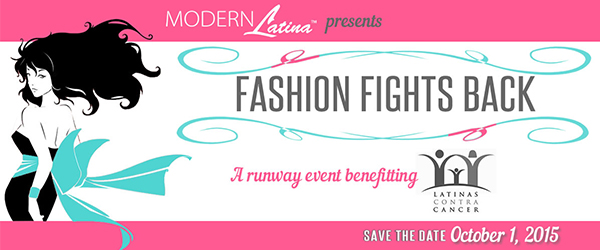 Save the date for our 10th Anniversary celebration, "Fashion Fights Back" a runway event benefitting Latinas Contra Cancer.
Mark your calendars and make plans to join us at the beautiful, historic San José Woman's Club located in downtown San Jose on the evening of Thursday, October 1, 2015.
It will be a night of fashion, culture, and community honoring and celebrating breast cancer survivors. Guests will have a great time as they enjoy wine and hors d'oeuvres, while viewing the latest fashion from Latino designers and shopping till they drop at the many participating vendors and silent auction all the while helping to raise awareness and funds for the fight against breast cancer.
Stay tuned for more details about the event and when tickets will go on sale. Be sure to follow the Facebook Event page to stay posted on event updates.
For information on how to get involved as a volunteer, sponsor or donate a silent auction item, please contact Linda Castillo at linda.castillo@modernlatina.com / 408.506.7515.
Sponsorship Information
Click here to download the Sponsorship Information or contact linda.castillo@modernlatina.com / 408.506.7515.
Ticket Sales:
General Admission (Early Bird price $35 before 9/15/15 and after $45) Entrance at 7pm. General admission includes entrance to fashion show with wine tasting and hors d'oeuvres. Entry at 7 pm.
VIP Reception Admission (Early Bird price $55 before 9/15/15 and after $65) Entrance at 6pm. VIP Reception Admission includes early entrance at 6 pm to enjoy some pre-festivity pampering, networking and VIP treatment that includes an exclusive goodie bag, raffle prizes and sneak peak at the silent auction items.
Tickets can be purchased at http://bit.ly/1dzzsRp
About Modern Latina
Modern Latina was founded in 2005. The vision of Modern Latina is to create an online community with content that will empower Latinas to realize their goals and dreams. For more information on Modern Latina, visit http://ModernLatina.com.
About Latinas Contra Cancer
Latinas Contra Cancer is raising awareness about cancer in the Latino community, increasing access to quality care, working to decrease mortality and improving the quality of the health care experience. We do this by offering support services and resources for the Latino cancer patient and their family; collaborate with other small agencies to provide education and outreach services; partner with health care institutions to bridge the gap through culturally competent outreach and medical care. For more information visit http://www.latinascontracancer.org.