by Linda Castillo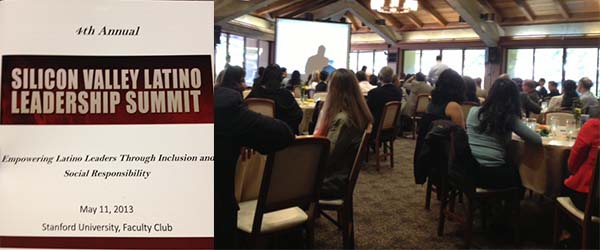 The recent 4th Annual Silicon Valley Latino Leadership Summit (SVLLS) presented by Es Tiempo, LLC. and Hispanic-Net was attended by over 250 leaders from business, government, education, and diverse industries. The room was filled with excitement by the inspirational words from keynote speakers, presentations, and panel discussions. Some of the key themes and messages that resonated from the conference include education and leadership, social media and leadership, and empowering future Latino leaders.
Education and Leadership
One of the panel moderators, Teresa Cox, Board of Trustees, Ohlone College District and candidate for California State Assembly District 25, summarized the fundamental role of education to develop our future leaders.
"One of the things that is so important is that students major in math, science and technology. Part of that math and science gives people a foundation in problem solving. That education then will lead to jobs," explained Teresa. "English as well because you have to speak and communicate well to be on teams. Be involved in extracurricular activities and take on leadership roles."
Teresa also spoke about the importance of seeking out internships and mentors in the math, science or field that you want to get into. She noted that there are STEM (Science, Technology, Engineering and Mathematics) programs offered during the summer for students. She also advocated the importance to make sure you give back to help the next person so they can have the same opportunities, which is what SVLLS is all about.
Social Media and Leadership
The role of Internet, social media and technology in leadership is so valuable especially when it comes to organizing. During one of the panel discussions, Carlos Miranda stated that social media is "global but personal." The concept that social media is "global but personal" is exemplified in Carlos's organization, Relief 2.0. This organization focuses on disaster response and recovery by mobile technologies and social networks, connecting resources, stakeholders, needs, organizations, volunteers and survivors in an efficient, effective and timely manner.
Moreover, the power of social media to connect is echoed with the start of the ELLA Institute -Latina Leadership Network founded by Angelica Perez-Litwin. "It came about from a twitter party from National Hispana Leadership Institute and New Latina hashtag #latinaleadership wanted to get online to talk about key issues about Latina leadership. Grassroots tool for Latina leaders to get organized and connected," explained Stephanie Bravo, Founding Leader and Community Manager of ELLA Institute – Latina Leadership Network. With over 2,300 members are now part of the online network, it is the perfect platform to discuss open issues, connect and promote Latina leadership discussions and initiatives.
Empowering Future Latino Leaders
A key component of the conference is to inspire, nurture and mentor future Latino generations. To that end, this was the first year for the 1st Annual Young Latina Project (YLP) Summit sponsored by the California Ivy League Project and Es Tiempo, LLC.  The goal of YLP summit is to introduce Latinas to STEM (Science, Technology, Engineering and Mathematics) and encourage them to enter in careers in these disciplines. Through this program, 13 accomplished high school Latina students were selected to attend the summit.
It was a memorable way end the event as all of these talented recipients taking a photo with SVLLS Lifetime Achievement Honoree Aida Alvarez. Aida is an award winning journalist and investment banker who became the first Latina to serve as an executive officer in the U.S. Cabinet, appointed by President Bill Clinton.  She embodies what it means to be a Latina leader.
Linda Castillo is the Founder and Executive Editor of http://www.modernlatina.com/. She writes on topics that empower and inspire Latinas including art, motherhood, green living, culture, travel, and issues transforming the Latino community. Linda has earned a B.S. in Business and a M.S. in Mass Communications from San Jose State University.