by Linda Castillo
Few people know at a young age what they are meant to do with their lives. This was most certainly not the case for Sindy Hernandez de Cornejo and her love for fashion. Growing up in Mexico, Sindy recalls her humble beginnings where she would get new shoes only once she outgrew them and she only had a few dresses for church. But even at a very young age, Sindy paid attention to fashion folding over her dresses to create a new looks.
Sindy was only 14 when she came to the United States. She is grateful for her courageous parents, who despite the many warnings that bringing Sindy to America she would end up pregnant, in gangs or wasting her life away, they brought her family here to start new home. Sindy received her Bachelor's Degree in Television Production from San Jose State University in 2004. During the time at college, Sindy would make her own clothes and people would always ask her where she got her outfits.
Inspiration can come at anytime
Sindy remembered the time when she first thought of opening a boutique. She was at church and she happened to notice all the ladies wearing stylish shoes. Sindy thought to herself that these women have great style but there wasn't a store where they could find the latest trends. And that was day the seed was planted for her to open a boutique.
Within three months from that day at church, Sindy took the plunge and opened Queen's Shoes & More located at 1939 Main Street, Watsonville, California. The boutique has a wide variety of fun fashion accessories, cute clothing and of course, the best selection of shoes in town!
Queen's Shoes & More has been open for over five years. Sindy has developed a strong client following and has weathered the tough economic times. For Sindy, it is important to give back to the community. Most recently she hosted a fashion show with 15% of the sales would go towards Juntos Podemos an organization aimed to end gang violence.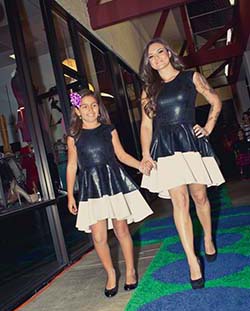 Along with her exceptional eye for picking unique clothing, shoes and accessories, Sindy took her love for fashion to another level by designing her own line, the S.I.N.D.Y. Collection. The collection stands for 'The definition of a woman: Sophisticated, Independent, Naturally Desired -You!' She describes the line as classic sophistication for the every day woman. While she designs keeping the current trends in mind, the pieces have a classic feel so that the looks will be in style for a lifetime.
Her daughter Valentina is her inspiration
At first it was challenge for Sindy to juggle her new role as a mother and running her small business, especially since she is so attached to her daughter Valentina. She would bring Valentina to work and soon Valentina would be her inspiration to create the Mommy&Me collection. Along with the support from her sister, Nancy Hernandez, who has helped with the sewing and creation of the little girl pieces, Sindy was able to start the line in May 2012. The Mommy&Me collection has sophisticated dresses for the moms and the most adorable small scale versions for little girls.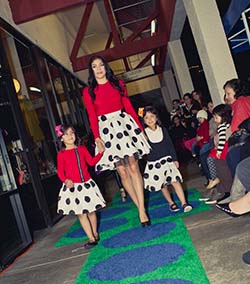 Presently, Sindy's collection is sold exclusively at her boutique and Karma Fashion Lounge in Monterey, CA. The dresses for women run from $69 to $98 and the dresses for girls are priced from $29 to $49.
Sindy has been surrounded by friends and family members who she admires for the fact that they have gone for their dreams. And for that same reason, Sindy has become a role model for others. When asked what advice she has for aspiring clothing designers and boutique owners, Sindy shared the following guidance. First, you need to know who your customers are and adjust accordingly. Second, you must follow your gut. But above all Sindy says "It is not about making money when you do something that you really love – enjoy what you do."
Linda Castillo is the Founder and Executive Editor of http://www.modernlatina.com/. She writes on topics that empower and inspire Latinas including art, motherhood, green living, culture, travel, and issues transforming the Latino community. Linda has earned a B.S. in Business and a M.S. in Mass Communications from San Jose State University.