This is part of a sponsored collaboration with DiMe Media and Dreft. All opinions are 100% mine.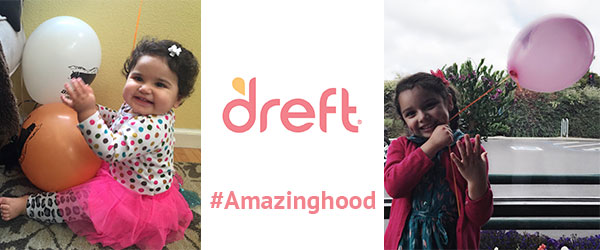 This weekend my youngest turned one. I can't even believe how quickly that first year flew by. It feels like just yesterday when she was sleeping sweetly in her swaddler and now she is crawling, cruising and baby talking.
I remember getting the baby room ready to bring home our bundle of joy. Everything had to be perfect from setting up the bassinet to washing all the baby clothes, blankets, burp cloths and bibs. I used pediatrician-recommended Dreft to wash all my baby's clothes which was perfect for her delicate skin. To this day, the Dreft aroma of clean baby clothes fresh from the dryer always reminds me of that special time with my baby.
Between the sleepless nights and long days, that first year goes by so fast. Dreft has created an app, "Amazing Baby Days," to help parents – and parents to be – capture the amazing moments of pregnancy through their baby's first year. You can create keepsake movies from photos and videos captured within the app! The app is now available for FREE on the App store.
Now that my eldest is four-years old and my youngest is one, they are exploring and growing more each day. Their clothes are so messy filled with mystery stains from their day of play. I can always tell what craft my daughter did and what she ate at school by the stains on her clothes – painting project, Play Doh, dirt, frosting; you name it, I have seen it. Babies go through a lot of changes within their first few years, leading to different needs for different life stages – especially when it comes to their laundry.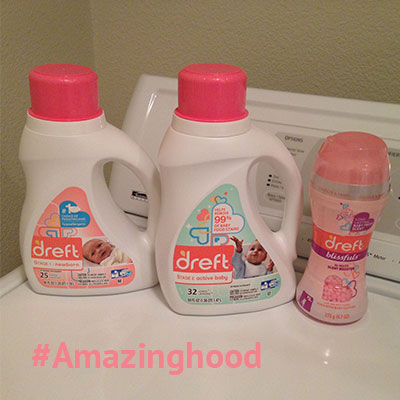 Understanding that laundry needs for little ones change as they grow and develop, Dreft, the #1 baby laundry detergent choice of pediatricians, the #1 dermatologist recommended brand for baby clothes and a trusted brand for more than 80 years, has expanded its product line-up to better meet the different life-stage needs of babies and their families. Now with Dreft's new line of laundry care products, families can focus less on the mess and more on the amazing moments they share together.
Dreft Detergents for Stages of Baby
Dreft Newborn (Stage One): Expectant and new parents can wash their little one's fabrics with Dreft's same beloved hypoallergenic formula, designed to be tough on stains and gentle on baby's skin with the beloved Dreft baby scent.
NEW Dreft Active Baby (Stage Two): Specially designed with a growing, developing baby in mind, NEW Dreft Active Baby helps to remove 99% of baby food stains and other outdoor messes with a gentle, hypoallergenic formula and fresh scent.
NEW Dreft Blissfuls (Stage Three): NEW Dreft Blissfuls in-wash scent boosters gives families the baby fresh scent they love. Safe on all fabrics, these beads help bring back that nostalgic, amazing baby scent (and all those memories) with every wash.
I had a chance to try out Dreft's NEW hypoallergenic Active Baby formula and NEW Dreft Blissfulls scent-boosting beads this past week when I did laundry for my girls. The Active Baby formula really worked to remove some of the toughest stains and I love the fact that it is a gentle, hypoallergenic formula. I used the Dreft Blissfulls scent-boosting beads with their blankets and sheets. My little one kept brushing her cheek against her clean, fresh blankie. I am excited that Dreft, that I relied on so much when my daughters were first born, now has products that I can continue to use well into their childhood.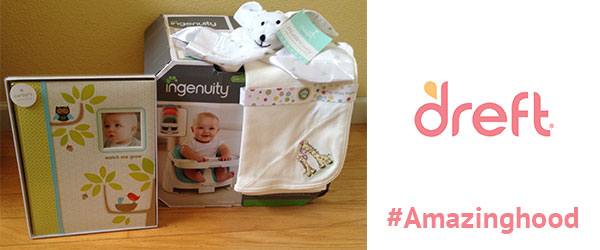 Dreft wants you capture your baby's amazing steps with the #Amazinghood contest. Enter today for a chance to win:
NEW Dreft product line-up
Ingenuity Booster Chair
Aden by Aden & Anis Lovey
Carters 5 Year Memory Book
For a chance to win the #Amazinghood prize you can enter below. You can enter 3 times via methods below. The giveaway begins May 19, 2015 through May 27, 2015 at 12:00 AM PST. Please be sure to enter via Rafflecopter to track your entries. Good luck!
Mandatory entry, comment on Facebook #Amazinghood post about and tell us why you need a life-staged detergent regimen.
Tweet about giveaway using #Amazinghood hashtag
Share and like the #Amazinghood giveaway post on Facebook
Giveaway Guidelines:
You can enter up to 3 times per person via different entry methods mentioned above. This giveaway will end May 27, 2015 at 12:00 am PST. The winner will be drawn using random.org. Once winner has confirmed prize, the winner will be announced on Facebook. All entrants must be at least 18 years old and a US resident. Prize fulfillment will take 4-6 weeks.