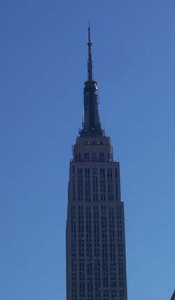 On December 31st, while most of my friends were at wonderful parties, I along with my younger sister and fiancé were on a plane to New York City. I have been there before with my fiancé but this was our first time going there in the winter. It was my sister's first cross-country flight. So needless to say we were all experiencing a first.
The first lesson I learned traveling in the winter; was that you need a separate suitcase for jackets and boots. Between my sister and I, we had about 7 jackets each and 6 pairs of boots. Yes I know to some of you, that may seem a little much but we wanted to look stylish for the Big Apple.
Second lesson I learned was that the New York City cold keeps you in more. It is hard to see all the sights while you are shivering. We decided not to do a bus tour and the Statue of Liberty was closed and we could not go to bars (my sister is 15). So we had to be a little creative. Below is a list of some things we did during the cold chill.
Luzzo's– While a little pricey, the pizza was delicious. If you just want a plain pepperoni pizza, this is not your place. Their tiramisu was the best tiramisu I have ever put in my mouth. That's saying a lot because tiramisu is my favorite dessert.
Columbia University – New York City is filled with great universities and colleges. While a lot of students are not on campus during this time, it is fun to take your own tour. I have always wanted to go to Columbia University. It is my favorite Ivy League campus and it is a campus that is over 100 years old.
9/11 Memorial Center – This memorial center is not done being built, there are two reflecting pools. It is free to get in but you do have to go through at least three security check points.
Empire State Building – The cold and the wind does it make it hard to stay out on the observatory deck for very long. But the views are breathtaking. The line is about a 3 hours long and tickets are $25. It is always crowded there because it is a main tourist spot. I advise you have a tough skin to handle some of the rude tourists who cannot handle tight corners.
Roberta's Pizza – We heard about this place from the tattoo artist who inked me on the first Wednesday of the year. He lived in Brooklyn and mentioned this pizza place. They grow all their own ingredients and the crust is thin and crispy. The staff is super friendly and their heated outside is area is actually guess what…heated. Amazing.
Third and final lesson I learned was that New York in the winter can be a success. There are plenty of things to do in the city on a budget. So the next time you are thinking of taking a vacation, (and I strongly encourage everyone to use all their vacation days), keep New York City in mind. Happy Travels!
Nicole Moreno has always considered herself more of a city girl, however she grew up in the outskirts of Gilroy, a little country town just two hours south of San Francisco. From her internship days at KPIX 5 in San Francisco to her current position as an Event Coordinator for American Cancer Society she has always had a product or company to promote. Currently she is a member of the San Francisco chapter of the American Marketing Association, Alpha Kappa Psi Business Fraternity, Bay Area Advertising Relief Committee and volunteers with Alzheimer's Association and Reading Partners.