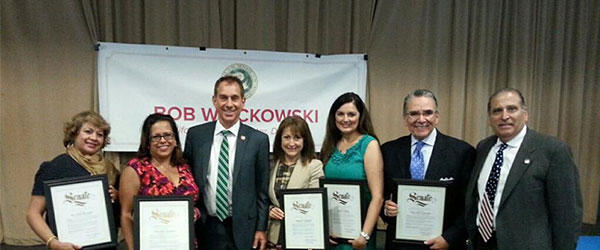 This past Friday, State Senator Bob Wieckowski honored five outstanding leaders at his 3rd Annual Latino Heritage Leadership Awards Ceremony.
"These five individuals from health care, journalism, foundations, the private sector and academia continue to make outstanding contributions to all parts of the 10th State Senate District and the Latino communities in Alameda and Santa Clara counties," Wieckowski said.
The honorees are:
Ana Apodaca – Apodaca is a community and government relations manager for Kaiser Permanente. She served on the Newark City Council from 2005 to 2014 and previously served as district director for then State Senator Liz Figueroa. Apodaca has served on the Hispanic Community Affairs Council for nearly 20 years. Previously, she was a commissioner on the Alameda County Commission on the Status of Women and a mentor for the Puente Project at Chabot Community College.
Linda Castillo – Castillo is marking the 10-year anniversary of Modern Latina, an on-line publication devoted to celebrating, inspiring and empowering Latinas. She is a vice president in marketing at Comerica Bank. Castillo is also a board member of the San Jose State University Latino Alumni Network and provides encouragement and guidance to students pursuing their academic and professional goals. She holds a master's degree in mass communications from San Jose State.
Ron Gonzales – As president and chief executive officer of the Hispanic Foundation of Silicon Valley, Gonzales oversees the foundation's philanthropy and engagement in educational excellence and leadership development in Silicon Valley's Latino community. A past Hewlett-Packard executive, Sunnyvale council member, Santa Clara County supervisor and two-term mayor of San Jose, Gonzales has more than 35 years of technology and public policy experience.
Raquel Gonzalez – In her role at Bank of America, Raquel Gonzalez is the company's senior executive and enterprise leader and leads its corporate social responsibility work in the region. She serves on the boards of the Silicon Valley Leadership Group, the Hispanic Foundation of Silicon Valley and the Tech Museum of Innovation. She is also an advisor for Bank of America's Hispanic/Latino Organization for Leadership Advancement (HOLA) employee network.
Dr. Lettie Ramirez – Ramirez has served on the faculty at California State University, East Bay since 1994. A member of the Department of Teacher Education, she has helped the CSU East Bay receive more than $11 million in federal, state and private funding to support professional development for teachers. She is a leader in the Hayward Promise Neighborhood Project and serves as the vice president of the American Association of Colleges for Teacher Education.
Congratulations to all of the honorees!