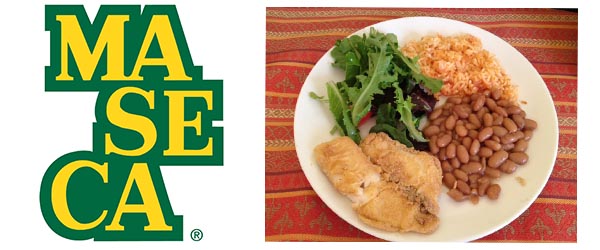 **This is a sponsored post in collaboration with Latina Bloggers Connect and Maseca. All opinions are my own.**
by Linda Castillo
I am the first to admit that I am not the best cook in my family.  In fact, I consider myself a work in progress when it comes to my cooking skills but I am always willing to try preparing a new dish.
I had the chance to create a summer recipe for Maseca® Centroamericana. Keeping true to my mad chef skills, I wanted to create a recipe that was easy, quick, and tastes good. And since it is summertime, I wanted a dish that was not too heavy. For that reason, I chose to share a sustainable pan-seared tilapia recipe. This main dish is really, really simple! I am not kidding, it requires only four ingredients and you can make it in less than 15 minutes. The pan-seared tilapia tastes great served with Peruvian beans, rice and salad.
I always know that my dish is tastes good when everyone eats their plate clean and for this particular night's dinner there were no leftovers– success!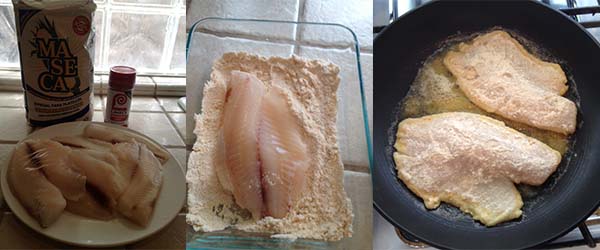 Pan-Seared Tilapia Recipe
Ingredients:
Cup of Maseca Centroamericana
10 shakes of Lawry's Seasoned Salt (or another seasoned salt of your preference)
5-6 tilapia fillets**
Olive Oil
Directions:
Rinse tilapia fillets with water and pat dry with paper towel
Combine and mix the Maseca Centroamerica and seasoned salt in a shallow dish
Gently press each fillet into the mixture and shake off any excess mixture
Heat the olive oil in a skillet over medium-high heat
Please tilapia in the pan and cook on each side for about 4 minutes. Serve immediately.
**I like to select a fish that is good for my family and good for the ocean so I use the Monterey Bay Aquarium's Seafood Watch guide to help me select the sustainable option.  For tilapia, I selected U.S. tilapia farmed in closed recirculating systems is a "Best Choice."
Maseca® provides the perfect corn flour to make tortillas and other dishes such as tamales, enchiladas, sopes, quesadillas, empanadas, flautas, and much more. And more importantly the corn four is 100% natural. For more recipes using Maseca® visit http://www.mimaseca.com
Linda Castillo is the Founder and Executive Editor of http://www.modernlatina.com/. She writes on topics that empower and inspire Latinas including art, motherhood, green living, culture, travel, and issues transforming the Latino community. Linda has earned a B.S. in Business and a M.S. in Mass Communications from San Jose State University.