by Tamika Burgess
May 3rd of 2011 will always be a significant day to me. It was the day I started my blog. The Essence of Me was started out of a need for expression. Back then I had no real direction for my blog; I didn't know any other bloggers, didn't care anything about gaining readers, and never thought about the impact my blog could possibly ever have.
What I did know was that the sole purpose of The Essence of Me was to provide and outlet, as I just wanted to write. The only thing I put effort into was my blog's title and tagline. This was important because I wanted to pick a name that meant something to me, a name that would be a true representation of my blog's content.
I can't remember where or when the word essence came to mind, but after looking up its definition I knew I was on the right track; the word had to be included in my blog's title.
Essence: the basic, real, and invariable nature of a thing or its significant individual feature or features.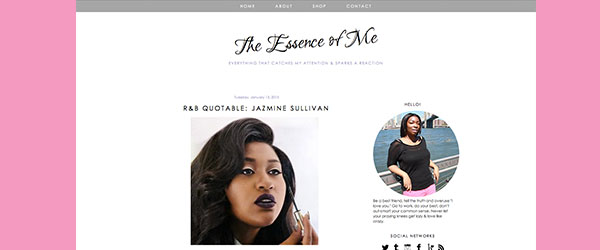 That is truly what I have created my blog to be, as it includes everything that catches my attention and sparks a reaction. My blog is the essence of who I am, it's The Essence of Me.
As the years went on I stayed true to my blog's purpose, but I became lazy. Toward the beginning of 2014, while looking at some old posts, I noticed I kind of slipped away from what my blog was supposed to be. Of course I only posted things that caught my attention and sparked a reaction. But somewhere along the way my writing, my voice, became scarce. My blog had turned into a bunch of reposts and a lot of picture-centered posts. I wasn't pleased with this, as this was not a clear representation of me.  Nor did it hold true to why my blog was started in the first place.
Eager to get back on track, I continued blogging, this time with a little more direction in mind. I started putting a lot more thought into my content, and focused more on my writing- like I'd done when I first started.
All was going well, but the spark to really get serious about my blog didn't happen until last summer, when I started meeting other bloggers. From interacting with these women and reading their blogs, I got to see their work ethic and the dedication they put toward their blogs. Seeing this was motivating. They all inspired me to take my blog to another level, a deeper level.
I spent the last two weeks of 2014 figuring things out; where I want to take my blog, or where I want it to take me. The most important thing I did was get organized. Here's what I did:
I got a notebook and divided it into monthly sections
At the front of the notebook I wrote all my blog goals and plans for 2015
In the monthly sections (I've only done this for January-May so far) I wrote blog topic ideas. I also wrote to-do lists so I could successfully achieve getting said ideas written and posted
For me organization has always been key. When I feel like I'm losing ground or losing perspective on something that is important to me, I always sit and re-group. It's kind of odd to me that after almost four years of blogging I'm just now becoming organized. But it's understandable, I started the blog with no direction. I use to look at it as just something to do, something cool to say I had.
But now I know my blog is one of the ways I will continue to leave my mark in this world. I want the space I've created to be a true representation of me. So it only makes sense that I spend time nurturing it so it can grow, so I can grow.
Tamika Burgess is a NYC based writer, blogger, and editor. Her articles have been featured on various sites, including Cosmopolitan. She is also the force behind The Essence of Me; where she blogs about all things that catch her attention and sparks a reaction.