by Marcela Davison Aviles (Marcela is a cultural consultant to Elena of Avalor)
If history reveals the teachable moments from human efforts to preserve liberty and life, what can we learn from an animated fable about a teenage princess who cares more about equity than gowns? In these days when women leaders are warned to behave, we can all take heart from a new leader who has the courage of her convictions, a necessary requirement given her enemy is an evil sorceress who will stop at nothing to vanquish our heroine's pursuit of justice for all. Nevertheless, our heroine persists.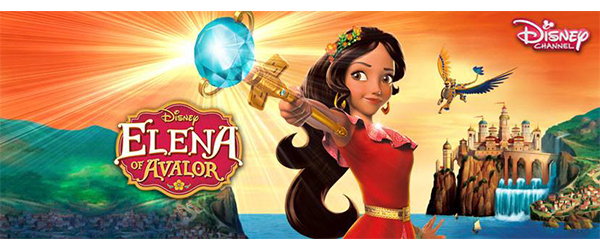 Disney's Elena of Avalor animated television series launched to overwhelming applause for the program's ground-breaking embrace of Latino culture. From the start, her creative wizards at Disney Channel were inspired by Latino culture, customs and heritage as their journey began to create a new world for a new Disney princess. Season two will begin airing this month and a third season is in production – which says something about a kid's program where the qualities of leadership, empathy and love of family share equal billing.
The series embraces diverse sources of inspiration – historical and current examples of leadership, and leaders, who fought for inclusion, fair treatment for all, grace under pressure, faith in family and the role of education, science and the arts as foundations for our civic comity. Elena of Avalor is a new princess for a new era – a heroine who must learn not only how to to vanquish evil, but why. And her mentors are other women and girls in her Avaloran community. Their unique journeys in claiming identity as they fight for social justice sometimes collide. But the moral of this particular Disney fable is that in the end, cultural syncretism delivers both justice and reconciliation between disparate communities.
Is there a girl or woman who doesn't recognize herself in Elena's advocacy for her own agency? Watch Elena take on the bad guys of Avalor – the use of double standards by the handsome prince next door, the disparagement of her empowerment through education, the use of force to shut down her independence – the reality about this fantasy tale is that most women encounter their own version of "the bad guys" in the work place, on the playing fields and too often at home. In the story of Elena of Avalor we experience not only the traditional tale of right makes might, but also validations of cultural relevancy and the role of women in our communities. Let's unpack how the creative magical realists at Disney achieve this.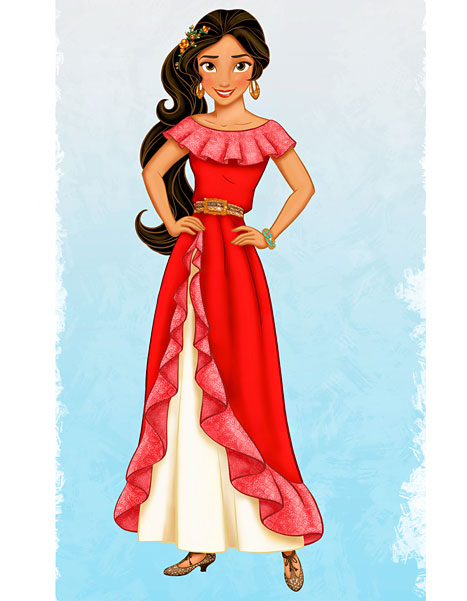 The role of recollection and history: if you are acquainted with the world of Avalor, you'll know that Elena and her mentors believe history is their BFF. In each episode, when trouble is on the horizon, kids will see and hear a re-telling of the how and why of it. The role of memory and recollection – the use of storytelling in the teaching of the proper rules of engagement – is often the glue which holds Elena to her family and fellow citizens, and they to her. Their bond is proved through parable and the affirmative perspective that everyone should take their place in the civic culture. Personal interactions are also part of a larger narrative which models a knowledge of history, the active use of memory and recurring dialogue between friends and strangers as the critical components to happiness and when needed, to reconciliation.
The influence and impact of family: Elena's unique backstory – she was imprisoned in an amulet for 41 years by an evil sorceress and had to fight to reclaim her kingdom's freedom leads to some good questions within the parable of Elena's journey – why should the citizens of Avalor join forces with Elena and trust her? How can a family reclaim their familial bond after being separated for so long? How can disparate groups of citizens find common ground?
The quest for social justice: Many episodes share stories about the pursuit of fairness and the roles of community members in that quest. Indeed, the role of Elena as a liberator, that of her sister as a dreamer of inventions and scientific discovery, of her Grandparents as sources of wisdom derived from their life experience — align with historical references to liberation movements in Latin America and the current social justice movements in Mexico, the U.S. and Latin America.
The framing of gender roles: Elena of Avalor is unique in its depiction of women not only as leaders but as warriors, as arbiters, as expressions of humanity, as translators, as disrupters. The series stakes a claim on presenting girls and women in a modern context of leadership, but also frames this depiction within the context of cultural conflict and transition of cultural norms. In many of the episodes women and men together experience a journey of transformation – not only magical ones, where humans turn into animals or get locked into paintings – but also transformations of traditional societal roles – in order to make room for women who are empowered through leadership, and men who are empowered by learning that a women's place is not below them but side by side on the vanguard.
This journey, that of making a claim of empowerment, and of the power of change, characterizes Latin American culture going back to the days of La Malinche. Indeed, Elena's journey recalls many true life quests for freedom led by women. One in particular that comes to mind is that of the painter Maria Izquierdo, one of the most important painters of Mexico's Nationalist era, and the first Mexican woman to exhibit in the United States. She was later betrayed by her teacher and mentor Diego Rivera, who blacklisted her from important mural projects in Mexico. Octavio Paz said she was at once, both modern and ancient, and her realism captured not so much reality, as the true core of Latinidad – magic, myth and nostalgia. She herself realized the ongoing challenge of women with this famous quote: "it is a crime to be born a woman and have talent." Princess Elena has vanquished that paradox such that it no longer exists in the kingdom of Avalor. One hopes her magic will be powerful enough to apply in real life.
Marcela Davison Aviles is an author, lawyer and founder of Chapultepec Group, a leading cultural insights agency serving the arts and entertainment industry and Managing Director of Camino Arts, a new arts social venture initiative.