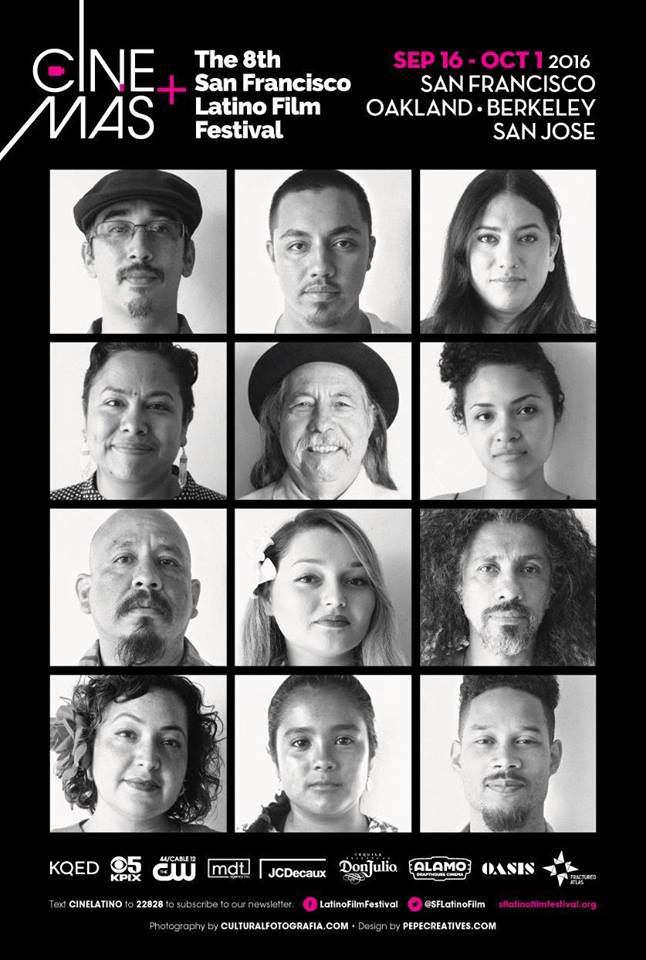 The Cine+Mas SF Latino Film Festival runs from September 16-22, 2016. The event will have two weeks of amazing films including US, World, and Bay Area premieres. Most films only screen once. Be sure to check out the link http://bit.ly/SFLFF8tix for full schedule.
The Cine+Mas SF Latino Film Festival Highlights:
Sept 16-22 Opening night, all weekend, and weeknights. Alamo Drafthouse San Francisco
Sept 17 10pm Fundraiser & Drag Show SF Oasis
Sept 18, 25 Artists' Television Access Afternoons.
Sept 19-22 Roxie Theater 7pm
Sept 19-21, 23 Mission Cultural Center for Latino Arts
Sept 23 East Side Arts Alliance 7pm Community screening.
Oct 1 Yerba Buena Center for the Arts, La Peña Cultural Center Matinees
A short list of this year's program includes:
H.O.M.E by Daniel Maldonado from New York City. Jeremy Ray Valdez (La Mission) plays a young man with Asperger's Syndrome who finds respite in the subways of New York City. .
SACRED SACRAMENT by Lionel Desai, San Francisco filmmaker. Familiar sights and faces from the Mission. Boy coming to terms with separation from his mother who was deported as he prepares for his first communion while staying at adoptive family.
SIEMBRA by Samuel Henriquez from Colombia. Drama set in Colombia's Pacific Coast about a fisherman displaced by the armed conflict yearning to return to his land.
LIBERTAD by Claire Weissbluth, a San Francisco filmmakers. A short film profiling a transgender indigenous woman from Oaxaca whose life transcends borders.
CRAVING CUBA by Zuzy Martin Lynch and Rick Lynch, San Francisco filmmakers. A documentary about Cuban-American's nostalgia and yearning to travel and connect with Cuba. Subjects include Jessica Aguirre (NBC news anchor), George Gascon (San Francisco District Attorney), and  singer/actor Carlos Ponce.
Stay posted on The Cine+Mas SF Latino Film Festival with the following hashtag #SFLFF
September 16-October 1, 2016
SAN FRANCISCO / OAKLAND / BERKELEY
Sept 16-Oct 1, 2016
INFO:  http://www.sflatinofilmfestival.org or call 415-754-9580.
For tickets visit www.brownpapertickets.com or call 1-800-838-3006.