by Linda Castillo
I had the pleasure of hearing Anna Dapelo-Garcia, MPA/HSA speak at the Latina Coalition of Silicon Valley's event Getting to the C-Suite. She was part of an inspiring panel of Latina leaders in C-Suite positions who led an informative, candid and powerful panel discussion about their journey to the top.
During the panel discussion, Anna spoke about how she founded Lean In Latinas, an online platform embrace and foster the next generation of Latina workplace leaders. I had a chance to connect with Anna to learn more about what inspired her to start Lean In Latinas and how this online community provides encouragement and support for Latinas in the workplace to achieve higher levels of performance.
1. What is Lean In Latinas?
The mission of Lean In Latinas is to provide a platform of encouragement and support for Latinas in the workplace to achieve higher levels of performance. Discussions provide confidence building, idea exchange, and inspiration. Recently, a colleague asked me if the Lean In Latinas circle was exclusive to Latinas and with some initial reservation but with final confirmation and celebration, I said yes! Not only do Latinas in the workplace face the same challenges as other women, we also contend with cultural differences that we need to overcome to be successful in the workplace. For many Latina/o families, the woman's place is in the home and to raise a family. However, this is not the only path many Latinas want to follow, and therefore encounter these challenges in the family. In addition, many Latinas were not raised with the skill sets needed for the boardroom. Thus, for Latinas we encounter a number of challenges to be effective and competitive in the workplace.
Sheryl Sandberg, author of Lean In, stated "I think as women, and especially Latinas, we are wired differently and it's not enforced in our upbringing to be competitive or to be ambitious. As a daughter of Dominican immigrant parents, I was pushed to be successful, to pursue the American dream. But the bar was not that high. I was the first one in my family to graduate college. I was very driven from an early age, but it was always ingrained — family first and foremost." (http://www.huffingtonpost.com/julissa-bonfante/why-latinas-should-lean-i_b_2878266.html)
The Lean In Latinas circle recognizes and addresses the needs of the Latina in the workplace. Not only do we need to close the competitive gap among Latinas and non-Latinas but we also need to close the gap in our cultural beliefs expecting Latinas to only be effective in the home versus in the workplace.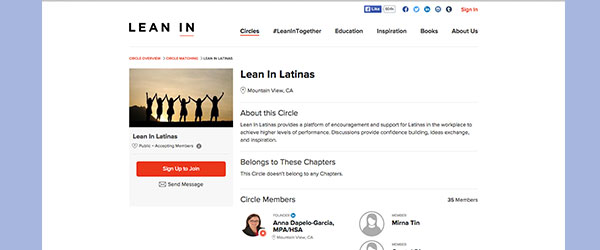 2. Why did you decide to start Lean In Latinas? When did you found the group?
I had the intention to join a Lean In circle for some time as I found Sheryl Sandberg's book Lean In very motivational for women in the workplace. There were several times I reviewed various Lean In circles for the purpose of joining but could not find one that spoke to me and my needs as Latina. Latinas not only have the same challenges as non-Latinas but there are others layers of complexity given our cultural upbringing making it yet more difficult to be successful in the workplace. Given that I am a leader by nature, I said to myself, "I will create a circle specific to Latinas!" So I did. And as I expected, it has spoken to and inspired other Latinas who are now joining the circle.
The first Lean In Latinas circle occurred in February 2015. Although we are a young circle, we were the only circle in the Bay Area, mentioned in a recent front-page San Francisco Chronicle article regarding the death of Sheryl Sandberg's husband's (http://www.sfgate.com/business/article/After-Dave-Goldberg-s-death-what-it-means-to-6253468.php). This was an honor given the circle is in its infancy but growing, maturing, and gaining attention given its mission and focus. Clearly, many people appreciate that Lean In Latinas is a much needed platform to embrace and foster the next generation of Latina workplace leaders.
3. How can Modern Latina readers join Lean In Latinas? Are there any requirements to be in the group?
Lean In Latinas is currently a circle open to the public. Interested Latinas can go to http://leanincircles.org/circle/lean-in-latinas and request to join. I then get the request and take it from there! I have accepted most requests but not all! I have received requests asking to join the circle to market consulting services as an example.
The only requirement, other than the obvious of being a Latina, is a commitment by each member to the mission of Lean In Latinas which is contributing to the platform of encouragement and support for Latinas in the workplace to achieve higher levels of performance. So as we are helped, we need to pay it forward by reaching back and pulling others forward.
4. What can a member expect once they join Lean In Latinas?
A member can expect a safe and nurturing environment of other Latinas with the same hopes and goals from the circle. One of the questions I ask every new member as part of the Getting to Know Each Other portion is, "I joined this Circle because.." It has been amazing to hear some of the same responses such as, "as a Latina in the workplace I know I am different but I can't always express this in a safe environment, I want to be among other Latinas to improve my skills in the workplace, and I want to feel I can be among other Latinas with the same challenges as me".
As the founder of Lean In Latinas, I experienced periods of frustration myself early in my career. Initially, I thought I was incapable of performing at a level to have a seat in the boardroom. I wasn't sure how to deal with the issues I was having, e.g. unsure of my own voice, lack of confidence, inadequate communication skills and the list goes on! However, with good mentoring and by reading, Just Because I'm Latin Doesn't Mean I Mambo – a Success Guide for Hispanic Americans by Juan Robert Job, I realized it wasn't because something was wrong with me, it was because I wasn't raised an environment to foster the skills I needed to be effective in the boardroom. This was the "aha" moment that then catapulted me to higher levels of performance, confidence, and subsequent promotional opportunities. I wasn't broken I just needed self-awareness, training, and empowerment to be effective in the workplace! This realization was the catalyst to moving up in power and position at work. It has been my very own experience that was the genesis of Lean In Latinas and my personal mission to help the current and next generation of Latina leaders in the workplace.
5. How can they make the most of being a part of Lean In Latinas?
The Lean In Latinas platform fosters discussions related to the foundation of the Lean In book and Lean In guiding principles of confidentiality, e.g. what happens in our circle stays in our circle, to commit to sharing openly and honestly and to listen with empathy. And finally, for members to commit and invest in the circle by being fully present for all circle meetings and helping each other succeed.
6. Is there anything else you would like to share with Modern Latina readers?
Yes, that we all are a work-in-progress no matter where we are at in our career! For every experience and for every learning lesson, it is more valuable when these are shared with others. This is what Lean In Latinas is all about. Sharing, learning, and helping our fellow Latinas achieve higher levels of performance in the workplace! As Dolores Huerta shared in her work, "Sí, se puede" yes we can, together! ♦
Linda Castillo is the Founder and Executive Editor of www.ModernLatina.com. She writes on topics that empower and inspire Latinas including art, motherhood, green living, culture, travel, and issues transforming the Latino community. Linda has earned a B.S. in Business and a M.S. in Mass Communications from San Jose State University.