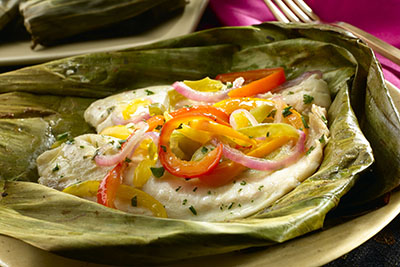 In collaboration with The First Lady's LetsMove initiative and the USDA, Goya Foods recently launched the MyPlate / MiPlato cookbook, Healthy, Tasty, Affordable Latin Cooking. This book is part of the national MyPlate campaign designed to help educate Americans on healthy eating.
Healthy, Tasty Affordable Latin Cooking is bilingual and features 10 complete, balanced meal ideas packed with 30 healthy recipes from around Latin America and Spain – along with healthy Latin twists to American dishes.  Each of the meals incorporates all five basic food groups for a healthy, well-rounded diet: fruits, vegetables, grains, protein and dairy.
Tilapia in Banana Leaf is just one of the healthy recipes featured (see complete recipe below). This Central-American style fish dinner is perfect paired with rice and beans.
Tilapia in Banana Leaf
Serves 4
Prep time: 20 min.
Total time:  45 min.
Ingredients:

¼ cup GOYA Bitter Orange Marinade (Naranja Agria)
1 tbsp. GOYA Extra Virgin Olive Oil
1 tbsp. GOYA Lemon Juice
3 tbsp. finely chopped fresh cilantro
1 tbsp. GOYA Minced Garlic or 6 garlic cloves, finely chopped
1 GOYA Banana Leaf, thawed
4 fillets (4 oz. each) fresh tilapia,
or other firm flesh white fish
¼ tsp. GOYA Adobo Light All-Purpose Seasoning with Pepper
1 medium red, green, orange or yellow bell pepper, thinly sliced (about 1 cup)
½ medium red onion, thinly sliced (about 1 cup)
Directions:
1. Heat oven to 400°F. In small bowl, mix together bitter orange marinade, olive oil, lemon juice, cilantro and garlic; set aside.
2. Unfold banana leaf. Cut off tough rib that runs along bottom edge of leaf with kitchen shears. Carefully cut leaf into 4 (8-inch) pieces.
3. Place tilapia fillet in center of banana leaf; season with Adobo Light. Stir reserved bitter orange mixture to combine; spoon 2 tbsp. mixture over fish. Top fish with ¼ cup each peppers and onions. Fold two ends over fish to enclose; fold in two edges to form packet. Using kitchen twine, tie packet to secure; transfer to baking sheet. Repeat with remaining ingredients to form 4 packets.
4. Bake until fish is cooked through (knife inserted into center of fish packet comesout warm), 20 minutes; transfer to plates. Cut ties and discard. Open packets (banana leaves are not edible). Serve immediately.
NUTRITION
Serving Size: 1 fish packet
170 Calories
5g Fat (1g Saturated, 0g Trans);  55mg Cholesterol;  8g Carbohydrate;  5g Sugar;  24g Protein;
1g Fiber; 115mg Sodium
You can get more of the featured dishes from the book and other recipes at http://www.goya.com