by Natalie Davis Castro
The Lingerie Stylist, Miriam Hernandez, has spent more than seven years in the intimate apparel industry. Her self-bestowed name was born from endless hours of styling women and helping them notice the most important part of their wardrobe: their foundation.
Miriam's approach with clients is very different than what a woman would experience in a retail environment. When most women enter a lingerie a boutique, or a retail store where intimate apparel is sold, most sales associates grab a tape measurer, blurt out some number and letter, grab product for women to try on, and then ship them out. This approach leaves many women clueless about their breasts and body. It's been uncovered in many studies that 80% of women are wearing the wrong size bra. From Miriam's experience alone, she claims close to 95% of here clients were wearing the wrong bra size before meeting her.
Her goal now is to turn dreadful bra shopping into something that women absolutely love! She educates women about the common misunderstandings about bra sizing. When she steps into a fitting room, she's fully aware she's fitting a woman's mind, before fitting her body. The first, and most important thing Miriam has her clients promise is that they're going to be kind to themselves in front of the mirror, during their session. No body bashing aloud in her presence. What's surprising is that when she fits clients she doesn't even focus on the size. She looks at the woman's breasts with her in the mirror and they focus on comfort, lift, and shape together. Once they've reviewed and tried on multiple styles, Miriam creates an undergarment collection for her client that supports their wardrobe needs.
Here are a couple of things I learned from chatting with Miriam:
Common Misunderstandings
Women are floored to learn that the "letter" in a bra size doesn't determine the volume of their breast. In fact, the "number" holds the power. The number represents the size of a woman's back. The smaller the number is, the smaller the back and volume of the breast is. For example, a woman who wears a 30D, has less breast volume than a woman who wears a 36D. A 36D has bigger breasts than a 30D, although they share the same letter. Imagine the size of the woman's back. The breast tissue is obviously going to sit wider on a 36, as opposed to a 30. Therefore we can't determine someone's size by a single letter. It's BOGUS that we do this!
American Bra Size Comparison 
This chart below will give you an idea based on your dress size, what your band equivalent would be. A size 4 would wear a 30 band, a size 6 would wear a 32 band etc. The common mistakes women make is wearing a band size too big. If you drop your band size smaller then you have to increase the cup size to a bigger letter, to maintain the same underwire volume. For example if you're in a 34B and need to drop to a 32, you would be a 32C.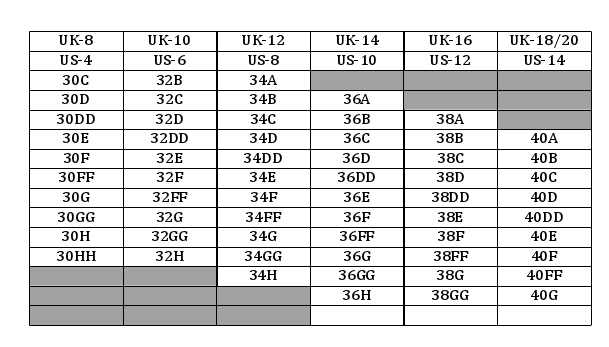 Brand sizes run differently depending on where they're imported from. It's not about the size, It's about a silhouette looking smoothed out on the sides without undergarments digging in underneath. Added bulges make women look heavier than they are, which is why Miriam is adamant with clients about trying things on before they buy!
What are the worst underwear no no's?
Panties trimmed with elastic are the biggest no no. Matching panty and bra sets seem to always have this style! When buying basic panties, make sure they have flat edges and just be sure the colors compliment your bras. This way you'll always feel like you're matching – even if you don't buy it in a set!
What's the most important factor for big-busted women who are looking for a bra that fits?
It's said that a single D breast can weigh up to four pounds. Can you imagine how much weight is in a G cup? This is why many big-busted women complain about shoulder and back pain. The correct band size can improve pain and posture tremendously. So big-busted women should always be sure the band size is correct and that the wires in their bra encompass their entire breast. No boob spillage in the front or under arms.
What is the most comfortable cut of undies?
This question is solely dependant on the person. Brazilian cuts are in between a thong and full panty. It gives that cheeky thong look with a little more coverage. Boy shorts seem to be the go-to for anti-thong women, and that's certainly an upgrade from a classic full panty. Again, this is matter of opinion.
Miriam's Personal Lingerie Style
Miriam loves anything sheer and lacy. That doesn't stop at bras and panties. Sleepwear is a huge part of the intimates arena She loves sleeping in rompers, chemises and prancing around her place in Natori silk robes.
Miriam's Favorite Brands
Because she's petite and full busted, she shops with brands that cater to that market. Brands like Mimi Holliday, Freya, Panache and Claudette, are her go-to's.
Natalie Davis Castro has been in the fashion and beauty industry for the past 15 years from working behind the scenes at fashion shows as a makeup artist in London to designing windows for department stores to now living in San Jose and becoming a personal wardrobe stylist. Natalie has been styling clients with a Silicon Valley based company, Urban Darling for the past 3 years she helps the everyday woman get the wardrobe she deserves, from closet audits to personal shopping sprees. Natalie has a degree in Fashion Promotion from London College of Fashion.