by Delilah Montoya
Hello My Lovelies!
Finally I'm back, and with a full review on the infamous Secret Extensions.
For those of you, who follow along on social media, may have seen that I spent a day rocking these new extensions.  I promised a full and honest review, so let's begin.
Many of you may have seen or heard about these extensions, the infomercial features the beautiful Daisy Fuentes.  For the inexpensive price of $39.99 plus shipping and handling, they claim to give you thick, volume, natural looking hair, all while adding length in just seconds. They are made of a Keratin conditioned fiber that looks and feels natural.
No fuss, clips, or gluing needed. You simply slip it on as you would any ordinary headband. Its revolutionary adjustable head band is invisible to the eye, so no worries about anyone catching on to your secret.  Just pull your own hair right over with no bumps, ridges or damage to your natural hair.
They come in 11 different shades:
3 red
4 blonde
4 brunette
You can wear these extensions 5-7 times before washing with your regular shampoo or even Woolite.  Also, be sure to brush with a soft bristle flat brush.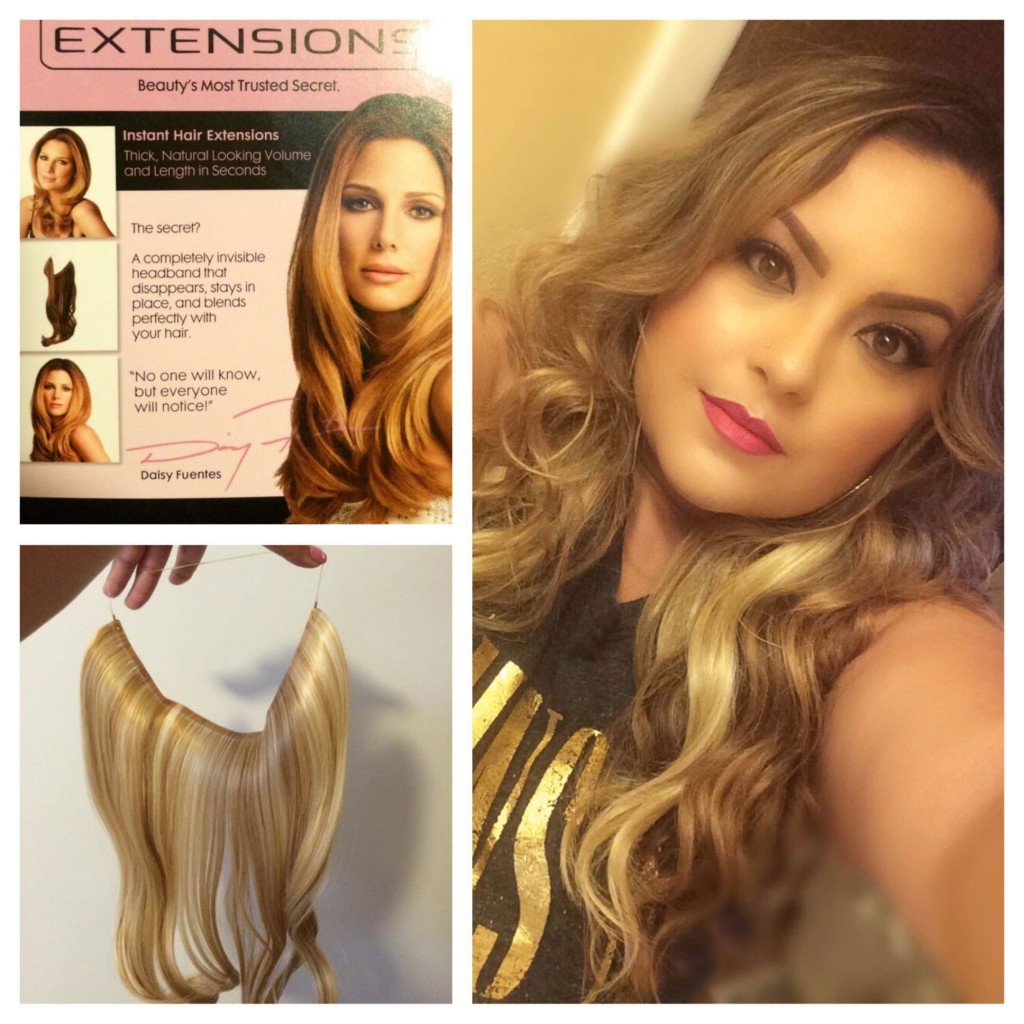 Like many I was very skeptical about this product.  How could these extensions stay on my head securely without popping off?  Will they be too tight and cause a headache?  Will people be able to see the band on my head?
My first impression; they were soft, shinny and felt very silky.  Putting them on, wasn't as simple as it seemed on TV.  Once I did get them on, adjusting them to my liking was easy and they seemed to blend well with my own hair.
It took some time to get the hang of it but once it was on it was smooth and natural looking. I tested this headband out for a whole entire day (10 hours to be exact).  I was very concerned that they would pop off, they didn't feel secure but to my surprise they did stay on.  No one noticed the band unless I pointed it out; it's clear and blends into your natural hair color. This product definitely added tons of volume and the headband did not feel tight or give me a headache.  The color blended in with my own hair giving me an ombre/highlighted and silky effect.
Now for the downside; unfortunately this product is limited in colors. I would have liked to see more of a variety, and you can't dye them to achieve the color you'd like.  So color options are very limited.  Also, there is no choice in length which I was very disappointed about, you only get (16inches).
As far as styling, they don't hold a tight curl. I also noticed that throughout the day my extensions started to tangle and caused my hair to look very frizzy.
So my final thoughts:
These extensions do what they claim, Invisible, fairly easy to put on; they don't hurt your head and give lots of volume.  For someone with short hair I'm sure they would give length as well.  If you're looking for something quick that you could wear for a short period of time that is inexpensive and not a big investment then I would purchase these.  I don't recommend these extensions for women with long hair looking for length. I feel that they need to provide more variety in their color selection and an option to choose different hair lengths.  The price point was okay for what you get.  In all I give these extensions 6.5 stars.
Note: Modern Latina received a complimentary Secret Extension to review for this article.
Delilah Montoya, lives in San Jose and is a mother of two. She works in the Silicon Valley and also runs her own makeup business Fancy that Face Beauty and blog Fancy That!. She has been passionate about makeup, beauty and fashion since she was a young girl. She is a self-taught artist who has worked along side some amazing artist for companies such as Bare Escentuals and MAC Cosmetics. During her free time she enjoys spending time with her children, family and friends. Her hobbies include reading, dancing, music, cooking and anything fashion and beauty related.