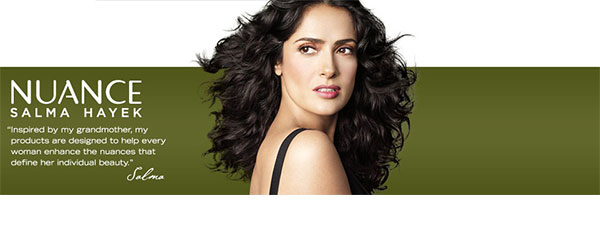 Hello my Lovelies! I'm back with another review.
Recently I had the pleasure of trying Nuance by Salma Hayek, boy was I excited! I mean come on, Salma Hayek is absolutely stunning. If her products could give me hair and skin like that, sign me up. I was pleasantly surprised at all the products this line carries. They have a wide range of affordable products to choose from; makeup, skin and hair care, all of which can be found at your local CVS. With too many to choose from, I narrowed it down to my top 3 products.
"My line is inspired by my grandmother, who dedicated her life to keeping women beautiful. My products are designed to help every woman enhance the nuances that define her individual beauty, and make my grandmother proud." – Salma
Blue Agave Curls & Waves conditioner – This conditioner is absolutely without a doubt one of my holy grails. It detangles my hair, leaving my curls silky smooth. Prior to using this product I was using a leave-in detangling spray, but with this conditioner, it's no longer needed. With ingredients of Blue Agave Extract, Safflower Seed Oil and wave boosting polymers, that help control the frizz, I have some beautiful smooth curls.

Jojoba Dual Phase Body Oil – Bye-bye dry, flakey skin with the help of this luxury oil. Made with coconut and passion fruit oil, this light weight formula leaves your skin feeling silky soft. It nourishes the skin revealing a healthy shine, without leaving you greasy. I applied this after a shower and was impressed with the way it hydrated my skin.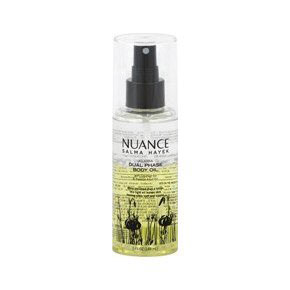 Smoothing Anti-Aging Eye Cream – A staple in my day/night skin regime is under eye care, so this eye cream was a must try. This cream definitely hydrates and rids the area of puffiness. I even noticed a decrease in my fine lines. I have to say this better than some of the high-end eye products I have purchased in the past. The price is on point! Not too shabby for a drug store eye cream. Made with shea butter, avocado oil and jasmine extract, this eye cream is doing its thing by brightening dark circles, while smoothing the appearance of fine lines and wrinkles under the eye.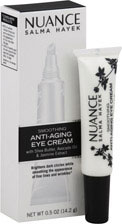 Hope this review helped some of you who are in the market to try Nuance. If not, maybe you'll head out to your local CVS to try them out. I know I'll continue to use my top picks in my daily beauty routine.
*Note: Nuance provided all products for review. All products reviewed contain no harsh chemicals. Paraben and sulfate free, and are not tested on animals.
Delilah Montoya, lives in San Jose and is a mother of two. She works in the Silicon Valley and also runs her own makeup business Fancy that Face Beauty and blog Fancy That!. She has been passionate about makeup, beauty and fashion since she was a young girl. She is a self-taught artist who has worked along side some amazing artist for companies such as Bare Escentuals and MAC Cosmetics. During her free time she enjoys spending time with her children, family and friends. Her hobbies include reading, dancing, music, cooking and anything fashion and beauty related.