by Linda Castillo
What are you doing to celebrate Valentine's Day this year? For me, this year my little one is almost two so she now understands about the holidays. So this is the perfect time to start some fun traditions for Valentine's Day. I am going to start off by making some red velvet cupcakes topped with whipped cream cheese frosting. My little one will help by shake the red and pink sprinkles. Our family and friends will love getting something sweet from their sweetie! I am also going to have her make some homemade Valentine's Day to go with the cupcakes.
My husband and I usually avoid the crowded restaurants and enjoy the evening in our home. However, we do like to get take out dinner, some wine and finish our meal with some yummy chocolate covered strawberries. And it is always nice to cuddle up in front of the fireplace and watch a romantic movie.
Pictures are always a great gift to give. And why not give the special loved ones a picture in a cute heart frame.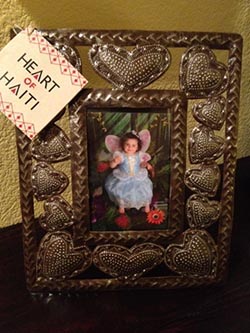 Are you looking for a gift to give that gives back? Another option is shopping the Heart of Haiti collection at Macy's. Macy's has established a partnership whereby they give half the wholesale price for each item sold in the Heart of Haiti collection. Since the January 2010 earthquake, this collection provides sustainable work for Haitians to make a living and support their families. Here are some of our favorite pieces that are perfect for your Valentine!
Heart of Haiti Paper Weight, Large River Stone Heart

Heart of Haiti Wall Decor, Metal Vertical Jewelry Tree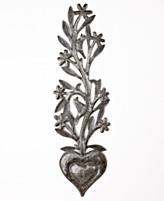 Heart of Haiti Jewelry, Open Heart Pendant Necklace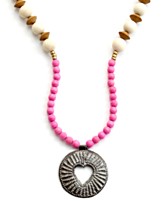 Note: This post is in collaboration with Latina Bloggers Connect and Heart of Haiti
Linda Castillo is the Founder and Executive Editor of http://www.modernlatina.com/. She writes on topics that empower and inspire Latinas including art, motherhood, green living, culture, travel, and issues transforming the Latino community. Linda has earned a B.S. in Business and a M.S. in Mass Communications from San Jose State University.