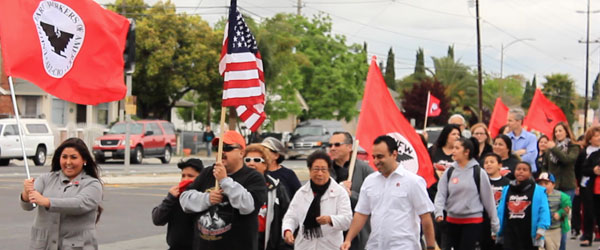 by Melody Gonzales
Bay Area residents gathered at the Mexican Heritage Plaza in East San Jose on Saturday to take part in the 21st commemorative Cesar E. Chavez march.
Cesar Chavez, a late Mexican-American labor leader and founder of the United Farm Workers Association, organized peaceful protests to demand for better pay and working conditions for farm workers in the late 1960s.
"It's a great way of memorializing Cesar on what he used to do, which was one of his values, is get the people together," said Rudy Chavez Medina, Chavez's nephew. "Get them to do what we call public action. So this is a great demonstration of public action."
Cesar Chavez's eldest sister, Rita Chavez Medina, and younger brother, Librado Chavez, led the march to honor their late brother.
Chavez Medina said she was excited about all the people who cared to celebrate her brother's legacy.
"I don't know how to explain this," said Librado Chavez. "I feel honored and very, very lucky. "
At a loss for words, Librado Chavez, held up the iconic "Our Lady of Guadalupe flag," similar to the one that his brother held on his historical march from Delano to Sacramento.
A sea of red United Farm Workers flags and fists of pride were raised into the air as passing cars honked their horns to acknowledge those marching.
Sidewalks along the "Sal Si Puedes" neighborhood, which stretches from San Antonio Street to Ocala Avenue, and Jackson Ave. to the 101 highway, were filled with Cesar Chavez supporters as they chanted "Si Se Puede," which means "Yes we can!"
"Those three words are so powerful, and if you use that mindset (it) doesn't matter who you are, where you are and what you want to be," Chavez Medina said. "If you have that commitment and you believe it can be done then it can be done."
Stops along the historical Sal Si Puedes route included Cesar Chavez Elementary School, Mayfair Community Center, Our Lady of Guadalupe Parish and Chavez's childhood home.
"This is where Cesar started all of his organizing efforts here in San Jose, California and it's here that we really have engrained his legacy," Chavez Medina said.
Marchers of all ages came to show their support and march.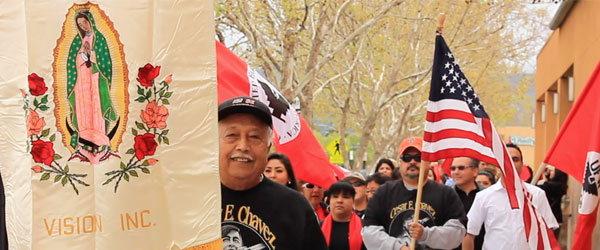 "All of us that were there originally — that's all great that we have those memories, but really the key is to share that with the younger generations," Chavez Martinez said. "It's a great reward to see when we see those younger generation(s) here and participating and understanding the life of Cesar Chavez."
Andrea Garcia, Chavez's great niece, was among the younger generation that came out to support the cause.
"Just to be like the next generation it's an awesome feeling," Garcia said. "I feel really prideful right now."
Garcia hopes to follow in her family's footsteps and carry on the traditional Cesar E. Chavez march.
Max Martinez, a long time supporter of the United Farm Workers Association and former farm worker, walked the march for the 21st time.
"Cesar touched me in such a great way from the very beginning that I felt that I had to be a part of this movement," Martinez said. "You've got to walk the walk not talk the talk."
"Que viva Cesar Chavez!" meaning "Long live Cesar Chavez" was repeatedly chanted as the march came to an end.
Marches honoring the late civil right leader occurred in many communities throughout the country, coinciding with the recent release of a film about Chavez.
March 31, Chavez's birthday and is now National Day of Service as proclaimed by Barack Obama. Read the full proclamation here: http://bitly.com/TWHccday
"On Cesar Chavez Day, we celebrate one of America's greatest champions for social justice." – President Barack Obama. 

Note: All photos courtesy of Melody Gonzales.